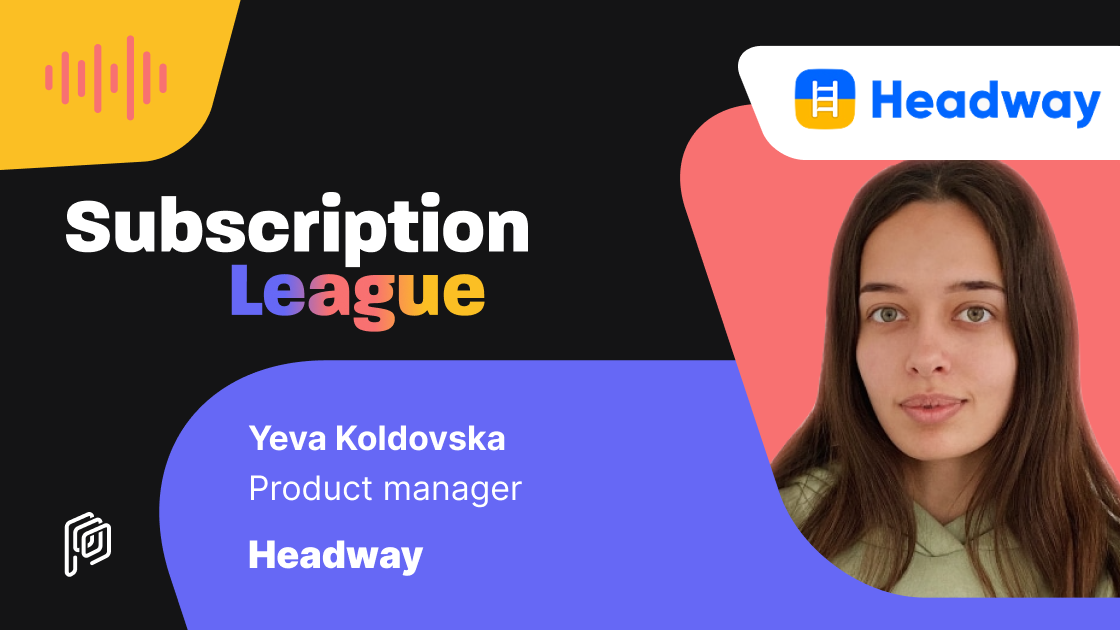 Unlocking growth and diversification: the power of web and in-app subscriptions with Yeva Koldovska (Headway)
28 June 2023
Subscription
Podcast
Education
In this episode, we sit down with
Yeva Koldovska
, product manager at Headway. Headway is the most downloaded book summary app worldwide, with over 18 million downloads. Yeva shares valuable insights into Headway's journey, the introduction of their new product Nibble, and the strategic decision to offer both web and in-app subscriptions. Join us as we explore the profound impact of subscription variations on revenue and audience diversification.
The growth of Headway
Yeva discusses her experience at Headway, witnessing the company's growth from an early-stage startup to a team of 170 people. She also introduces Nibble, Headway's new product that offers short, interactive lessons on various topics. Nibble complements Headway's book summary app, focusing more on knowledge acquisition.
Web and in-app subscriptions: a dual approach
Yeva explains how Headway offers subscriptions through both web and in-app channels. This decision was driven by the need to diversify revenue streams and audiences, as well as adapt to the challenges posed by iOS 14.5 privacy updates. By embracing web subscriptions, Headway not only boosts revenue but also captures a different demographic of users, including older individuals who find web purchases more convenient.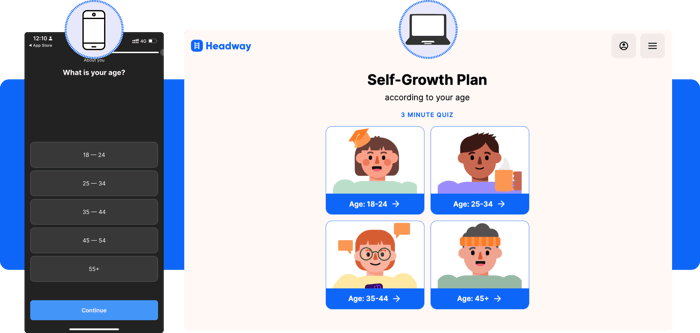 Headway's onboarding experience on app(left) and web(right)
Web subscriptions: challenges and opportunities
Yeva also shares the unique dynamics of web subscriptions. While the web flow requires users to input card details and undergo longer, more sales-oriented funnels, it also fosters a higher level of commitment from subscribers. Web subscribers exhibit higher retention rates, rebill more frequently, and are easier to re-engage. Even better. web subscribers tend to differ in demographics and content preferences, offering an untapped audience segment for Headway.
Behavioral Differences: web vs. in-app subscribers
Yeva highlights notable differences in user behavior between web and in-app subscribers. Web users show a higher inclination towards taking tests, indicating a preference for interactive content. The lengthier funnels in web flows cater to the need for increased persuasion and instill confidence in the product. Although Headway designs the product to cater to all users, tailored funnels and offers optimize the experience based on the user's acquisition source.
Lifetime value (LTV) and revenue impact
The source of acquisition significantly influences the lifetime value (LTV) of subscribers. Web subscriptions generally have a much higher LTV compared to in-app subscriptions due to several factors.

1. Web subscriptions avoid app store commissions, allowing for higher revenue retention.
2. Web subscribers exhibit higher rebill rates, attributed to their deeper commitment to the subscription.
3. Non-trial payment plans perform well on the web, as users perceive the card entry process to be similar regardless of the plan type.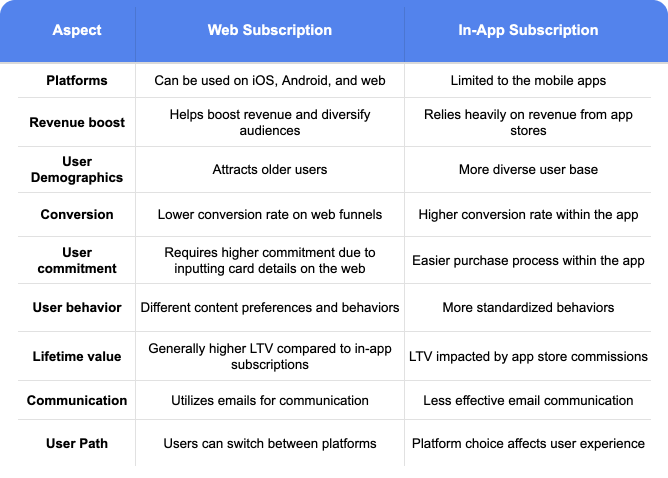 Headway's experience of growing subscribers: web vs in-app
The introduction of web subscriptions by Headway has proven to be a successful revenue diversification strategy, attracting a distinct audience segment and offering a higher LTV compared to in-app subscriptions. By understanding the behavioral differences and optimizing the user experience based on the acquisition source, Headway has achieved substantial growth and expanded its reach in the competitive subscription app market.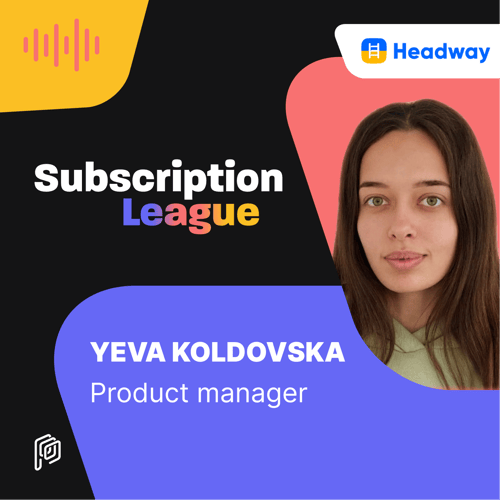 More about Yeva
Yeva Koldovska is a Product Manager at Headway, a company specializing in subscription-based services. With her expertise in product management, Yeva plays a crucial role in overseeing the development and enhancement of Headway's subscription offerings. She brings a wealth of knowledge and experience to the table, enabling her to effectively identify and address the needs of Headway's diverse user base. Yeva is known for her strategic thinking, analytical skills, and ability to collaborate with cross-functional teams to drive product success.
Episode 28 Sneak Peek
On the interactive growth of Headway
"It took a lot of work and testing and trying different approaches, different audiences, user acquisition channels, different ways to scale. It wasn't an explosive growth at one moment. It was very iterative, and I'm glad that we've achieved this result."
On the web purchase experience
"Since the payment is processed on the website, the user needs to input their card details even for a free trial. Even to get this free offer, you still have to enter your card details, your name, et cetera. This nuance creates a very significant difference because the level of commitment required from the user to input their card details is much higher on the web than in the app."
On the acquisition diversification
"These users tend to be a bit older, usually, and we wanted to capture that audience as well. We saw one of the growth streams for us there."
On the web retention
"These users tend to be a bit older, usually, and we wanted to capture that audience as well. We saw one of the growth streams for us there."
On conversion
"On the web, the users need to be really convinced that your product is worth paying for. As a result, the conversion rate to purchase on web funnels is generally much lower than within the app. "
Episode Topics at a Glance
Headway and its growth

Offering subscriptions through web and in-app channels

Reasons for including web subscriptions and diversifying revenue streams

Impact of privacy updates on user tracking and attribution quality

Differences in user behavior and preferences between web and app subscribers

Higher lifetime value (LTV) of web subscribers compared to app subscribers

Advantages of the web funnel
How to listen to Subscription League
Go to SubscriptionLeague.com or subscribe to our podcast on Apple Podcasts, Google Podcasts, Spotify, Podcast Addict, Amazon Music, or wherever you listen to your podcasts.
HAPPY LISTENING!
Previous episodes
#1: Phiture - All about Retention with Andy Carvell
#2: Babbel Live - How to create a success in a crowded market with Belen Caeiro
#3: Mojo - Strategies you should focus on for a successful subscription business with Jean Patry
#4: The Guardian - Growing the user base The Guardian way - with Jesse Wilkins
#5: Blinkist - Using transparency to increase your conversion rate with Eveline Moczko
#6: Rootd - How to bootstrap #1 health and fitness app with Ania Wysocka
#7: Luni - Subscription Marketing 101: tips to drive acquisition and retention with Adrien Miniatti
#8: Uptime - How to build a successful user-first app strategy with Léa Samrani
#9: GP Bullhound - What venture investors look for in subscription apps with Eric Crowley
#10: Phiture - How to optimize mobile app subscription with Andy Carvell
#11: Jodel - Shifting from ads to In-App Subscription-led revenue generation with Tim Schmitz
#12: BlueThrone - Product market fit, Subscription, and Other Secrets of Success by Idan Waller
#13: Aperture - Tips for Creating the Right Mindset for Business Growth by Hannah Parvaz
#14: MobileGroove - The Subscription Model - the state, benefits, and success tips by Peggy Anne Salz
#15: Appic - All about subscription app onboarding with Tobias Boerner
#16: Together Labs - Leveraging user research to maximize subscription app monetization with Jenny Pollock
#17: BlueThrone - Product market fit, Subscription, and Other Secrets of Success by Idan Waller
#18: Pollen VC - A guide to financing your user acquisition with Martin Macmillan
#19: CoinState - Finding the sweet spot with the right subscription app monetization and pricing strategy with Vahe Baghdasaryan
#20: PhotoRoom - How to grow a subscription app business and its user base globally by Olivier Lemarié
#21: App Masters - How to monetize your app: expert tips from Steve P. Young (App Masters)
#22: How Mimo builds an experimentation culture with Ekaterina Gamsriegler
#23: Applica - Framework for subscription optimization: tips from behavioral science expert Sviat Hnizdovskyi
#24: Papumba - Making a safe digital playground for kids with Gonzalo Rodriguez
#25: Transitioning to Digital: Insights from Michael Ribero of The Washington Post
#26: Sweatcoin - Redefining motivation and user retention in the fitness app landscape with Rowan Pereira
#27: Kovalee - Turning ordinary apps into worldwide leaders with Vincent Hart de Keating