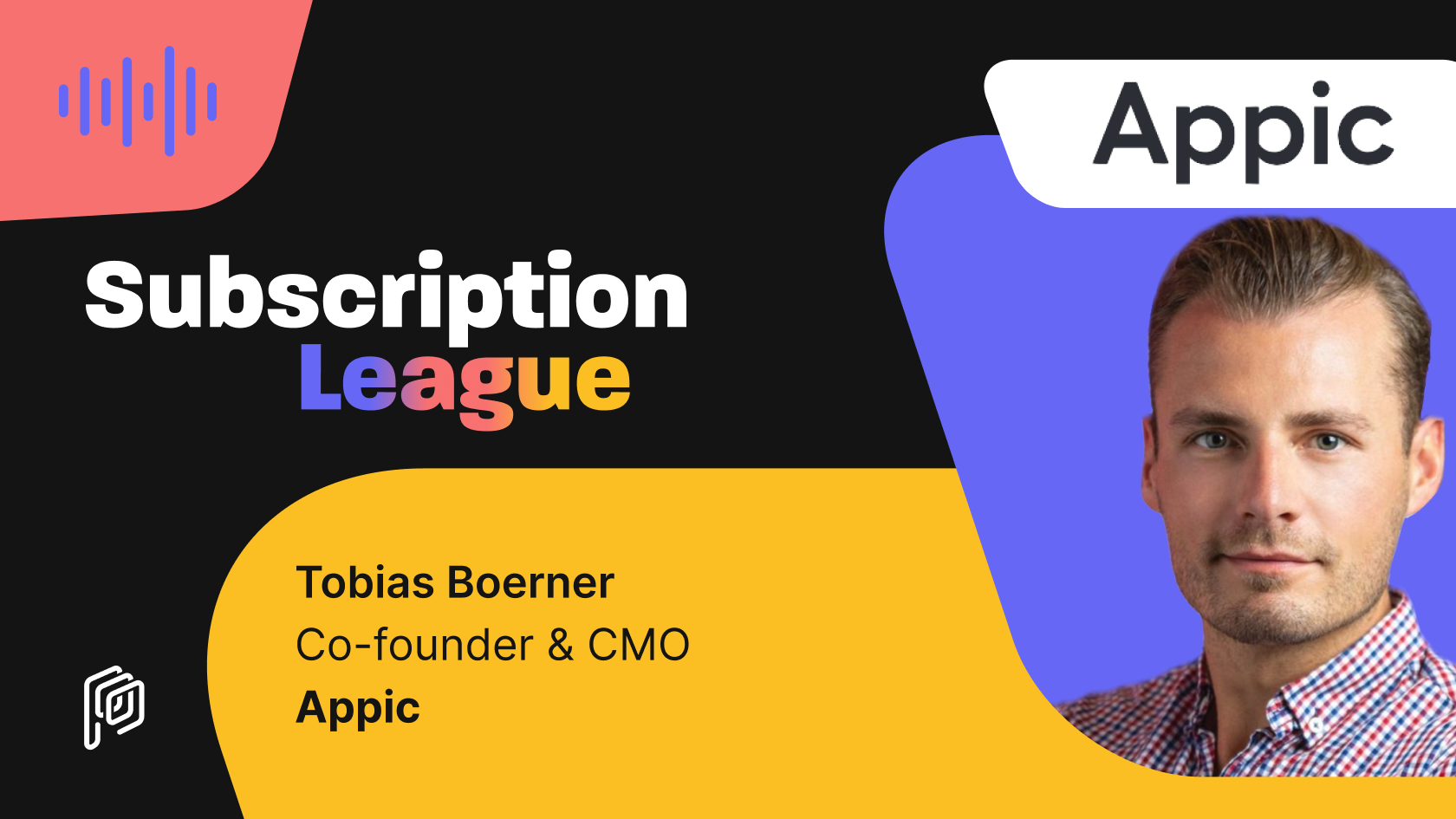 All about subscription app onboarding with Tobias Boerner (Appic)
8 December 2022
User Journey
Podcast
Should every subscription app have an onboarding? Should they show the first paywall screen during the onboarding? In this episode of Subscription League Podcast, Tobias talks about how well-design onboarding and paywall engagement can help subscription apps create an uplift in conversion and how the Fastic app is mastering the art of long onboarding. Listen to the full episode to steal his onboarding A/B testing tips too!
Tobias Boerner, now Chief Marketing Officer & Co-founder of a Luxembourg-based app aggregation company, Appic, has been laying a series of remarkable stepping stones in his career. The most noticeable are his achievements at LOVOO, one of the biggest dating apps in Europe which he made an exit for about $70 million, and Fastic, a five-star intermittent fasting app used by over 26M users worldwide, 92% of whom are happy customers.
The Fastic app is also looked upon by many subscription apps and marketers for its exemplary app onboarding process and its approach to building users' trust and satisfaction with consistent delivery of personalized experiences.
For the Subscription League Podcast episode 15, we sat down with Tobias to discuss the nitty-gritty of how the Fastic app differentiates itself from other fasting apps with its extraordinary onboarding strategy.
Onboarding users the Fastic way
During our Podcast Ep. 10 conversation with Andy Carvell, Partner and Co-founder of Phiture, Andy shared his lessons learned about Fastic's onboarding approach. Head over here for the full episode.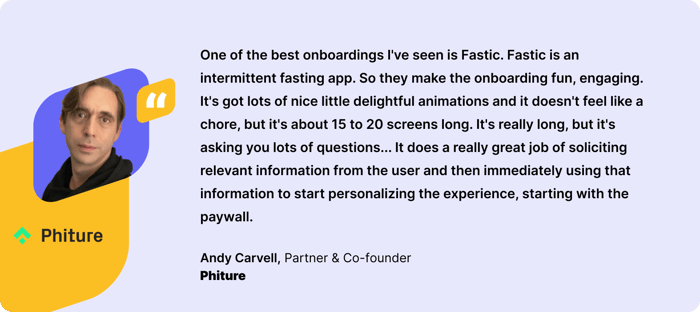 Fastic app's onboarding approach aims at three targets.
1. Gain trust.
2. Get enough input to make the journey as personalized as possible.
3. Get 70 - 80% of users to run through it.
What differentiates Fastic's onboarding from others is the exceptionally long process. Involving around 15 to 20 screen-long questions, the app walks new users through 5 following steps:
1. Personalization part 1: Discovering users' goals and needs.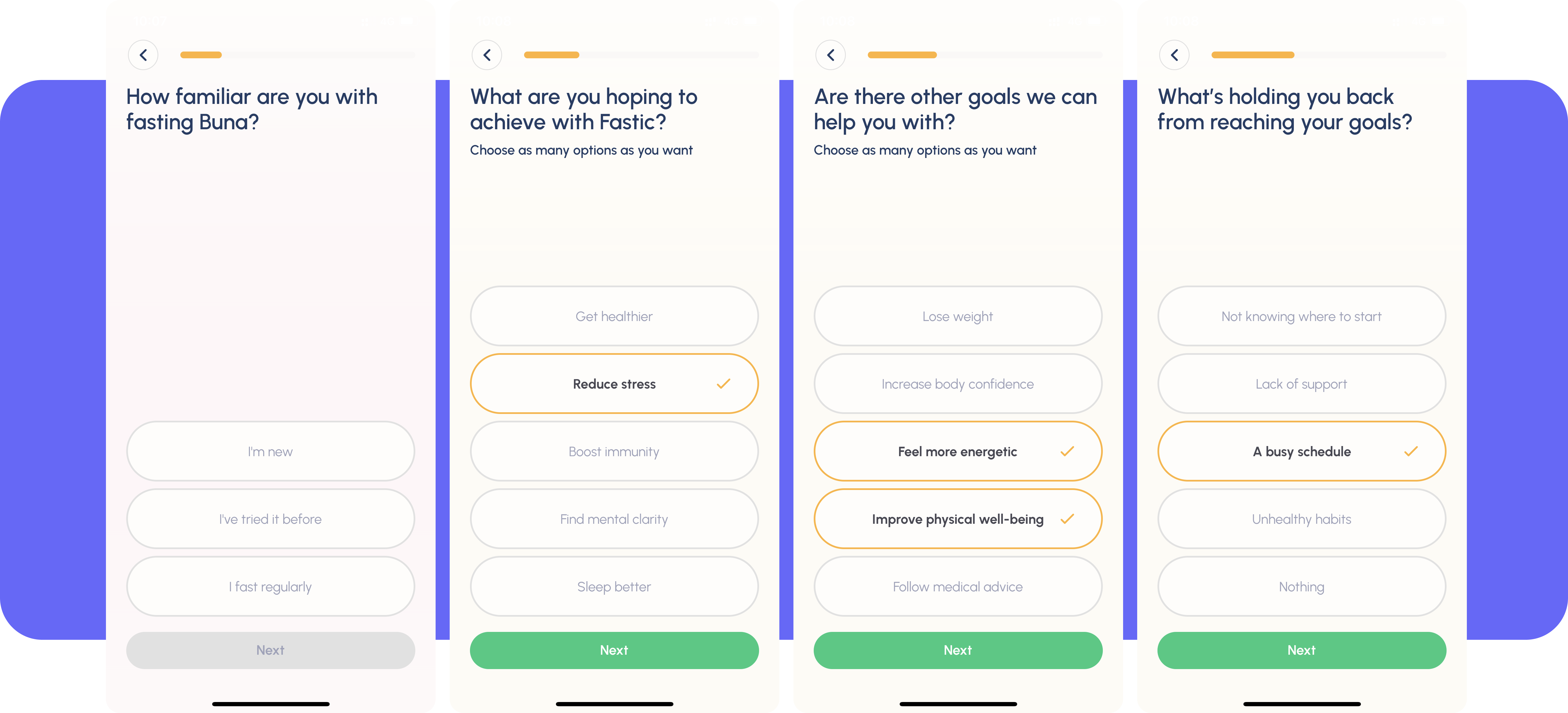 2.

Checking off essential terms for personalization: acquiring opt-ins from the users and personal information such as birthday, gender, height, weight, etc.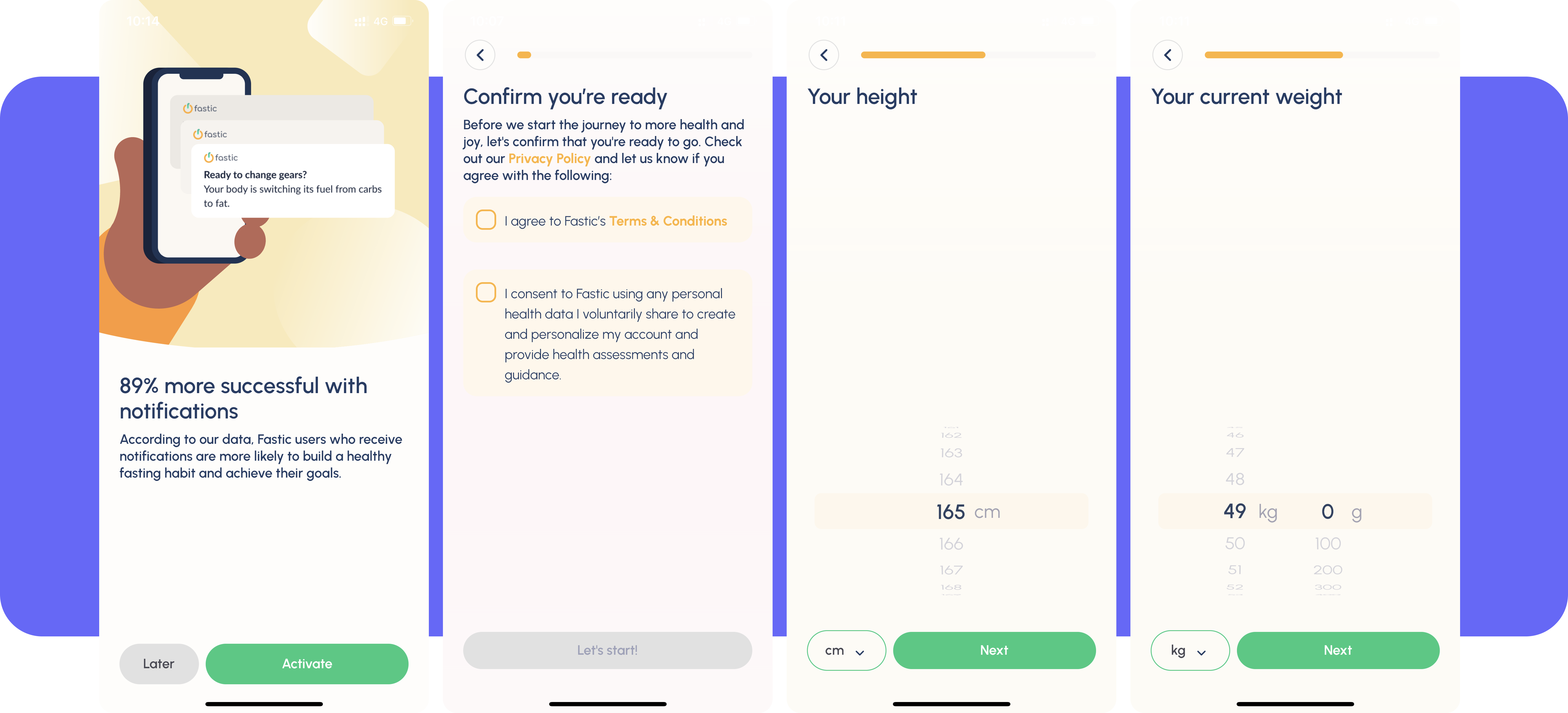 3.

Building trust: Getting users acquainted with the app's value proposition, expertise, and content.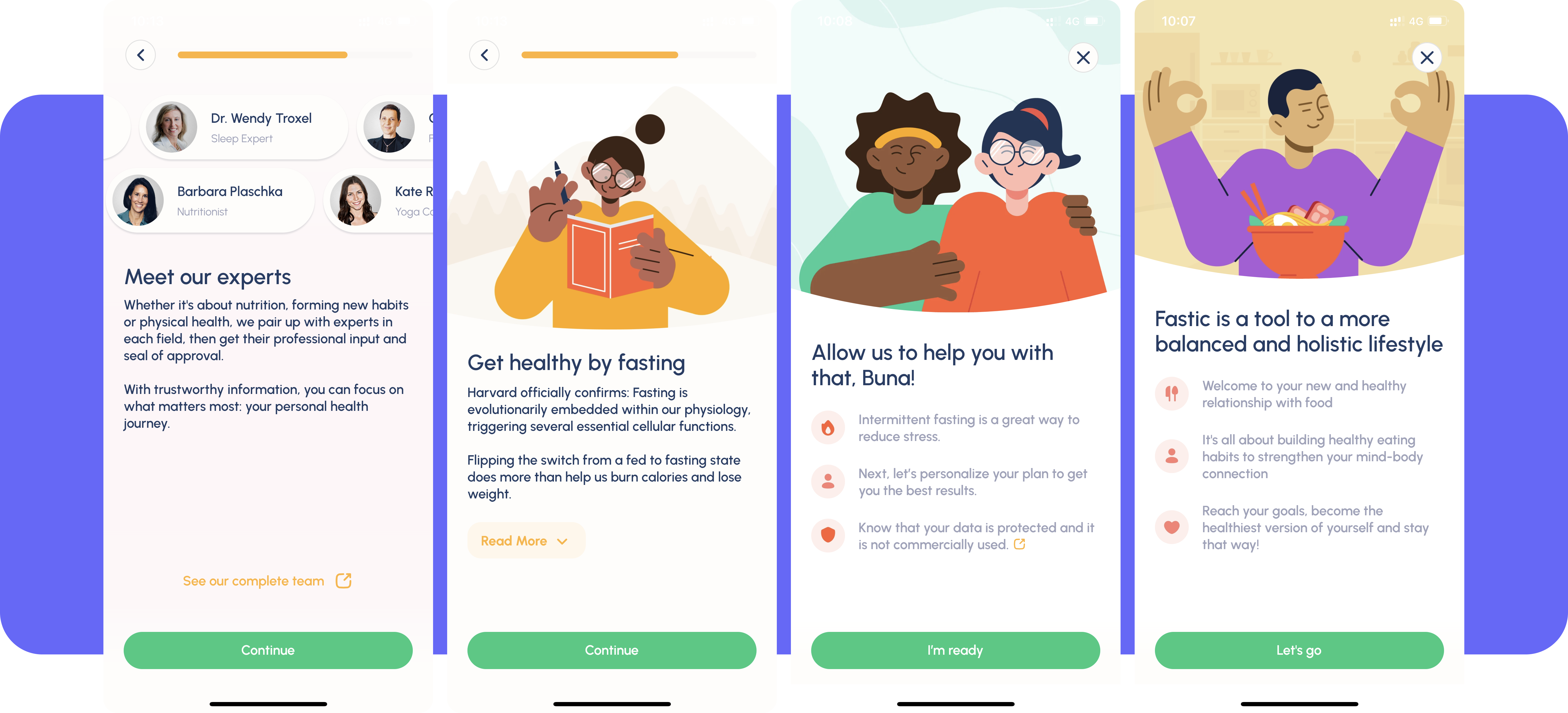 4.

Personalization part 2: Discovering personal habits: eating time, active level, disorders, etc.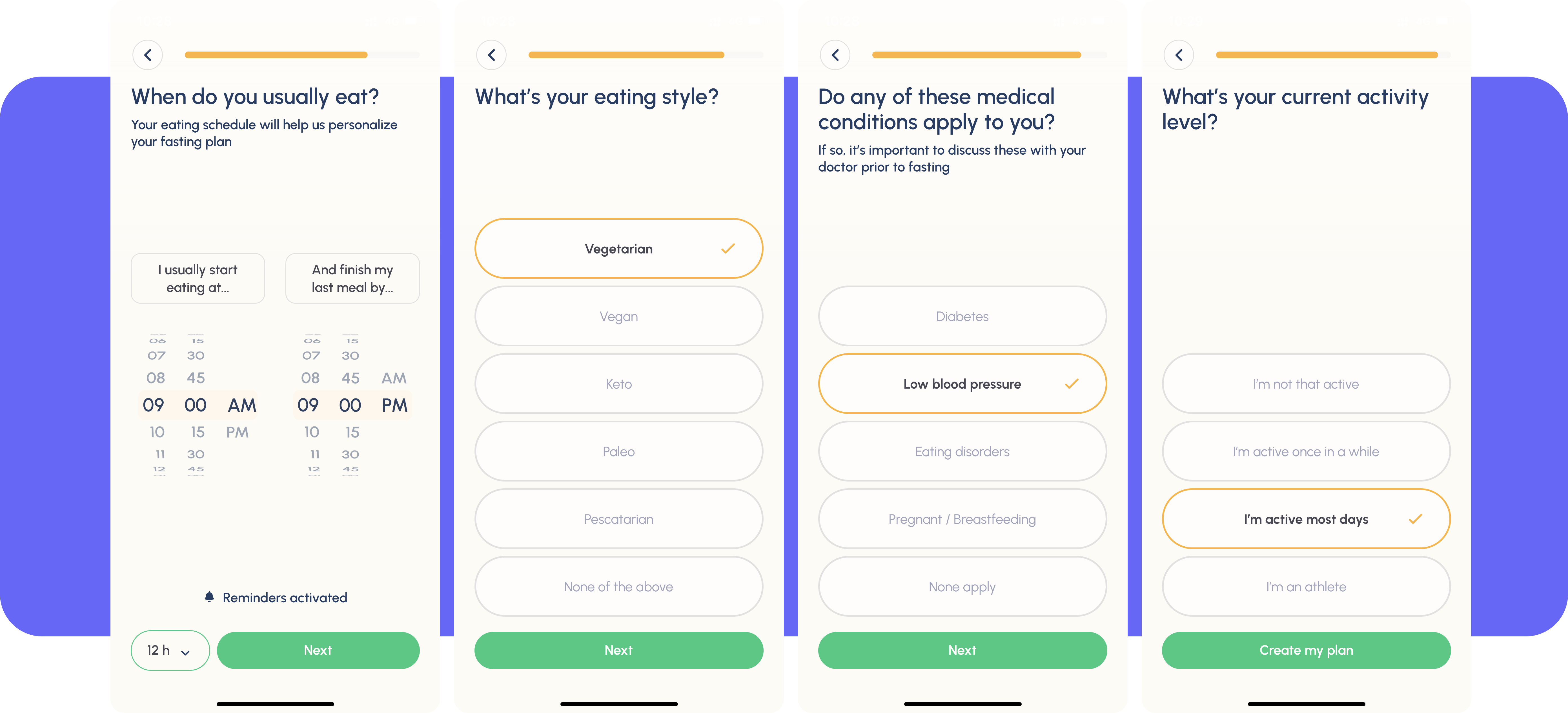 5.

Suggesting the perfect intermittent fasting plan tailored to each user's context.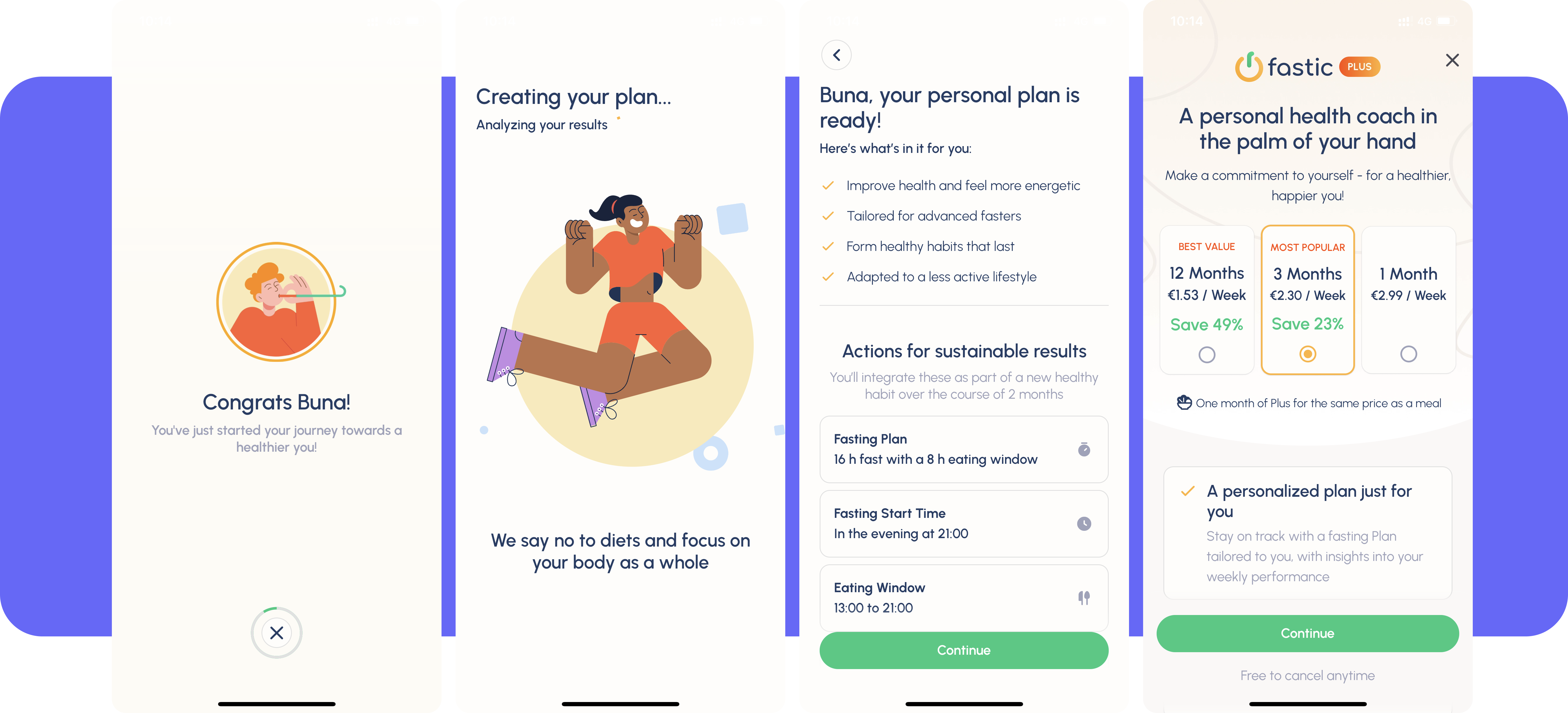 Tobias' onboarding tips
1. Start simple and iterate to improve.
Don't: Don't test only the paywalls.
Do: Consistently iterate the funnel and A/B test until finding the most efficient flow.
2. Have a very close look at user behaviors
Don't: Don't miss out on the clues.
Do: Leverage data to investigate where users engage and drop off.
3. Design your own approach
Don't: Don't follow cookie-cutter approaches. Not all apps need a lengthy onboarding, permissions, etc.
Do: Design the onboarding that works for your own niche and product. Collect and leverage only the necessary data, and the process should resonate with the users' interests.
Struggles and opportunities in onboarding A/B testing
Testing the app onboarding process in a flexible manner, whether it is to test the design or the message, can require a lot of development and time. When the onboarding is long, those challenges can magnify. Apps with a smaller user base, such as those with less than 100 signups a day, can also have difficulty reaching A/B test results with the highest statistical significance.
Tobias' advice for overcoming such challenges is not to aim for perfection but for the most reasonable result possible. He calls it the 80/20 rule, which puts the focus on reaching 80% of the goal. The remaining 20% is what necessitates ongoing tests and iterations along the path toward reaching the ultimate onboarding North Star. He also recommends focusing on the whole customer journey after the onboarding to increase the opportunities for optimizing conversion and retention.
Onboarding + Paywall = Subscription uplift
Should every subscription app have an onboarding? Should they show the first paywall screen during the onboarding? These are frequently asked questions. Tobias suggests that subscription apps with some rare exceptions can benefit from introducing an onboarding and showing the first paywall during the process.
According to him,
Onboardings can bring the users into the right mood and help them understand the value of the subscription.

Going from zero onboarding to onboarding can double the conversion to pay.

80% of subscription apps will increase the change of subscription uplift by showing the first paywall screen during the onboarding.
Episode 15 Sneak Peek
On the long onboarding
"The question is quite simple. If you try to come up with a very personal approach for customers, you need a lot of input from them. So you have to ask them a lot of questions about their health journey, health data, and so on. At the same time, we need to also do a little bit of education around our topic."
"We figure out the best thing to do that, it's with a very long onboarding and with good explanation and the right time with the right questions. Customers really like that approach."
On onboarding goals
"Ideally, if at least 70, 80% are running through it, then you did a great job"
"For Health and Fitness, it's quite obvious: asking questions, getting enough input to make the journey as personalized as possible."
On onboarding Dos and Don'ts
"Make a first MVP for onboarding, and then you can definitely achieve much better goals if you have on a consistent basis, A/B testings in the onboarding flow"
"How they navigate through your onboarding, where they click, what is the drop off there, and so on. Have a very close look on the behaviour of the customers on your onboarding."
On onboarding A/B testing
"Iteration, it's key. A/B test, it's key. Not only for the paywall. Paywall, of course, you should spend time on that. I think Purchasely has great options for A/B testing paywalls"
"I'm a big fan of the 80/20 rule. If you're already achieving 80% of your goals, what you had in mind, which is great. The other 20%, it's something for later."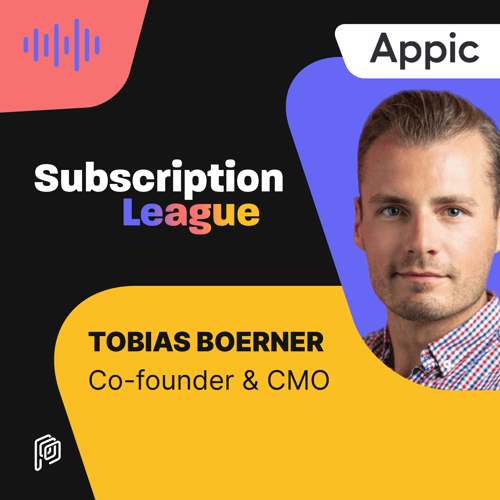 More about

Tobias Boerner
Tobias Boerner is a serial entrepreneur and Angel Investor. His passion is growth, product marketing and UX/UI. In his previous roles as a CMO and Co-Founder of LOVOO, Tobias was part of 2 exits worth 70M$ and 500M$.
After this almost 10-year journey in the dating environment, he started a new chapter as co-founder and growth officer for Fastic and helped them grow into one of the leading brands for well-being. Besides his passion for marketing, Tobi has made it his mission to be ahead of the times in market developments in the tech environment. With Admiral Studio he founded a collective in the NFT & Web3 space. Tobi is the CMO & Co-founder of App Aggregator Appic since 2022, where he is building a powerhouse for global mobile apps.
Episode Topics at a Glance
What is Fastic app About

Fastic app's onboarding explained

What is the ideal onboarding experience

Dos and Don'ts for onboarding

Onboarding struggles

Key numbers to benchmark

Paywall or no paywall during the onboarding
How to listen to Subscription League
Go to SubscriptionLeague.com or subscribe to our podcast on Apple Podcasts, Google Podcasts, Spotify, Podcast Addict, Amazon Music, or wherever you listen to your podcasts.
HAPPY LISTENING!
Previous episodes:
#1: Phiture - All about Retention with Andy Carvell
#2: Babbel Live - How to create a success in a crowded market with Belen Caeiro
#3: Mojo - Strategies you should focus on for a successful subscription business with Jean Patry
#4: The Guardian - Growing the user base The Guardian way - with Jesse Wilkins
#5: Blinkist - Using transparency to increase your conversion rate with Eveline Moczko
#6: Rootd - How to bootstrap #1 health and fitness app with Ania Wysocka
#7: Luni - Subscription Marketing 101: tips to drive acquisition and retention with Adrien Miniatti
#8: Uptime - How to build a successful user-first app strategy with Léa Samrani
#9: GP Bullhound - What venture investors look for in subscription apps with Eric Crowley
#10: Phiture - How to optimize mobile app subscription with Andy Carvell
#11: Jodel - Shifting from ads to In-App Subscription-led revenue generation with Tim Schmitz
#12: BlueThrone - Product market fit, Subscription, and Other Secrets of Success by Idan Waller
#13: Aperture - Tips for Creating the Right Mindset for Business Growth by Hannah Parvaz
#14: MobileGroove - The Subscription Model - the state, benefits, and success tips by Peggy Anne Salz