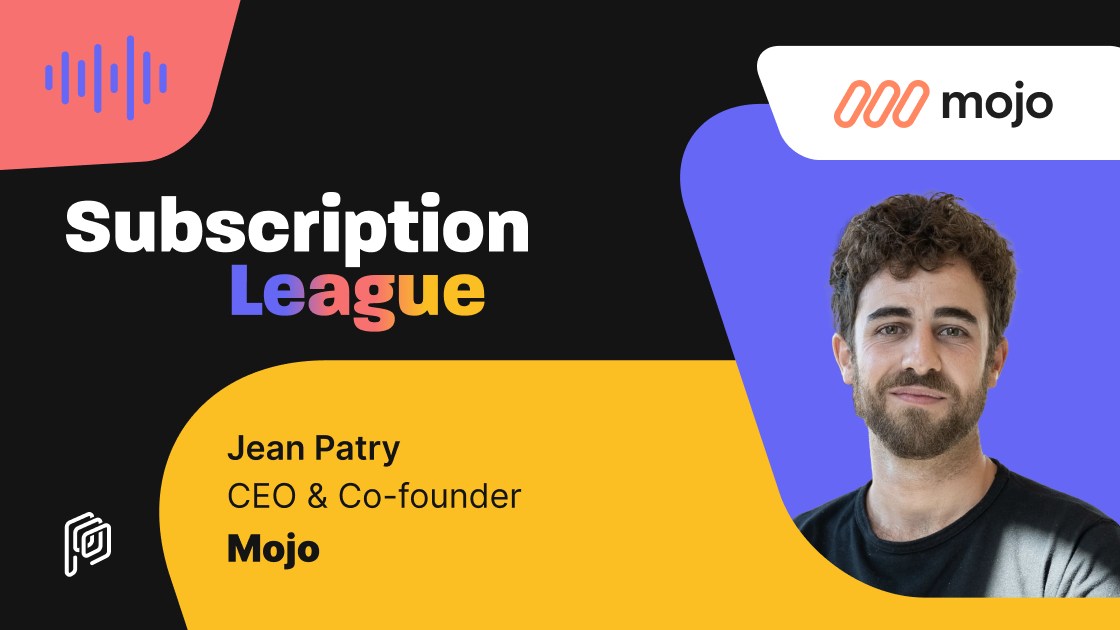 30+ million downloads and several hundred thousand paying subscribers - Not every app achieves such success, but mojo did it in four years and made the subscription business look as easy as ABC. In the third episode of Subscription League Podcast, Jean Patry, the CEO and Co-founder of the popular social video and content app takes a deep dive into some of the overlooked strategies for succeeding in the subscription app business.
He also opens up about the brand's success secrets, including its paywall strategy, transparency approach, early adoption of a third-party tool, and some happy mistakes that led to success.
Read on for some of the knowledge he shared during our conversation.
Strategies you should focus on for a successful subscription business
The often told one-sided sheds light on why brands love subscription models.
The value of the subscription model for app owners
Long-term revenue stream and predictability

Opportunity to build relationships with customers

Increase upsell opportunities

Reduced marketing costs

Benefit from word-of-mouth effect
While these are absolutely valid points, there's a mark that must not be missed when it comes to achieving success - continued value for customers. In other words, keeping your subscribers happy.
App owners must align the incentives of the subscription model by always guaranteeing the following value of the subscription experience for users:
Outcomes, not ownership

Personalization, not generalization

Constant improvement, not planned obsolescence

Convenient payment, not frictions
Subscription fatigue - don't tire them out
Netflix, Tinder, Amazon prime, Babbel, New York Times, and what's the other one?
Subscription apps have become a daily routine for many people. And what do we say about routines in general? We get tired of them. The same thing can happen when it comes to subscriptions. Subscription fatigue is when mobile users get discouraged about adding new subscriptions to their already sizable list.
A fundamental cause for this phenomenon is the disconnection between the value that customers actually get from a subscribed service and what was promised. Many In-App subscriptions are quite expensive when the fees add up over time. Subscription apps mustn't overuse the commitment model without offering the value that should follow, which must continuously improve and evolve.
Easy come, easy go
Another aspect that some apps try to be crafty about is the unsubscription.
Welcoming subscription businesses should always have their front door open to make it easy for people to come and go whenever they want to. If done otherwise and unsubscribing becomes difficult, customers will churn anyway.
The only reward for this will be generating customer complaints and ruining the app's reputation, which will negatively impact future acquisitions.
Don't try to build it yourself
Many successful subscription apps experiencing hyper-growth will share this one common pearl of wisdom: don't try to build it yourself.
Adopting third-party tools that will replace the nightmare of developing the technical aspects of the subscription business (paywalls, payment, analytics, In-App communication, etc.) will help save a significant amount of time, money, and, more importantly, focus.
New subscription app businesses must outsource as much as possible everything that is not the core of the business to fully dedicate to delivering gratifying subscriber experiences and continuously improving In-App products and content.
Velocity, Velocity, Velocity
When launching a sound subscription model, businesses confront tons of rules, make hundreds of mistakes, and pivot several times before finding something that works.
Many successful apps out there, such as mojo and Babbel Live, have also gone through numerous trials and turnarounds. The rule that applies to all new subscription app businesses is to go through those stepping stones as fast as possible before completely draining resources and the energy to persevere with new ideas.
One proven tactic to achieve the velocity is to take advantage of third-party tools to expedite experiments and bets as needed, which 9 times out of ten will fail. But that one working attempt will accelerate the progress and help the business catch up on the market competition before too late.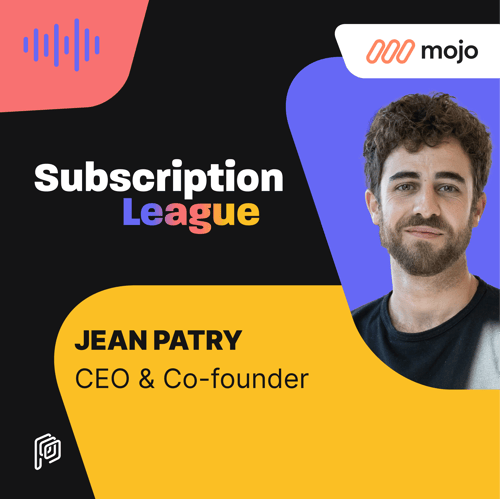 Episode 3 Sneak Peek
On retention
"the clearer you get and better trust you create early on and the more likely you are to first convert people into becoming subscribers. But more importantly, have them retained on the long run, which is really about growing a subscription business is about."
On subscription fatigue
"adding content all the time, I think it's the best way to prevent your subscribers from feeling that fatigue"
On subscription
"I think we would not have been able to build this business so fast without mobile subscriptions. So it's very, I would say instrumental to our trajectory and especially our velocity."
On outsourcing
"we try to outsource as much as possible everything that we do that is not core business. What we are good at, so we can focus on the rest, which is the product"
On transparency
"another aspect is also about making easy for people, for subscribers to cancel their subscription to your product. Because basically if you do not, they will churn anyway. That also actually they will get angry and turn into what you can call Brand detractors"
More about Jean Patry
Jean Patry has a background in mathematics and science and is passionate about programmatic design. He was hired as a software developer and as one of the first employees of a French startup called Stupeflix, which focused on making video editing apps. Five years ago, Stupeflix was acquired by GoPro and Jean became Product Manager of GoPro's own video editing app.
Almost four years ago, Jean left the company in order to start their own venture and went through the Y Combinator accelerator program. Jean and his business companion Francescu Santoni launched the mojo app in late 2018. mojo enables everyone to create stunning animated content for social media. Recently, the app reached 30 million installs and several hundred thousand paying subscribers. mojo is now the #1 app for creating animated content for social media.
Episode Topics at a Glance
How the subscription model contributed to mojo's success

Mojo's paywall strategies

Overcoming subscription fatigue

Adopting third-party tools

Transparency and user win-back

Mojo's hiring opportunities
How to listen to Subscription League
Go to Subscriptionleague.com or subscribe to our podcast on Apple Podcasts, Google Podcasts, Spotify, Podcast Addict, Amazon Music, or wherever you listen to your podcasts.
Previous episodes:
#1: Phiture - All about Retention with Andy Carvell
#2: Babbel Live - How to create a success in a crowded market with Belen Caeiro
HAPPY LISTENING!