Buffer-free road
to your app's scalable growth
Become the master of app success while putting in the minimal effort. From no-code paywall iteration to click-and-launch A/B tests, we're here to make your job look and feel like a pro.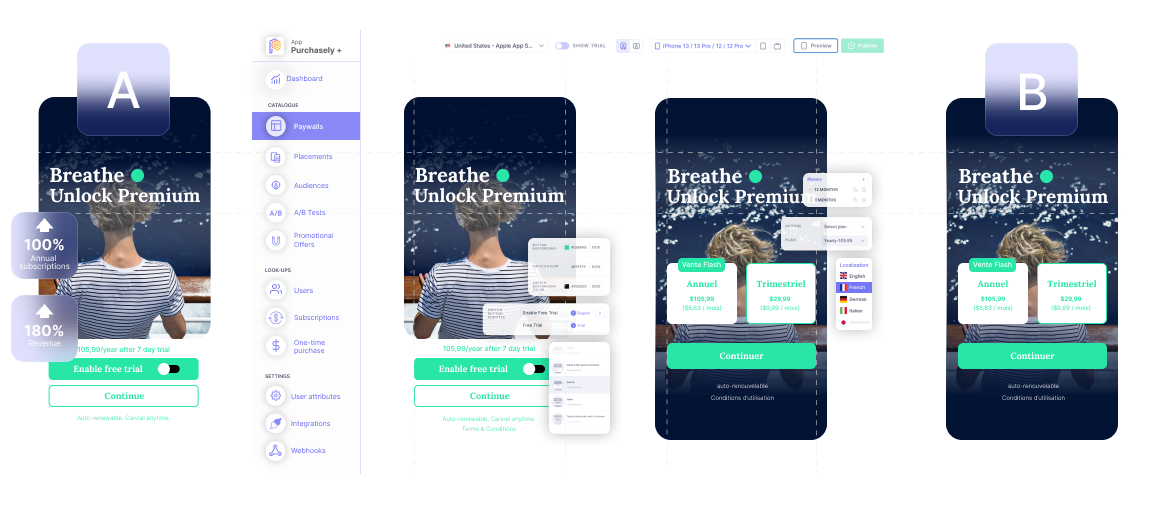 Master the complexity of app growth with simplicity
---
Set yourself up for success
Kickstart with customizable templates inspired by top apps - or start fresh with your design.
---
Put yourself into users' shoes
Get a real-time, native preview of your paywalls without having to release.
---
Beyond transactional screens
Encourage users to engage with diverse action buttons to build loyalty.
---
Personalization at scale
Easily localize and personalize content for targeted engagement.
Unbeatably faster experimentations
Crafting trustworthy and profitable app experiences requires continuous testing and real-time user insights. Purchasely simplifies this process.
Test every element: Price, design, touchpoints, trial periods, target segment, etc.
Juggle all your operations on one platform: Build, test, analyze, all in one place.
Test unlimited variants: Experiment with an unlimited number of variants all at once.
One platform,

infinite insight,
informed decisions
Ditch the guesswork. With real-time and comprehensive app monetization analysis, you'll see which interactions, prices, product mixes, and features open up the best business opportunities.
Insight for every team: Gain design, operational, and business insights
Monitor what matters to you: Subscription events, MRR, funnel evolution
Wow your users before they know it: Fuel your marketing automation with real-time data
Be with your users on every step of their journey
Do more than once-and-done. Engage with your users through personalized, cross-funnel touchpoints to maximize the reach, nurture long-term user relationships, and generate recurring revenue.
Reach every user or focus on one target: Roll out intelligently planned engagement at user-led moments.
Identify and leverage the hot touchpoints: subscription events, MRR, funnel evolution
Nurture all unique paths to purchase: Drive contextual engagements whether for onboarding or winning back.
Enhance your workflow with integrations
No matter what you need - weather it's automated push notifications or extensive customer data, you should be able to make it happen. With Purchasely's integrations, the sky is the limit.
Improve user experience and engagement: Provide seamless and effortless omnichannel experience across channels.
Streamline workflows: Stick to your favorite process and eliminate manual efforts.
Sync data: Consolidate the entire context and various data streams into a single view.
Maximize your ROI
Using Purchasely for your app's monetization saves significant time and money, paving the way for scalable growth.

+324k
incremental ARR from
A/B tests
---
500%
increase in
experimentation pace
---
10x
faster paywall design & deployment
---
$100k
saved per customer yearly on maintenance
and paywall development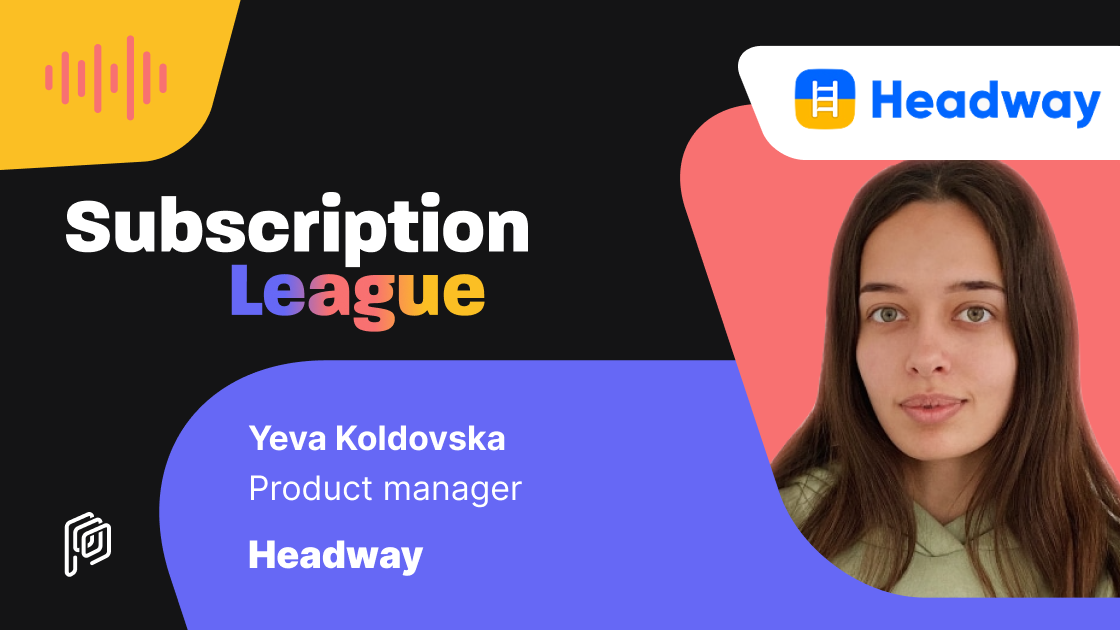 Podcast
Unlocking growth and diversification: the power of web and in-app subscriptions with Yeva Koldovska (Headway)
LEARN MORE