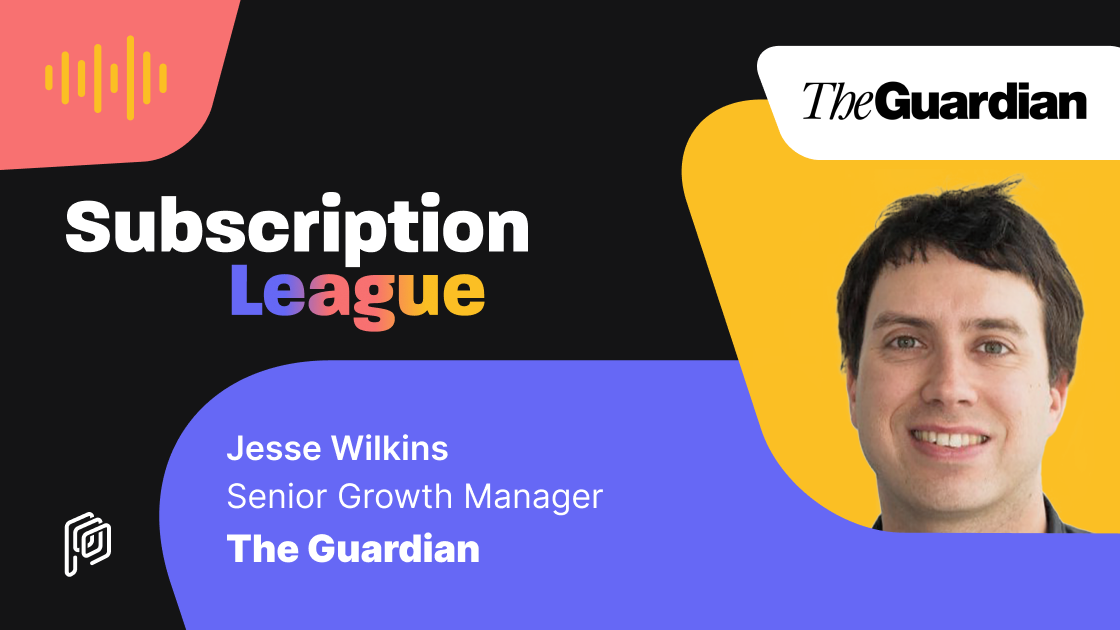 The Guardian boasts its reputation as digital readers' most trusted news provider. While a majority of the leading players in the media industry are leveraging paywalls as part of their growth effort, the British newspaper has been keeping the content global, free and accessible to everyone. Listen to the Subscription League episode 4 to learn more about the extraordinary success story.
The Guardian's evolution of success
In the early '90s, The Guardian was the 8th biggest UK paper. Looking back from where it is now, it was relatively a small local player back then. By 2015, The Guardian had reached the top three in the entire English-speaking world globally in terms of the digital readership. Now, it scores the highest, that is number one, for the public's trust in digital-content news, with 84% of readers agreeing that they "trust what they see in it."
Growing the customer base The Guardian way
Free access
The Guardian's core business mission has always been to help people understand better the world we live in by keeping journalism global, free, and accessible to everyone. The model that the brand settled on to achieve this was a supporter model that enables the readers to donate while keeping the content free and open - not the most typical way of revenue generation.
No paywalls
When The Guardian landed on the rather countertrend business move, the rest of the market was racing toward making content accessible to those who can afford it by using the paid subscription model to different degrees. One popular tactic to entice readers to subscribe, widely used by many news providers until today, is using paywalls that hide access to all or certain content behind a pop-up wall, which usually comes as a bad surprise.
It was a massive bet for The Guardian to suddenly switch off the idea of paywalls that all its media peers were praising. (Stats by Reuters Institute for Study of Journalism shows about 70% of new papers across the EU and US are operating some kind of online paywall, a trend that has increased since 2017)
At a certain point, consideration was given to implementing the concept, but the decision to insist on The Guardian way paid off.
The open access brought profit and greatly contributed to building a huge readership, which allowed the company to create the right foundation for research and A/B testing-based evolution of content and reader experience.
Research and A/B testing powered evolution
For A/B testings to have the most meaningful impact, they require a large set of test targets - the customers. Without having this precondition fulfilled, companies end up wasting resources and test results that do not contribute to effectively improving the customer experience and conversion rate. For The Guardian, with the size and the scale of the audience base and the large amount of data generated thanks to the open-access strategy, performing efficient and quick A/B testings became a routine practice that helped the brand explore countless options and learn.
The research and the A/B testing enabled the brand to see themselves as the readers saw them, hold that mirror up and speak to them in an authentic way.
Following are some of what The Guardian has tested along its journey to optimize the customer experience.
The ads on The Guardian's website are non-invasive and comfortably incorporated into the visitor experience, which, nevertheless, are still ads. It found that adding a message at the end of the article that feels more native and like an extension of that article caught better readers' attention
Longer and conversational vs short and snappy
Whether for ads or banners with messages, the company discovered longer, and conversational tones were more effective than short and snappy tones, which is the conventional marketing wisdom suggested in the industry.
Affordable membership with rewards
The Guardian tried a small membership scheme for a monthly fee at a point. As a reward for becoming a member, members received a bag with The Guardian branding and a certificate. This trial turned out as a realization that readers just want their money to go to journalism.
Reminding the user of the value
A trial turned success: It showed readers how much they have read with a message at the end of article containers saying, "You have read 100 articles in the past 12 months." It remains an effective tool to remind readers of the value of coming back to The Guardian.
Read on for some of the inspiring knowledge shared by Jesse Wilkins during our conversation.

Episode 4 Sneak Peek
On open access
"We want our journalism to remain global, free, accessible for our readers, and not available only to those who can afford it. We want to give people the opportunity to contribute regardless of how much or how often, where they live, how they get their news."
On A/B testings
"We found that A/B testing was both a means to improve our conversion rate, but it was also just a tool to learn. Bear in mind at this point, there was not really a template for our model, and there wasn't really a manual on how to do it."
On no paywalls
"it actually made things simpler. We didn't have to think too hard about that. We knew there wasn't going to be one within the team I was in."c
"I would say giving people unrestricted access has probably helped us understand what is important to a wider range of readers than a paywall site. Obviously, I haven't worked on a paywall site at the same time, but it's almost certainly given us access to a wider range of people and helped build our understanding of them."
More about Jesse Wilkins
Currently at The Guardian, one of the world's leading liberal newspapers. After working in a variety of e-commerce roles, Jesse has spent the last few years in the donation/subscription space, thinking about how to convert readers of The Guardian, which has a free and open model of journalism with no paywall. He was part of a small team that launched The Guardian's voluntary donations 'Contributions' product in 2016 and played a key part in helping them reach 1m acts of financial support, helping to pivot the organisation towards a reader funded model. He is now the senior growth manager for global reader revenues, leading a team of six.
Episode Topics at a Glance
The Guardian's evolution of success

Guardian's mission to make journalism accessible to everyone

Voluntary donation

Why The Guardian settled on offering open access without using paywalls

Research and A/B testings
How to listen to Subscription League
Go to Subscriptionleague.com or subscribe to our podcast on Apple Podcasts, Google Podcasts, Spotify, Podcast Addict, Amazon Music, or wherever you listen to your podcasts.
HAPPY LISTENING!
---
Previous episodes:
#1: Phiture - All about Retention with Andy Carvell
#2: Babbel Live - How to create a success in a crowded market with Belen Caeiro
#3: Mojo - Strategies you should focus on for a successful subscription business with Jean Patry