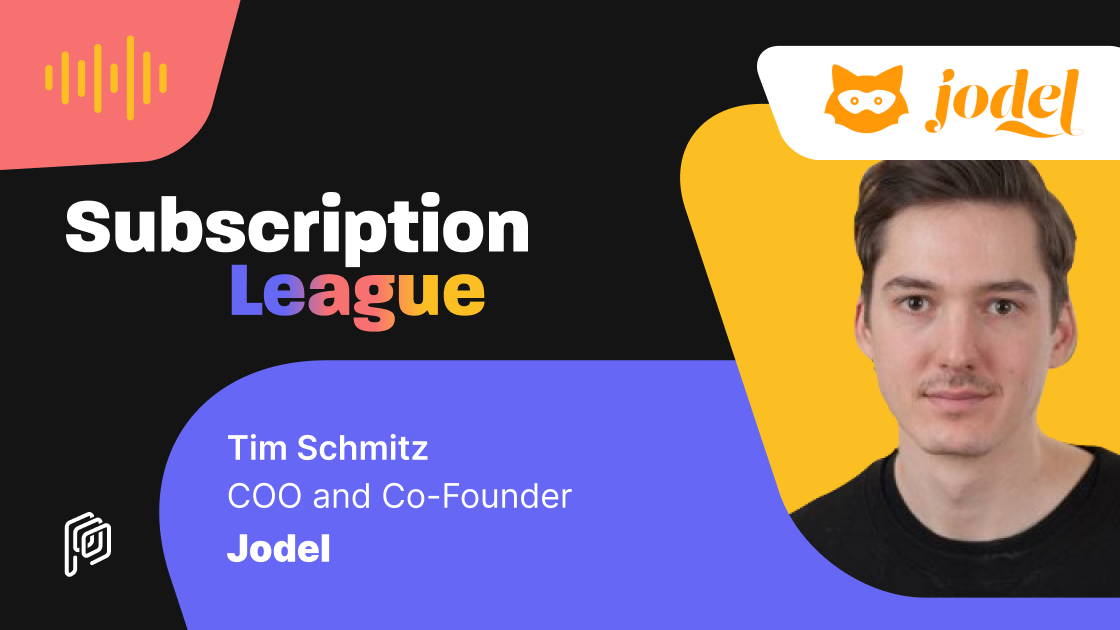 From selling only ads to gravitating towards In-App Subscriptions, Jodel's In-App Revenue generation strategies have been evolving. Listen to the episode with Tim Schmitz, Jodel's Co-Founder and COO, to learn more about the app's smart approach to combining different IAP options.
What is Jodel all about?
Jodel is a social media platform that serves as an uncomplicated and easy-to-use bulletin board for local communities. It's a live social media feed, bursting with news, questions, events, jokes, business information, and sometimes dating opportunities.
Since its launch in 2014 in Germany, the number of Jodel users has been growing rapidly. Today, as of 2022, Jodel boasts around 3 million MAUs, and 7,5m users in 11+ countries across Europe and the Middle East.

With Jodel, anyone can:
- Advertise, promote, get noticed
- Discover in real-time what's happening in their local communities
- Anonymously chat with other users nearby, and post messages and photos.
- Vote on posts and boost own posts
- Make new friends and connect with people in the local community
- Get access to student discounts
- Easily find, pin, and provide useful local information
Revenue generation: gravitating towards In-App Subscriptions
Mobile apps can generate revenues from the following major monetization options:
Paid Apps

In-App Advertising

Funding, Donation, Sponsorship

In-App Purchase (Consumable, Non-consumable)

Subscriptions
Phase 1: In-App Advertising - focusing on professional advertisers
While each of the above options has benefits and limitations, in the beginning, Jodel's choice of growth model was selling feature ads through a direct selling approach.
But this approach had a major downside - It did not facilitate in-app payment through which any users can easily purchase diverse, creative advertisement options to improve the impression of their content.
Without a simplified In-App Purchase model in place, the advertising opportunities were mostly dominated by big brands or professional advertisers, and local users such as the cafe next door or students just wishing to promote their content to the local community didn't have the access to do so.
Not only did such inaccessibility contradict the app's envisioned purpose for serving local communities, but also slowed down the app's monetization.
Phase 2: In-App Purchase - making advertising more accessible to the local community
With the vision to help users instantly engage with their local community, Jodel added three Consumable features - "boosts", "reactions," and "colors" - that can be used by not only business owners or service providers, but also by non-advertizer likes such as students or expats.
If before the advertising within Jodel was limited to featuring businesses or products and the monetary transaction to make it happen was rather complicated and expensive, the new approach made it more simple and native for anyone to just pay through Apple Pay, and have their ads immediately reach people within their location.
Tim identifies two main benefits of monetizing through In-App Purchase of Consumables:
It helps monetize big spenders as there's no cap on In-App Spending.

When users subscribe to a set of features, those features are there to stay for as long as the subscription duration. When the features are sold as Consumables, it's easier for the app to experiment with them and remove them if necessary without impacting the user experience.
Phase 3: Taking In-App Purchases to the next level with In-App Subscriptions
In June 2022, Jodel added to its offerings Jodel Plus, a new premium subscription plan that bundles ad options that used to be only available through a one-time Purchase with new features:
No Ads

3x Boosts per week

3x Plus colors per week

3x Reactions Credits per week

Interact in Explorer Mode

App Icons
Users can still purchase additional consumable advertisement options, for instance, if they want to boost their content more than 3 times a week in addition to what's included in the subscription plan.
By combining two IAP options - In-App Subscription and Consumable - the app has:
Established a more stable revenue stream

Unlocked the In-App Spending limits per user

Expanded target user segments from professional advertisers to anyone looking to promote their content.
The app's revenue increased dramatically with the addition of the premium subscription plan, which today is largely outperforming the Consumables.
Listen to the full episode to learn more about Jodel's journey to improve the app with new features, unexpected winners and losers in its optimization journey, and its most significant challenges today in increasing revenues.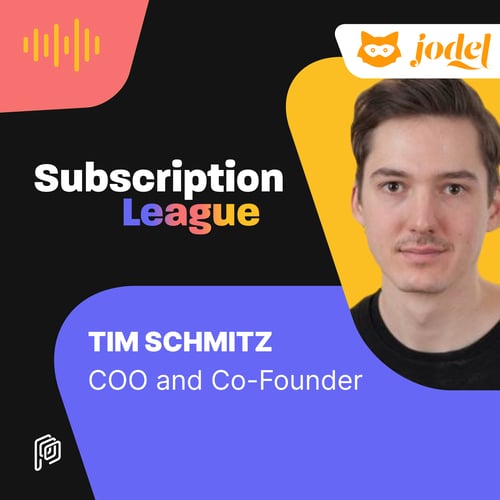 Episode 10 Sneak Peek
On Ads
"Our broader monetisation strategy at the beginning, we just started with obviously ads because it's just the model that is most known. And let's say easiest to scale at the beginning, I guess..."
On Introducing In-App Purchases
"Our idea was why don't we just give this same feature, make it available instead of only professional advertisers, also to the café next door."
"Our approach was to make it very simple. You just go in, you just do Apple Pay, have this app up and running. And you immediately reach people within your location."
On Consumable
"That's why we started off with consumables. It's just easier to experiment with, you're not committing just yet. At the same time, it monetizes very well on the whales."
On Subscription
"The subscription is just like a very recurring revenue, and that is also what many users are more accustomed to."
More about

Tim Schmitz
Tim Schmitz is the COO and Co-Founder of Jodel. Over time he managed all functions of the company like Product, Growth, Community, Tech and Monetization.
Prior to Jodel, Tim studied at ESADE Business School, University of Sydney, and worked in banking and consulting. Tim grew up with strong ties to software development due to his father who owns a software company. During his exchange semester at San Diego State University, Tim met Alessio Avellan Borgmeye with whom he founded Jodel together.
Episode Topics at a Glance
Jodel's Hyperlocal Community and the challenges it represents

Scaling with Advertisements

Combining In-App Subscriptions and Consumables In-App Purchases

Unexpected features: winners & losers

User feedback and Being a user themselves

Challenges to increasing revenue and subscriptions
How to listen to Subscription League
Go to SubscriptionLeague.com or subscribe to our podcast on Apple Podcasts, Google Podcasts, Spotify, Podcast Addict, Amazon Music, or wherever you listen to your podcasts.
HAPPY LISTENING!
---
Previous episodes:
#1: Phiture - All about Retention with Andy Carvell
#2: Babbel Live - How to create a success in a crowded market with Belen Caeiro
#3: Mojo - Strategies you should focus on for a successful subscription business with Jean Patry
#4: The Guardian - Growing the user base The Guardian way - with Jesse Wilkins
#5: Blinkist - Using transparency to increase your conversion rate with Eveline Moczko
#6: Rootd - How to bootstrap #1 health and fitness app with Ania Wysocka
#7: Luni - Subscription Marketing 101: tips to drive acquisition and retention with Adrien Miniatti
#8: Uptime - How to build a successful user-first app strategy with Léa Samrani
#9: GP Bullhound - What venture investors look for in subscription apps with Eric Crowley
#10: Phiture - How to optimize mobile app subscription with Andy Carvell