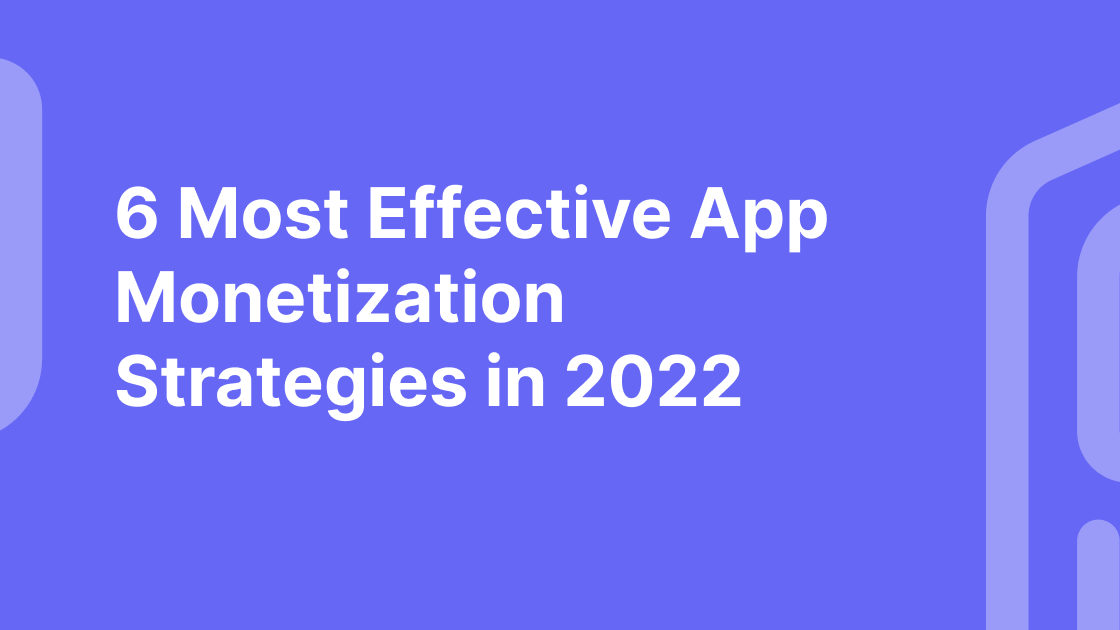 App monetization strategies have evolved over the years. Not long ago, paid apps used to be king. Yet out of the 230 billion mobile apps downloaded in 2021, 95% were free to install.
So how do apps that are free to use and download actually make money?
We're going to answer that question in this guide. Keep reading to find out everything you need to know about the most effective app monetization strategies in 2022, which categories work best for each model, and the importance of user experience when considering your approach to app monetization.
What is app monetization and why is it important?
To put it simply, app monetization is how apps make money. It's the process of generating revenue from the people who use your app, and there are multiple ways of doing this. The type of strategy a developer uses to generate revenue from their users largely depends on their category of app. Some categories are more suited to specific monetization models, whereas others may benefit from using several of strategies to maximize their returns.
Like any business, mobile app and game developers need revenue in order to survive and thrive as a business. It's also important because of the way the mobile app market has developed in recent years. As mentioned above, approximately 95% of mobile apps are now free to install. The app business model has therefore had to adapt and look to generate revenue after users have downloaded their apps.
But a monetization strategy isn't just about money. For any app revenue model to be successful, your strategy must invest in keeping your users happy too, which leads me to my next point…
Does user experience matter?
Yes! In fact, user experience matters now more than it ever has. As digital experiences have evolved, consumer expectations have risen. If a website or app takes too long to load, if the navigation isn't clear, if support isn't available, if conversion strategies are too aggressive, if messaging isn't personalized…then consumers will leave and won't come back.
Take mobile app use as an example: 25% of apps downloaded by mobile app users worldwide were only accessed once after download. It's safe to assume that poor UX falls within that percentage.
In short: revenue requires happy users. So the key point here is that any monetization strategy must not lose sight of this, and ensure that pursuing revenue is not done at the expense of the user experience.
A complete overview: the most effective app monetization strategies
As we've mentioned, there are several types of monetization strategies to choose from. Which you decide to choose may depend on your app category, budget, and whether you are trying to monetize an app for the first time, or looking to increase revenues coming in from an existing, successful app.
One thing to keep in mind: don't leave this decision too late. You should know which monetization strategies you'll be using when developing your mobile app strategy, either before or during app development. The reason for this is that the monetization model you choose can affect the app layout, features, and user experience.
First up, in-app advertising model.
1. In-app advertising model
In-app advertising is one of the most popular forms of monetizing app users in 2022.
There are a few reasons why this is the case:
It means apps can remain free, keeping with best market practices and making it easy to build and scale an audience.

There are a wide variety of ad formats available (which we'll look at below). This means you can choose a format that accommodates, rather than disrupts, the user experience.

In-app advertising offers advanced targeting options, enabling developers to reach their ideal users quickly and easily.
Developers may choose to avoid in-app ad models if they prioritize the user experience, as regardless of the format used, ads are usually perceived to be a disruptive experience. Another reason is that to generate significant revenue, developers need a broad app audience. This may be more difficult for first-time app developers.
Which apps work best with in-app advertising?
In-app advertising is used by apps across all industries and categories, but it's particularly popular among gaming apps. The main thing to consider - especially for those using In-App Purchase (IAP) revenue models is whether in-app advertising will add unwanted friction to the user's experience and block any path to purchase.
In-app advertising formats
Banner ads
The very first online ad was a banner ad, so it's been around for a while. From a UX point of view, they're intrusive and can distract the user's attention from the app experience. When used in-app, banner ads are also very small, so it's difficult to get the most value out of the space.
If you're going to use this ad format, personalization is key. Banners must be highly targeted and high quality, otherwise users will get annoyed.
Interstitial ads
Interstitial ads are full-screen ads that are usually displayed at natural transition points in the app, such as between levels in a game. When they appear, the user has two choices: dismiss the ad and return to the app, or click the ad.
Interstitial ads can be a great way of driving engagement and monetization, but they must be used strategically and sparingly e.g. when the app is loading, or at the end of a specific flow. This makes it less disruptive for the user.
Native ads
Native ads are ads that 'blend in' to the look and feel and content of the app. These types of ads are common in social media feeds, where they look just like other posts in the timeline.
The potential issue with native ads is that high engagement doesn't always translate into high conversions or monetization - especially if users feel tricked into clicking an ad, thinking it's organic content. So be mindful: make sure it looks and feels native while also being clear that it's an ad.
Reward ads
Reward ads are a type of ad where users can choose to watch a 30-second ad in exchange for an in-app reward, such as getting an extra life in a game or access to a locked level.
These kinds of ads are valuable because they can improve the user experience by offering relevant rewards. In this Google study, 50% of users said they would be less satisfied with their app experience if reward ads were removed.
Affiliate ads
Affiliate advertising or affiliate marketing is a business model where you get a commission for allowing other companies to advertise their app, product or service through your app. This can be an effective way of generating "passive" revenue, but will only work for developers or apps with large audiences that would be of interest to a third-party.
As mentioned in each of the above points, the experience is key. Make sure any affiliate ads appear at relevant points and try to minimize the disruption to the app experience.
Playable ads
Playable ads are exactly what you think they are…interactive ads you can play! These ad formats are a great way of letting users "try before they buy", giving them a short teaser sample of your app.
These ad formats are commonly used by marketers for mobile games, where users can try the game, get hooked, then decide if they want to install or not. But they're growing in popularity in other verticals too.
Video ads
In 2022, video is king. When it comes to advertising, the same rules apply. Video ads have high engagement and click-through rates, and can be used for a variety of the formats mentioned above, including reward ads, affiliate ads, and native ads.
2. In-App Purchase model (IAP)
In-App Purchase monetization models allow users to download apps for free and then give users the chance to make purchases within the app after installation. The idea is that these In-App Purchases should enhance the user experience by giving users access to exclusive content or features.
In-App Purchases have been on the rise, especially as freemium apps (discussed below) have become the dominant model for developers. Users are now spending $380 billion worldwide on In-App Purchases, which is a compelling reason to adopt this model.
It's worth noting that research shows the majority of users won't pay for In-App Purchases. For this model to work, you'll need to have a large enough user base, potentially ruling out first-time developers or apps without strong brand recognition. It's also important to make sure In-App Purchase options are enticing to drive enough action from buyers.
Which apps work best with In-App Purchase models?
This strategy is most effective for mobile games where users can buy things like extra lives or in-game currency. It's also a popular model used by dating apps where users can pay to get access to more profiles if they surpass their daily limit.
You may read our article The 50 Most Successful Examples of Apps with In-App Purchases to get an overview of the key success factors proven by gaming, finance, education, video streaming, news, health and fitness, social, travel, dating categories.
For more information on this model, you can download our new white paper, In-App Purchases: The Ultimate Guide To The Perfect Use.
3. Freemium/Subscription model
Over the past 10 years, "freemium" - which combines the words "free" and "premium" - has become the dominant monetization model for app developers. It's an app pricing strategy which gives users access to a free version of the app with basic features, and then charges a "premium" for more advanced features.
Subscriptions are the most popular way of utilizing the "freemium" model. Think of music apps like Spotify or cloud-based storage platforms like Dropbox, or language apps like Duolingo. Each of these apps offers free versions with limited features - e.g. limited storage space, or the number of songs you can listen to each month. By upgrading to a monthly subscription, you can access unlimited storage or streams each month.
For an in-depth look at subscription business models, check out our article The Complete Guide to Subscription Business Models in 2022.
Some of the key benefits of this model:
"Try before you buy" approach allows users to trial the app without any upfront costs, meaning developers can attract a larger user base (compared to a premium-only model).
It lowers the customer acquisition cost (CAC) by lowering the bar to entry, which can help businesses avoid overspending on paid marketing channels.
It provides a predictable revenue stream.
Which apps work best with freemium/subscription models?
Freemium/subscription models are widely used across many different industries and categories, including news apps, music apps, dating apps, fitness apps, language apps, and more.
4. Paid Apps
Paid-for apps, or pay-per-download, is the oldest monetization model out there. Between 2008 and 2014, 90% of apps were paid. But app monetization models have evolved a lot since then. These days, about 95% of apps are free to download.
The idea is simple: apps charge a one-time fee to download your app, effectively generating revenue upfront. However, it's not the most lucrative model in the long-term when compared with subscription or In-App Purchase models.
Some of the reasons a developer may choose a paid app monetization model include:
If a company has strong brand recognition, with verified reviews, positive press coverage, and a solid marketing and messaging strategy that communicates its value over other free versions.

If they want easily measured and predictable revenue.

If you want a higher quality and less cluttered app experience for users that doesn't require banner ads or interstitial ads to generate revenue. User models that disrupt the user experience with banner ads or interstitial ads.
Which apps work best with paid apps?
As mentioned above, household brand names or apps with a unique proposition should be paid. If you're serving a unique and unmet need, the market will pay for that service. One of the most important channels for paid apps to invest in will be App Store Optimization to improve ranking and visibility.
5. Hybrid monetization model
Depending on your business model, it might be better to combine two or more monetization strategies to maximize revenue. The most common hybrid approach uses a combination of in-app ads and In-App Purchases.
The main benefit of using a hybrid model is that it allows you to expand the audience you can monetize instead of being restricted to In-App Purchases or in-ad revenue. We
And don't worry about ads cannibalizing your IAPs. In fact, it's been shown that certain ad formats, like reward video ads, work even better in hybrid models and can boost In-App Purchases by 6x.
Which apps work best with hybrid models?
Any app can benefit from a hybrid approach to monetization, but its especially popular among mobile gaming apps. The key here is to prioritize In-App Purchase options over in-app ads and not show too many pop-ups. This way, the focus is kept on the user experience. Marketers should only show highly personalized ads in the most relevant places such as when a user has completed a level.
6. Partnership/sponsorship model
Partnerships and sponsorships can be an effective way to generate app revenue. In this model, app developers partner with complementary brands or businesses by offering them brand exposure within the app. The partner then gets their message in front of app users, while the publisher earns revenue. This type of monetization can be a win-win for both parties involved, as long as the sponsorship is relevant and well-matched to the app audience.
Some examples may include:
An app that helps people book restaurant reservations partners with a local restaurant chain to offer exclusive discounts or access to VIP reservations.

An airline could sponsor your travel app by offering flight deals or discounts on baggage fees.
Which apps work best with sponsorship models?
The partnership model works well for super-apps, especially in finance and travel sectors. Super-apps combine many relevant services to provide all-in-one solutions where users can do everything in one place. In Europe, finance apps like Revolut allow you toset up a savings account, invest in stocks, convert cash into crypto or foreign currency, and claim rewards. Or Skyscanner, the travel app where you can book flights, accommodation, hire cars, and much more. Both companies work with many partners to maximize their in-app experience and provide everything the user might need in one place.
How to choose the right monetization strategy for your app
Selecting the right monetization model for your app depends on many factors, including your overall business objectives. This is why it's important to think about which model to use while developing your overall mobile app marketing strategy. Here are some other key considerations to keep in mind when planning your app monetization strategy.
What problem will your app solve? Some apps work better with particular models than others, as we explored above. Which category your app falls into will go a long way towards deciding a suitable approach.

What is the competition doing? Competitor research is a must. Take a look at similar apps in your vertical and see how they are monetizing users. If you're seeing a trend, then it will be for a good reason. You may also spot opportunity gaps in the market or different angles that could help you accelerate revenue and gain a competitive advantage.

What do your users want? Another core component of any monetization strategy is user research. Who are they? What do they want? Surveys, interviews, market research reports will all help inform your strategy so you can tailor your app experience as closely to your target audience's needs as possible.
App monetization strategies: The key takeaways
App monetization is how app developers generate revenue from their users.

The app market has evolved: a decade ago, 90% of apps were paid. In 2022, about 95% of apps are free to download.

An effective monetization strategy isn't just about money, it's about keeping users happy and not causing a negative app experience.

In-App Purchases, in-app advertising and freemium/subscription models are the most popular monetization strategies used today by app developers.

Hybrid models that combine two or more of these strategies can be used to maximize revenue.

Ultimately, you should decide which monetization strategies to use when developing your mobile app strategy.
Power Up Your App Monetization Strategies with Purchasely
Have you read our Complete Guide to Subscription Business Models in 2022? Purchasely's industry-leading tools make managing multi-channel subscriptions easy.
Book a a 30-minute product tour with one of our experts where they'll talk you through the platform and how it can help you to fastly implement and optimize subscription business models.