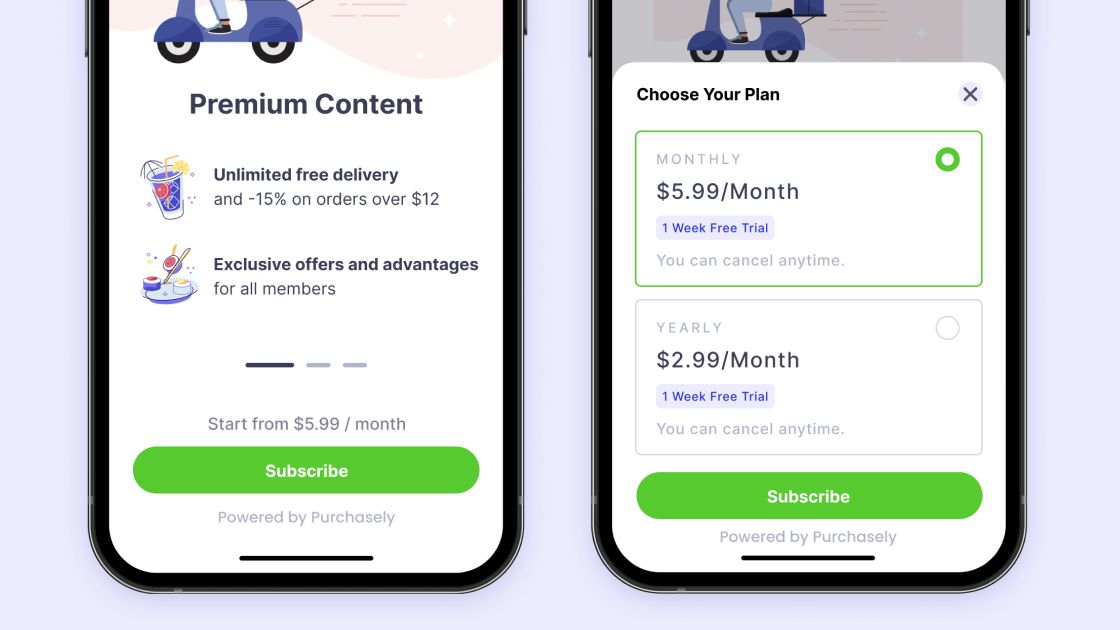 Subscription business models are transforming the business landscape. Learn about different types of subscription business models, why they work, and best practices in our complete guide for 2022.
The membership economy has boomed in the last decade. Subscription business models have transformed nearly every industry, and by 2023, it's estimated that 53% of software companies will embrace the subscription business model.
Faced with the opportunity to grow revenues up to 5x-8x faster by adopting a subscription model approach, many businesses are moving away from one-off payments to create 'forever transactions' with loyal repeat customers. Read our article Subscription Megatrend is here to stay.
So, what is it about a subscription business model that works so well? What are the different types of subscription models? And what are the benefits for organizations and consumers? Find out below in our ultimate guide to subscription business models in 2022.
What is a Subscription Business Model?
The subscription business model is based on selling products and services for an agreed fee on a regular and ongoing basis. Customers are typically charged weekly, monthly, or annually. If they want to continue using a service after the specified time window, they must renew their subscription to retain access. If they want to cancel, they simply let their subscription expire.
The subscription business model, also known as the membership business model, is not a new concept. Some of the earliest examples include newspapers and monthly magazine subscriptions. These were popular as early as the mid-1800s, but it wasn't until the late twentieth century that the industry truly boomed.
In modern times, the emergence and development of new technologies have made subscription models the primary source of revenue for many licensed products. Today's most popular subscription-based business model examples include Amazon Prime, Netflix, and Spotify.
However, the membership economy is not limited to streaming services. Physical and consumable goods, educational programs, travel, shipping, and delivery benefits are also available using the subscription model. From food and drinks to cosmetics, flowers, toys, accessories, and more, savvy businesses around the globe are offering regular deliveries of their products on an ongoing subscription basis.
Why do Subscription Models Work?
The subscription business model examples we listed above provide a whole heap of content at an affordable cost. But that's not the only reason they're successful. They also tap into significant changes in market demographics and shifts in consumer mentality:
Access over ownership – Compared to previous generations, modern consumers like Millennials prefer experiences, excellent service, and convenience over ownership.

"People want to experience all that life has to offer, and since acquiring things no longer dictates your class or status in life, millennials are simply enjoying experiences over things, access over ownership."

Hassle-free living – Customers are happier with products and services that call for little effort on their part in terms of upkeep, maintenance, and decision-making. Plus, subscriptions offer easy access to desirable goods and services without needing to leave the house.

The sharing economy - The sharing economy has transformed traditional market behaviors. Marketplaces are great platforms to make items and digital services circulate between end-users. Marketing innovations are enabled by new technical capacities. For example, Apple provides the capacity to add up to 5 additional family members to a specific subscription, and app publishers may launch Family plans (read our article Family sharing In-App Purchase: principles and recommendations).
Types of Subscription Models
What springs into your mind when you hear the word subscription? As we highlighted earlier, it wasn't all that long ago that the membership economy was limited to newspapers and magazines. However, in the current economic climate, there's virtually no limit to the industries and verticals that can benefit from adopting a subscription business model to scale their business. Here is a breakdown of the main types of subscription models.
Software as a Service (SaaS)
Most SaaS companies utilize a subscription model rather than charging for a perpetual license. SaaS products add value by automating and optimizing processes. By following a monthly or annual membership/subscription-based billing schedule, businesses can deliver a range of packages to suit varying needs and budgets. For example, offering essential, standard, and premium options is common practice. This is advantageous as it allows customers to scale their subscriptions as their needs grow. Some of the most popular subscription-based business model examples for SaaS products include:
Zoom

Twilio

Mailchimp

Hubspot

Slack

Xero

GitHub

Calendly

Dropbox
E-Commerce
More widely known as the subscription box model, this approach has become a popular way to deliver personalized shopping experiences. Personalization is becoming an essential factor. Research by McKinsey indicates that 49% of consumers actively sign-up for personalized products and services.
Tailored boxes allow recipients to sample new products at an affordable rate without buying extensive sets or investing in full-size versions. Subscription boxes appeal to shoppers who enjoy an element of surprise, and for many, the mystery of 'what will be in this month's box?' is a key part of the experience. The most popular genres of subscription include:
Home chef boxes

Couture coffee boxes

Wine and cheese boxes

Hobby boxes – including a range of niches like books, plants, games, and activewear.

Cosmetics boxes

Male grooming boxes

Pet boxes
Media/Entertainment
The COVID-19 pandemic acted as a catalyst for the rapid growth of streaming subscriptions. According to the LA Times, streaming service subscriptions passed 1 billion worldwide for the first time in 2020. Media and entertainment subscriptions come in two forms:
Premium services – Subscribers pay a monthly fee to access music, games, movies, television series, books, etc. Notable examples in addition to the big names we mentioned above include HBO, Disney+, Hulu, Apple Music, Apple Fitness, and Kindle Unlimited.
Freemium services – More prevalent in the news and media industry, freemium subscriptions grant exclusive access to a full array of articles, while non-subscribers are limited to a handful per month. Popular examples include The New York Times, The Guardian, Harvard Business Review, Washington Post, and The Wall Street Journal.
Edtech
The spike in demand for remote learning courses throughout the COVID-19 pandemic has led to exponential growth in the e-learning market. According to Business Wire, the value of the online learning industry is projected to pass $370 billion by 2026. The Edtech subscription business model offers access to personalized and convenient courses, programs, study materials, and learning support. Students can curate study plans that suit their needs, and education providers can scale their operations to meet demand. The most popular subscription business model examples for educational development include:
Masterclass

Coursera

Skillshare

Duolingo

Linkedin Learning

Kahoot!

Chegg

Udemy

Babbel

Busuu
You may read our article EdTech and language-learning: 10 insights from Babbel & Duolingo for further insights from 2 leaders of EdTech.
Dating Services
The convenience of meeting new people from your phone or computer has made online dating the most popular way to meet partners. In 2021, 30 million people were online dating. There are many apps and websites available to online daters, and they fall into two subscription models:
Membership Subscriptions - This model is the most used in the online dating industry. Users are charged a recurring fee to use the website or app for a period of time. In this model, the subscription is cheaper the longer the membership time. Examples of this model include:
eHarmony
Match.com
OurTime
Chemistry
Hinge
Zoosk
Freemium - This model allows users to sign up for free access to the basic functions of the website or app. Then advertising or having users pay for premium services will generate revenue. Examples of this model include:
The Benefits of Subscription Business Models
The staggering success of subscription models and the continued projected growth is based largely on the significant benefits for both businesses and subscribers. The beauty of a well-designed subscription business model is that it reduces risk and maximizes value for both parties. Here's how.
The Consumer Benefits of Subscription Models
There are several reasons why people sign up for a subscription service, the main benefits being value, convenience, variety, and personalization.
Value – Subscriptions feel like less of an investment. The cost of a yearly fee may be the same in the long run. But for most people, making smaller regular payments is preferable and feels more affordable than making one large payment. Let's say you pay $20 per month for a subscription service. That's easy to factor into a budget, especially when compared to other bills. It's only about a third of a typical gym membership price, and less than most people spend on coffee every week! In addition, many subscriber services in the SaaS and entertainment sectors offer free trial periods, making it easy for consumers to try before they buy and sign up with confidence.
Convenience – Membership business models make life easy for customers. Payments are automated, so there's no need to remember to pay bills. It's essentially a 'set it and forget it' style of purchasing, while still providing options to upgrade or cancel within a few clicks.
Variety – Most people shy away from trying new things because they fear wasting money on products they won't like. Subscription business models allow consumers to try more products and services within the provider's range, with the added bonus of not having to labor over purchasing decisions.
Personalization – Many providers offer self-service tools allowing users to set their personal preferences. However, many subscription services take personalization even further. By leveraging feedback and user data, providers can anticipate subscriber needs and desires to provide personalized service in the form of recommendations or the provision of specific products. Spotify's 'Recommended for You' playlists are a great example of this.
The Business Benefits of Subscription Models
For all the consumer benefits, there are just as many – if not more- for businesses offering subscription services. Here is a breakdown of the main advantages.
Attract More Customers – Large one-off fees act as barriers to access. By spreading the cost into more manageable regular installments, more customers can afford – and immediately access – the company's products and services.
Accurately Predict Revenue – Businesses offering one-time purchases must constantly market to attract and convert more customers, and income may vary significantly over time. Using a subscription business model allows companies to predict revenue much more accurately, allowing them to reinvest and grow with confidence.
Increased Return on Acquisition Costs – One-off payments have a fixed rate of return, whereas subscription models do not. As long as businesses retain their subscribers, the revenue stream will continue to flow.
Upselling and Cross-selling Opportunities – Having continuous contact allows companies to maintain an ongoing relationship with subscribers, making it easier to market additional products and services.
Stronger Customer Relationships – Subscription business models don't just sell products and services. They create communities of loyal customers who feel heard and valued. Plus, with one-off purchases, fees for maintenance and support are often not included. But with subscription services, there are no hidden costs. This builds further trust, which deepens customer relationships, ultimately leading to more referrals and even more subscribers.
Business Growth and Development – By using customer feedback and data trends, subscription providers can find out what customers like best, and what additional features they'd like, and use this to scale the business most productively and profitably.
What are the Risks of a Subscription Business Model?
If you're reading this thinking that membership models seem to be a bit of a no-brainer, you'd be right for the most part. The main potential pitfall is complacency. Some basic Subscription models focus on retention rather than acquisition, but it's not simply a case of making a sale and then sitting back to watch the money stream in. Customers are quick to cancel services that don't deliver consistent quality and value. So continual effort is required to ensure that the 'churn rate' remains low.
"Loyalty doesn't come cheaply. It requires a commitment to continuous innovation, a culture that treats customers like members, and an emphasis on retention". Robbie Kellman Baxter, Author, The Forever Transaction
Acquisition and retention are two sides of the same coin: both are the pillars of a sustainable and successful subscription strategy (read our article Product Optimization: Best practices from Subscription League Paris).
Keeping Subscription Model Customers Connected
Thinking of moving to a successful subscription business model? There are several effective ways to keep customers engaged and prevent them from clicking the dreaded 'unsubscribe' button.
Deliver Seamless Onboarding – The first few payment cycles are crucial in pleasing and retaining new subscribers. Businesses need to provide adequate support to overcome initial user difficulty and ensure the services provided live up to customer expectations.
Seek Constant Feedback – Conducting regular happiness surveys and sending feedback questionnaires includes subscribers in the product journey and makes them feel involved in development.
Provide Efficient Customer Service – Whether it's self-service tools or a human element, fast and efficient customer service is fundamental to gaining trust and loyalty in today's competitive market.
Constantly Review Pricing and Renewal Strategies – Several retention methods focus on payment and renewal paths. Popular strategies include offering:
A pause in subscription for a limited time
Discounts for early or automated renewal
Referral bonuses
Offer Incentives and Upgrades – If a subscriber is unhappy with a product or service, surprising them with a gift or discount may incentivize them to stay connected.
Utilize Data – User metrics identify patterns about how often clients use products and services and how they interact with them. Perceptive companies use this data to provide tailor-made services for each individual. For example, by providing personalized landing pages or gift cards.
Subscription Business Models: The Key Takeaways
Subscription models are changing the ways businesses and consumers act and interact in the modern marketplace.

The ongoing trend toward subscription business models is expected to grow in 2022 and beyond.

Customers are drawn to subscription services because they offer value, convenience, variety, and personalization.

No matter what industry or vertical your business sits in, a subscription business model allows you to:

Attract more customers
Predict revenue more accurately
Reduce customer acquisition costs
Build stronger customer relationships
Sell more products and services.
Loyalty is key. Businesses must focus on innovation to deliver consistent quality and value to keep subscribers connected.
Power Up Your Subscription business model with Purchasely
Are you inspired by the top 50 most successful examples of apps with In-App Purchases? Purchasely's industry-leading tools make managing multi-channel subscriptions easy. Our software makes light work of the complex and confusing elements, allowing you to:
Enjoy complete control of your in-app campaigns

Engage with your subscribers at every step

Run seamless no-code campaigns

Design visually appealing, branded paywalls

Access detailed subscriber insights

Eliminate data discrepancies between platforms
Book a a 30-minute product tour with one of our experts where they'll talk you through the platform and how it can help you to fastly deploy subscription business models.