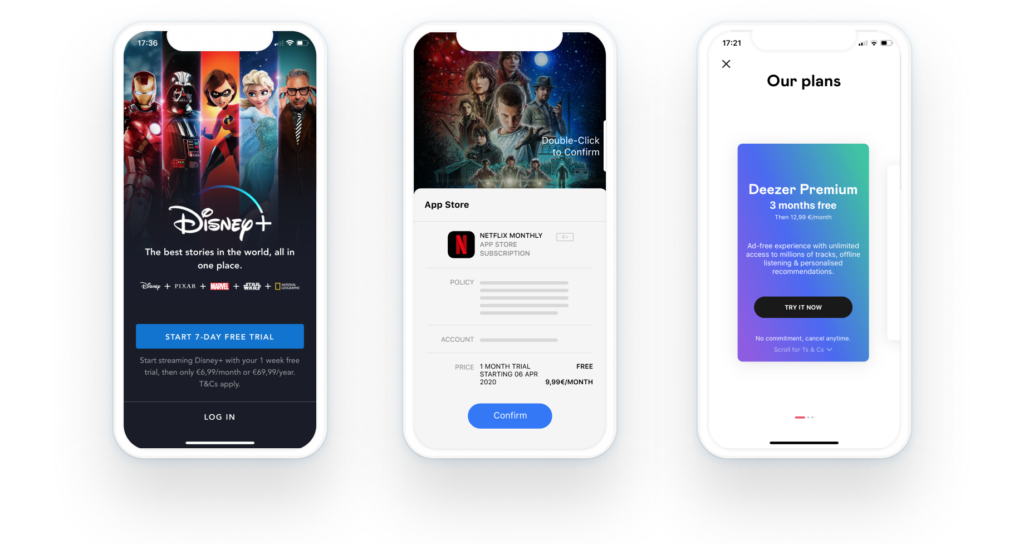 The mobile app business continued to boom in 2021, averaging

435,000 app downloads per minute

throughout the year. That's over 230 billion downloads in total, and in-app spending pulled in $170 billion. Which begs the question, exactly how do apps make money?
Many consumers sign up for free downloads but quickly subscribe to in-app purchases to increase functionality, enhance their user experience, or simply to remove ads, etc. Statistics suggest that 48% of earnings derive from In-App Purchases. So from a developer and marketing perspective, having up-to-date knowledge of the top In-App purchases is vital to continue building and promoting engaging apps with the highest potential for revenue.
To begin with, it helps to know about the different categories of In-App Purchases.
Consumable In-App Purchases
Particularly popular with gaming apps, consumables are In-App Purchases that expire once used. Examples include:
The best In-App Purchase games make consumable currency an integral part of progress. For example, in Clash of Clans, players can't build villages or compete in clan wars without a stash of gems. Likewise, in Candy Crush Saga, users will need to purchase power-ups to maintain their health to complete difficult levels. Even hyper-casual games like Two Dots with basic interfaces and easy-to-use features include In-App Purchases for additional moves. The best In-App purchases offer users a range of cheap add-ons plus a choice of discounted 'bundles' for bulk buying more expensive consumables in bulk. This way, they can tap into every corner of the market and maximize app-driven income. Some of the most popular in-app consumables include:
Candy Crush Saga – $0.99 (extra moves)

Two Dots – $0.99 (power-up and extra moves)

Clash of Clans – $4.99 (a pile of gems)

Bridge Race - $9.99 (power mashup bundle)

Game of War – Fire Age – $99.99 (28kg pack of gold)
Durable In-App Purchases
Durable In-App Purchases last for a lifetime and are designed to improve User Experience (UX) rather than advance gameplay. Sticking with the gaming sector for example, durables can include:
Special weapons

Premium skins

Personalized avatars

Bespoke music options

Removal of ads

Bonus game levels
The best In-App purchase games provide serious gamers with a range of ways to stay engaged and keep playing. The top In-App purchases for durables include:
Contest of Champions – $0.99 (daily bonuses)

Among Us – $2.99 (bundles with multiple customisation items)

Wordle - $9.99 (unlock Wordle Pro and remove ads)

Fortnite - $9.99 (Iris pack including outfit, back bling, pickaxe, and 600 V-bucks)

Sims - $19.99 (VIP simoleon bundle)
Subscription-Based In-App Purchases
Subscription-based In-App Purchases give users ongoing access to premium features for a set fee. Customers are typically charged monthly or annually. Genres of apps with In-App Purchases utilising subscription models include:
Video and music streaming

News

Finance

EdTech

Health
Users consider subscription options to be some of the best In-App Purchases because they unlock additional content, special deals, and advanced features. For example, a Tinder Gold subscription offers curated matches and unlimited super-likes. Music platforms like Spotify use In-App Subscriptions to provide more content without streaming or download limits. On Edtech platforms like Masterclass, premium accounts allow classes to be viewed on up to six devices simultaneously and for courses to be downloaded for offline viewing. The list of top In-App purchases for subscriptions include:
Tinder Gold - $14.99 per month
Big Fish Casino Premium - $19.99 per month
Netflix Premium - $19.99 per month
MasterClass Premium - $23.00 per month
Spotify Premium – $99.00 per year
Mobile App Statistics
The COVID-19 pandemic accelerated the existing trend towards mobile-heavy habits. App Annie's State of Mobile 2022 report suggests that during 2021:
Mobile-first markets spent up to a third of their waking hours on their phones

The global population spent a combined 3.8 trillion hours using mobile apps

2 million new apps and games were released

The 233 best In-App Purchase games generated over $100 million

13 of the best In-App Purchase games generated over $1 billion

7 out of every 10 minutes on mobile was spent on social, photo, and video apps
Successful Apps with In-App Purchases
Now that we've established how mobile apps make money, the market size, and how successful they can be, let's take a more in-depth look by sector to identify the leading apps with In-App Purchases.
Apps with In-App Purchases: Gaming
Gaming is a powerhouse sector in the mobile app industry and has sustained growth momentum for several consecutive years. Bolstered by improvements in connectivity, hardware, and screen size, it is now easier than ever for users to enjoy gaming services on the go. A mix of classic hits and new hyper-casual games made the market incredibly buoyant in 2021, and developers competed to provide the best In-App Purchases that struck a balance between consumer engagement, price optimisation, and churn rate. The mobile gaming industry is one of the most lucrative sectors, as developers can utilize all three categories of income generation. The definitive top ten list of most popular apps varies depending on whether you measure by downloads, the number of monthly users, or the amount of revenue generated. The best In-App Purchase games measured by consumer spending are:
Roblox
Genshin Impact
Coin Master
Honour of Kings
Candy Crush Saga
PUBG MOBILE
Pokémon GO
Uma Musume Pretty Derby
Game For Peace
Homescapes
Apps with In-App Purchases: Finance
The demand for fast, simple, and flexible money movement is rising. However, there are many regional variances when it comes to Finance apps because every country is home to an array of banks with their own dedicated apps. There are also several generational differences because local retail banks are more likely to be used by Gen X and baby boomers. In contrast, Gen Z's prefer international neobanks, trading apps, and money transfer apps. Many providers offer their customers free access. However, several providers make additional revenue using in-app add-ons. The top In-App Purchases for financial management unlock features like customisation, multiple accounts on one log-in, data export, and unlimited savings and budget management. Examples include:
PocketGuard - $34.99 per year

Simplifi - $35.99 per year

YNAB (You need a budget) - $84.00 per year

Bitpay – In-app crypto purchases

Personal Capital – Investment management services at a rate of 0.89% of the balance
Apps with In-App Purchases: Education
The spike in demand for remote learning courses during the COVID-19 pandemic led to a surge in growth in the e-learning market. Adults in isolation opted to use their spare time by learning a new skill or continuing their professional development in a remote setting. Subscription-based In-App Purchases on Edtech platforms offer access to personalized and convenient courses, programs, study materials, and learning support. The most popular providers are:
Masterclass
Coursera
Skillshare
LinkedIn Learning
Udemy
Of course, it's not only the adult market that utilizes EdTech. There are several education apps that support teachers and parents with in-depth explanations and concepts directly related to school syllabuses. Top examples include:
Kahoot!
Brainly
Mathaway
Byju's
Photomath
Apps with In-App Purchases: Video Streaming
According to App Annie, the number of hours consumers spend watching video streaming apps has increased by 32% on pre-pandemic levels, and it is forecast that the video streaming market will be worth $224 billion by 2028. The best In-App Purchases on streaming services typically include premium upgrades that allow subscribers to:
Watch on multiple screens

Download content to mobile devices and tablets

Watch in HD or Ultra HD

Access new releases before they hit the market
The list of top providers will unlikely come as a surprise. While there are small shifts in rank order from country to country, the biggest global players are:
Netflix
Disney Plus
Amazon Prime Video
YouTube
HBO Max
Apps with In-App Purchases: News
World events over the past couple of years have made having a finger on the pulse for the latest news stories and updates a priority for many people. Most news-based apps work on an In-App Subscription basis. Without upgrading to be a registered member, users can only access a limited number of articles per month. Google, Apple, and Microsoft all offer their own in-house news apps. The most popular news specialist app providers include:
The New York Times
The Washington Post
Bild
The Guardian
Nikkei
Apps with In-App Purchases: Health and Fitness
Health, fitness, and mental wellbeing are priorities for many consumers. The ever-increasing demand for personalized health plans coupled with smartphone integration to wearable devices like watches and fitness trackers have caused the health and fitness mobile app industry to boom. There is significant variation in the top In-App purchases by demographic because Gen X and baby boomers are more likely to use pedometer, walking, and hiking apps. On the other hand, Gen Z's look for apps that cater more to knowledge and empowerment – like meditation apps, feminine healthcare apps, and mental well-being apps. Globally, the brands attaining the best In-App Purchase revenue based on consumer spending are:
Calm
MyFitnessPal
Strava Running and Cycling
Fitbit
Headspace
Apps with In-App Purchases: Social
Did someone say TikTok? It's impossible to talk about social apps without acknowledging the success of this seemingly unstoppable live streaming force. With year-on-year growth rates of up to 75% in some countries, TikTok makes money (and lots of it!) through a combination of advertising, In-App purchases, and e-commerce offers. You may not think of TikTok as a platform where in-app purchasing would be popular. However, as a heavily influencer-based channel, the possibility to purchase bundles of coins that can be gifted to other creators has proved popular. Other social apps have been quick to look for similar competitive approaches and adapt to meet the continued demand for video content. The top five social apps ranked by global consumer spend are:
TikTok
BIGO LIVE
Facebook
Line
Tango Live
Apps with In-App Purchases: Travel
After a slack period during the COVID-19 pandemic, the download rate of travel apps rebounded in 2021. For example, in the US market, travel apps reached 40 million downloads in July, the highest since August 2019. In addition to travel booking, budgeting, and language apps, the demand for rideshare apps was quick to regain popularity. Though many of these downloads are free, the top In-App Purchases on each download unlock 'premium' or 'pro' member benefits. For example, rideshare operator Uber offers priority service, member pricing on Uber eats, free deliveries, and a range of member-only offers and promotions. Our top picks for travel apps with In-App purchases are:
Uber
Waze Pro
Trail Wallet
FluentU
Safety App
Apps with In-App Purchases: Dating
Many of the top dating apps also have high megabyte averages per user – signifying a continuing trend towards using photos and videos to communicate. As we mentioned earlier, most dating apps offer In-App purchases to unlock additional features like unlimited swipes, advanced filters, and super-likes.
The clear market leader in this category is Tinder. But there are several other successful competitors too. The top 5 global contenders are:
Tinder
Badoo
CuteU
Azar
Bumble
The Best In-App Purchases: Key Takeaways
The key to in-app monetisation is improving UX and adding value to continued usage or gameplay while simultaneously increasing engagement.

For developers that can achieve this, profitability is almost a guarantee.

The scale of profitability is dependent on the app pricing strategy employed and how efficient an app is at maintaining user interest and meeting the varied needs of each demographic group.

By capitalising on In-App purchases, developers can make more money from building fewer apps.

It is expected the mobile app industry will continue to grow in 2022.
Deploy In-App Purchases like the best performing apps with Purchasely
Are you inspired by our top 50 most successful examples of apps with In-App Purchases? You may read further articles based on Purchasely In-App Purchases expertise:
Book a a 30-minute product tour with one of our experts where they'll talk you through the platform and how it can help you to fastly deploy in-app purchases with the same capabilities of the leading subscriptions apps.