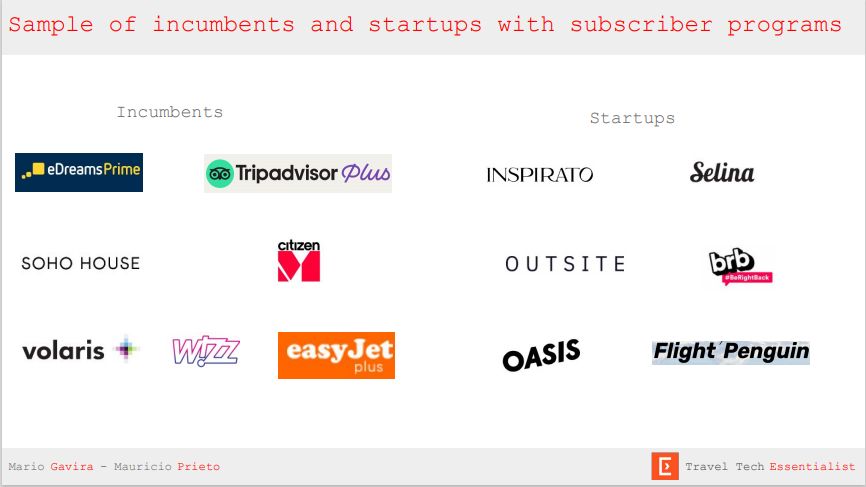 Travel industry: Subscriptions everywhere is a growing trend
9 August 2021
Subscription
Travel
Subscri
ption is a growing trend of the Travel industry. A few incumbent and travel startups are pushing subscription and membership programs and these strategic initiatives are accelerating as subscription is seen as the next frontier of loyalty in Travel.
A must-read report "Online Travel Trend Report" has been released by Mauricio Prieto and Mario Gavira. Mauricio, former CMO of eDreams, is publishing one of the most interesting newsletter of the moment : Travel Tech Essentialist and Mario is the VP Growth of Kiwi.com.

Among 11 trends, we really like the #6: 🔥 Subscriptions Everywhere 🔥

According to the report:
✅ Loyalty in travel has historically been linked to miles programs;
✅ Travel players are defying the common wisdom attracting travellers into a new breed of paid subscription programs promising recurrent discounts and perks.
---
Interested by In-App Subscriptions ? We can help you to easily manage in-app payments. With no coding needed.
---
Subscription among travel industry started before the pandemic era
Do you know Soho House ? Launched in 1995, Soho House is a chain of 28 private clubs across Europe, North America and Asia. Soho House is offering an experience of bedrooms, restaurants, cinemas, workspaces, spas in 10 countries to its members that pay a monthly fee in the €100-200 range. The company had raised $420 million from its IPO in July 2021.
The European online travel agency eDreams Odigeo, which operates brands such as Opodo and Go Voyage, made a soft launch of its subscription product Prime in 2017. In June 2019, 300k subscribers were paying €40-60 per year to get discounts on airflights throughout the year, a priority customer service telephone line and access to special promotions.
Two years later, eDreams is announcing 1 million subscribers in seven countries, a +58% increase in the last year alone. Each month, 35k new members are joining the world's first travel membership site.
A last example is set by the online giant Tripadvisor. It launched in June 2021 its travel membership site named "Tripadvisor Plus", a travel subscription service that costs $99 a year (available in the United States Only) and provides:
instant savings on many theme parks, tours and attractions (10% discount),

discounted stays at more than 100,000 hotels around the world,

personalized travel advices.
Some travel startups are launching innovative travel memberships sites
The Travel Industry is still moving fast despite travel restrictions due to COVID. New entrants are entering many market segments and some are offering subscription services and travel membership sites.
BeRightBack is a London-based startup that offers a monthly subscription in exchange of three short European breaks a year. The destinations and hotels are revealed one month before travel. Two pricing plans are available: one for solo travellers (£50 per month) and one for couple (£90 per month).
The founder and CEO of the company Gregory Geny is sharing his vision with Purchasely's community:
"My personal belief is that when it comes to travel, most people focus solely on the subscription element, yet completely miss how these new services ultimately deliver more value to consumers and suppliers (our core focus at BeRightBack). In 2021, the two questions we should really ask ourselves are:

1/ Is it fair for consumers to invest hours researching and planning their next break, only to find out that the data they have shared with travel companies has been used against them to increase the price of their trip?

2/ Is it fair for an independent hotel to be charged 30% or even 40% commission on bookings, in exchange for increased exposure on Online Travel Agencies (OTAs), simply because 15% isn't enough for you to compete with the other 4,000+ hotels and apartments in your city? A 'market saturation' which is as a direct result of OTAs focusing solely on inventory and pricing over the last 20 years.

Our goal is simple: fixed and fair pricing for customers no matter when or where they travel, and guaranteed occupancy for hoteliers at no extra cost."
Other companies are targeting remote workers and digital nomads with trendy locations and workspaces. Two examples of travel membership sites:
Selina's subscribers may enjoy continuous accommodation for 30 nights and live in up to 3 different destinations per month;

Outsite Membership grants digital nomads to many benefits (access to places to stay and work in beautiful settings, fun outdoor activities and networking events).
---
Quickly set-up and launch subscriptions that comply with Apple, Google guidelines to enjoy faster time to revenue.
---
What about travel services and In-App Subscriptions ?
This growing trend of Subscriptions everywhere is impacting travel apps as mobile apps are becoming pillars of the travel experience and planning.
We have identified two main types of information services that today provide In-App Subscriptions:
Value added maps and guides such as Maps.me, Mapstr, or Sygic Travel are displaying the best attractions, hotels, restaurants or shops directly on maps (for example Sydic Travel Premium prices are €3.99 per month and €15.99 per year).

Specialized apps are enhancing the outdoor experience on site such as Geocaching that enables the discovery of hidden box (some king of treasure hunting), PeakVisor, a former paid app that switched to susbcriptions in 2019, that provides mountain identifications and amazing 3D maps, or Wikiloc that helps travellers to discover the best outdoor trails all over the world (mountain hiking treks, bike tours).
Purchasely is already cooperating with apps that aims to transform the travel experience and we would be happy to discuss about your subscription initiatives or project if you are working in the travel industry.
Spotr, a Purchasely client, turns cities into playgrounds. Spotr subscribers have unlimited access to the largest repertoire of photo spots for the creative class (11 cities in 7 countries are already covered). It is very helpful for travellers that would like to magnify their travel experience on social networks.