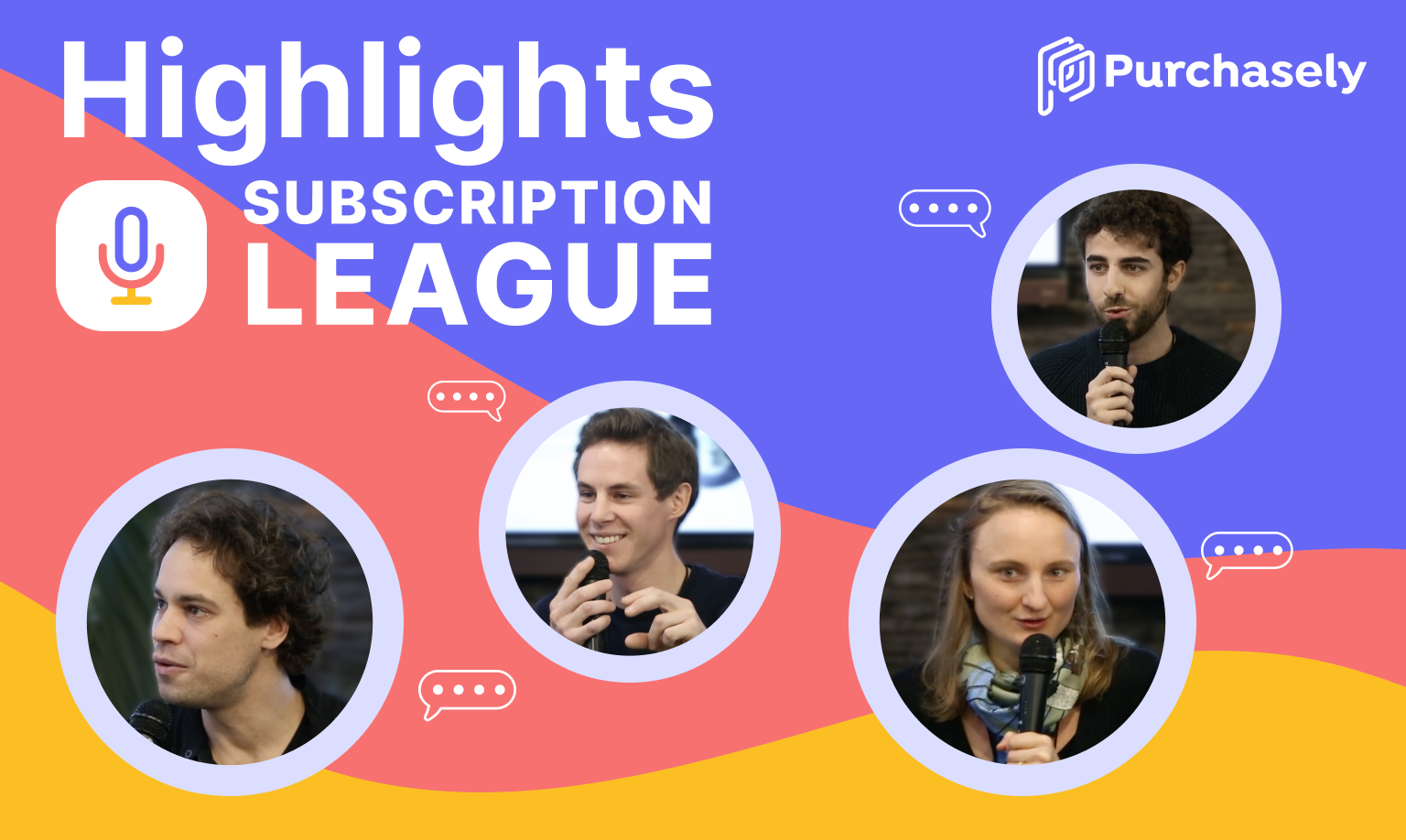 Please watch g
reat insights for boosting In-App Subscriptions conversion from Subscription League, 1st in-person event fully dedicated to Subscription Apps in Europe.
Subscription League Paris, 30th November 2021
The Purchasely team set up the 1st event dedicated to Subscription Apps in Europe. With the support of Addict Mobile, a leading User Acquisition Agency, we gathered 50 French subscription experts from 15 various app categories.
The topic of the first round table of Subscription League Paris was Product Iterations and Revenues Optimization. It gathered 4 amazing subscription specialists from 4 subscription companies combining 4+ million subscribers across Entertainment, Health, Video Editing, and News categories. These 4 categories are among the 50 most successful examples of apps with In-App Purchases.
Please check out below our curation of great insights about Product Iterations and Revenues Optimization. 👇🏻
Conversion Optimization: Understand the psychology of users and leverage the capital sins



🎵 Deezer is a global audio entertainment company with 15 million users and 3.5 million paid subscribers.

👇 In this 7-minute video, Lucas Serralta, VP of Design & Product Strategy of Deezer, explains how to optimize conversion with testing, iteration, and sometimes chance.
Growth: How to build a successful freemium digital product by finding the "Aha!" moment



🔥 Mojo is an amazing app to create social stories with a professional look.
With a small team, it is delivering impressive figures (20 million downloads, 300k paid subscribers, and $1 million MRR). A rising star of App Store and Google Play.

👇 In these videos, Jean Patry, CEO of Mojo explains how to build a 300k paid subs base with a freemium digital experience that finds the right mix between free usages and paid intent.
Pricing optimization: evolution of pricing strategies from a news publisher
📰 Le Monde is the largest digital news publisher in France with 500,000 subscribers and has an ambitious plan to reach 1 million subscribers in 2023.
👇 In these videos, you will learn the evolution of the digital subscription initiatives of Le Monde since 2017. Lou Grasser, VP Marketing & Product of Le Monde highlights the need for economics modelization before any pricing optimization when you jointly operate a legacy offline subscriber base and millions of daily free digital readers.
Retention optimization: the need for correlation of usage and payment
🥣 Foodvisor is an amazing app that helps its users to better eat. It has been downloaded 5 times and is used by Tim Cook himself!
👇 In these videos, Charles Boes, CEO of Foodvisor, shares the issues Foodvisor faced to maintain the loyalty of its subscribers and details his strategic decision to rebuild the value proposition of its product. Foodvisor is now a personal nutrition guide, delivering an enhanced health experience and targeting higher monthly, prices.