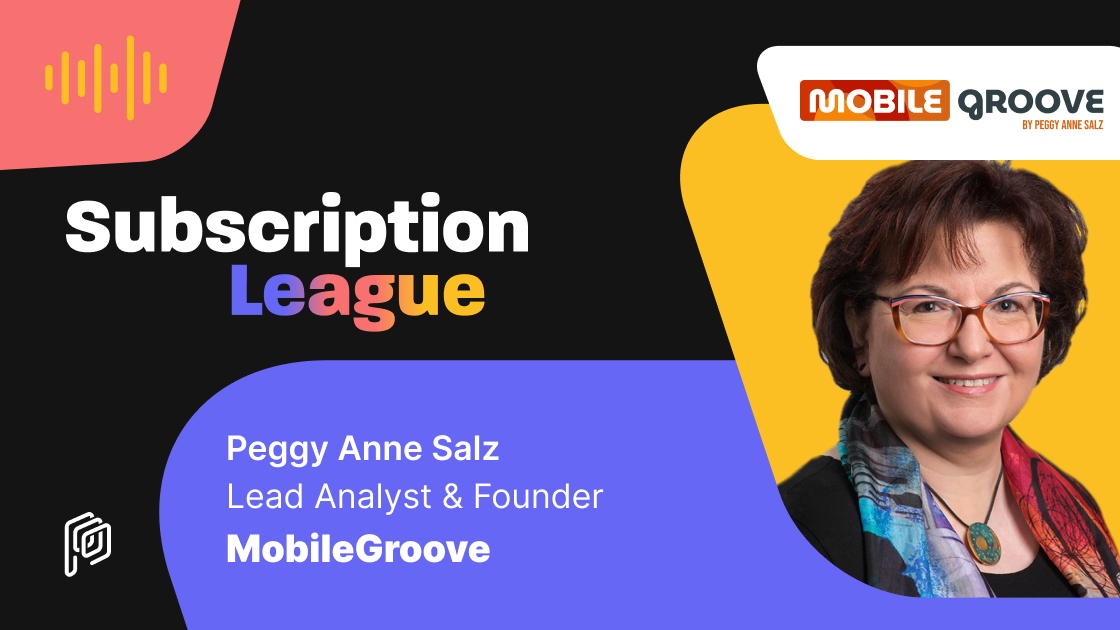 The Subscription Model - the state, benefits, and success tips by Peggy Anne Salz (MobileGroove)
24 November 2022
Subscription
Podcast
Subscriptions boomed during the pandemic. With the unpredictable economy, what seemed to be a temporary buzz will likely stick around and evolve into an integral part of our lifestyle. Hear from a writer, analyst, consultant, and podcast host, Peggy Anne Salz about the state of the subscription economy, its benefits, and how apps can succeed with the business model.
Subscription economy trends - things are looking up
We are steering down the barrel of recession. But Peggy suggests that consumers' appetite for subscriptions will likely continue to develop.
Following are some stats she shares confirming the steady state of the subscription economy.
Subscriptions account for 82% of revenue regenerated on average by non-gaming apps.

In the U.S., the annual spending on top subscription apps in the Apple App Store increased by ⅓ over a year, reaching 6 billion in 2021. Revenues on Google Play also rose a massive 78% to reach 2.5 billion the same year. (Statista)
An increasing number of subscription businesses will share the pleasure too. In Q2 2022, 400 apps generated more than $1 million in consumer spending on the U.S. App Store, which is 8 times the total from Q1 2016.
See below the data from SensorTower.

What's in it for consumers?
There is a number of benefits that make subscription services attractive to consumers. Here are three.
- Lower barriers to entry
While the economics are changing in ways that put consumers' finances under pressure, the principles of consumer preferences to access quality products and services have not changed. With the rising price to own anything today, subscriptions with various pricing models allow consumers to minimize their costs for the same or even better return, as well as downgrade or upgrade flexibly.
- Convenience to purchase
Subscription services take the hassle out of having to remember or search what to purchase, let alone having to go through the purchase process each time. Once subscribed, people are ensured to access their favorite in-app products or services regularly, so they never have to worry about running out of what they need!
- Access to novel and curated content
In many categories, consumers choose subscriptions because they enjoy having curated and novel goodies at their doorstep regularly. Unlike one-time payment models which usually guarantee very little to no product updates, subscription services are built upon the principle of constant value delivery through diverse personalized content.
What's in it for apps?
App businesses can benefit from the subscription model from two perspectives - monetization and security.

For the aforementioned benefits on the consumer side, delivering products and services on a subscription basis attracts consumers, and when delivered successfully, subscriptions tap into consumers' daily habits, evolving from a one-time deal into a lifestyle companion. For app businesses, this can translate into not only a predictable stream of revenues but also a stronger subscriber stickiness.
Streaming services are a great example showing how user habits provide the security factor to subscription apps. During the pandemic, millions of people signed up for at least one of two of them, and they spent days, weeks, and years accessing those services as a daily if not an evening routine. Now, the mobility patterns have changed but the habits are still there, which are harder to break than the need for one-time purchases. A survey conducted by United Talent Agencies proves the lasting impact of subscription habits. For example, 67% of surveyed U.S. consumers said they plan to continue to spend more time-consuming entertainment than they did before the COVID-19 pandemic.
Challenges for subscription apps and how to rise above them
Despite the proven benefits and the steady growth of the subscription model, many apps still struggle to rise above many challenges in building a successful business. One of the most notorious challenges that resonate with all types of apps is subscription fatigue - a state of exhaustion and irritation that customers feel when they're frequently subscribed to new services.
Peggy recommends adopting the following strategies to become a subscription winner.
1. Provide continuous value and content
Quoting Shani Rosenfelder, Head of Content & Mobile Insights at AppsFlyer in his recent press release, Peggy says
"Subscription apps thrive when providing continuous value and content, and when building personal relationships with their users. If an app cannot deliver on its promise to provide those, the subscription model will not work."
Peggy believes that marketers need to constantly prove their value proposition and also continually refresh the content by answering questions such as "why do I need this app now?", "why do I need to continue to subscribe to this app?", and "what does this app offer me?"
She also recommends delivering the three Cs of content: content refresh, content curation, and content recommendation.
2. Connect with customers
Understanding customers' behaviors and expectations are the keys to delivering the value that customers actually appreciate. Peggy points out that the journey to connecting with app users has to unfold in ways that are not annoying. Also data-driven insights on every user's in-app journey - where they drop off? where do stick around more? where do they enjoy less? what happens? at which stages? - can help marketers and product teams to improve the product, features, and marketing tactics.
3. Communicate the value repeatedly
In a crowded, noisy, and fiercely competitive market, not only must apps provide continuous value to win, but also need to repeatedly communicate the value on the right channels at the right time, with a highly personal approach.
Peggy's pick of an app that delivers all of the above winning strategies is Spotify.
Spotify app nurtures continuous user habits therefore successful user retention by building a hyper-personalized value proposition, communication, and brand-customer relationship.
It actively monitors users listening data.

It leverages insights about habits and preferences to deliver personalized recommendations.

As customers' preferences changes, Spotify's curated songs change with them.

Its call to action is a gateway to the continuous value of the app, rather than a payment screen.
Peggy suggests that Spotify's gone from being a subscription service to a daily companion because it's helping people build habits and emotions around how and why they are using the app.
Episode 14 Sneak Peek
On the subscription economy
"But at the end of the day, we have this habit, we have this behaviour of needing music, entertainment. First, it was to maybe brighten up our days in lockdown, and now it's just part of our routine."
"the message there is that marketers have an opportunity, they just need to up their game."
On value delivery
"if an app cannot deliver on its promise to provide continuous value and content, the subscription model will not work."
"repeatedly communicate that on the right channels at the right time, very personal, hyper-personal even, then I believe that you have a great chance for success."
On Spotify
"What I like is that it's more a companion now than it was before. It's gone from being a service, a subscription service to being a companion."
"So what could marketers do based on that? Probably think of different ways to communicate that seems to be more aligned with the flow of my day and my journey."
On Subscription Fatigue
"Subscriptions are competing with one another for that scarce resource, our attention. So our mind share, our wallet share, heart share"
"Yes, it does exist. But then the challenge again is to discuss and approach customers in a way that resonates with what they value."
On content
"What I hear working really well is refreshing the content consistently, constantly keeping a voice in that content. Some add-ons are working for the content."
"But that again is content that's just very intelligently chosen and curated content. So yes, content refresh, content curation, content recommendation."
On valuegraphics
"Then valuegraphics is a third data set that is about what people value. You have your demographics, you have your psychographics, and now valuegraphics on top of all of that. And why? Because what matters to us matters to us, that's why. Because that is something that influences our purchase decision, our decision to subscribe or not, our decision to stay loyal or not. What matters matters and that's based on values."
"It's the newer book is coming out, I believe, end of November. It's called the Valuegraphics Project. I can't take credit for it, and I won't, but I'm a huge fan of David Allison and his team that came up with this complete project and the surveys and the analysis of the data. Ever since I have connected with him this year, I've written about him on Forbes. I've had him on multiple panels. I'm completely sold because as he describes it"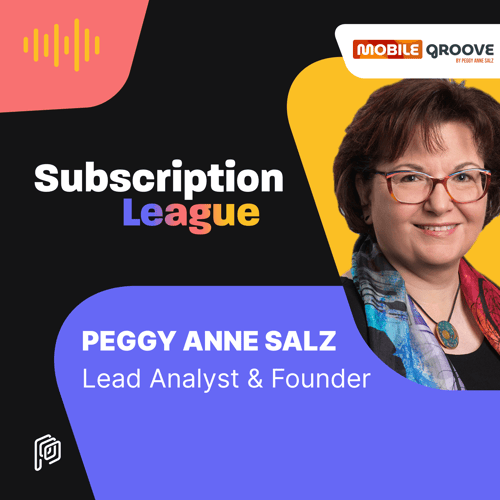 More about Peggy Anne Salz
As the chief analyst and founder of MobileGroove - a top 50 ranked destination providing analysis, custom research, and strategic content marketing to the global mobile industry, and mentoring and consulting to tech startups — Peggy Anne Salz is recognized as one of the leading experts shaping the mobile world.
Peggy is also a nine-time author, a frequent Forbes contributor and guest contributor for a variety of leading media outlets — including Harvard Business Review — where she shares her insights on mobile marketing, mobile apps, customer engagement, and business innovation.
Peggy produces podcasts, videos, webinars, and blogs to equip mobile marketers with best practices and growth strategies to power campaigns, brand storytelling, and user engagement. She is also the Chief Content Officer of MMA Germany.

Episode Topics at a Glance
The state of the subscription economy

Dealing with subscription fatigue

Benefits of subscriptions

How subscription apps can rise above challenges

Example of Spotify
How to listen to Subscription League
Go to SubscriptionLeague.com or subscribe to our podcast on Apple Podcasts, Google Podcasts, Spotify, Podcast Addict, Amazon Music, or wherever you listen to your podcasts.
HAPPY LISTENING!
Previous episodes:
#1: Phiture - All about Retention with Andy Carvell
#2: Babbel Live - How to create a success in a crowded market with Belen Caeiro
#3: Mojo - Strategies you should focus on for a successful subscription business with Jean Patry
#4: The Guardian - Growing the user base The Guardian way - with Jesse Wilkins
#5: Blinkist - Using transparency to increase your conversion rate with Eveline Moczko
#6: Rootd - How to bootstrap #1 health and fitness app with Ania Wysocka
#7: Luni - Subscription Marketing 101: tips to drive acquisition and retention with Adrien Miniatti
#8: Uptime - How to build a successful user-first app strategy with Léa Samrani
#9: GP Bullhound - What venture investors look for in subscription apps with Eric Crowley
#10: Phiture - How to optimize mobile app subscription with Andy Carvell
#11: Jodel - Shifting from ads to In-App Subscription-led revenue generation with Tim Schmitz
#12: BlueThrone - Product market fit, Subscription, and Other Secrets of Success by Idan Waller
#13: Aperture - Tips for Creating the Right Mindset for Business Growth by Hannah Parvaz