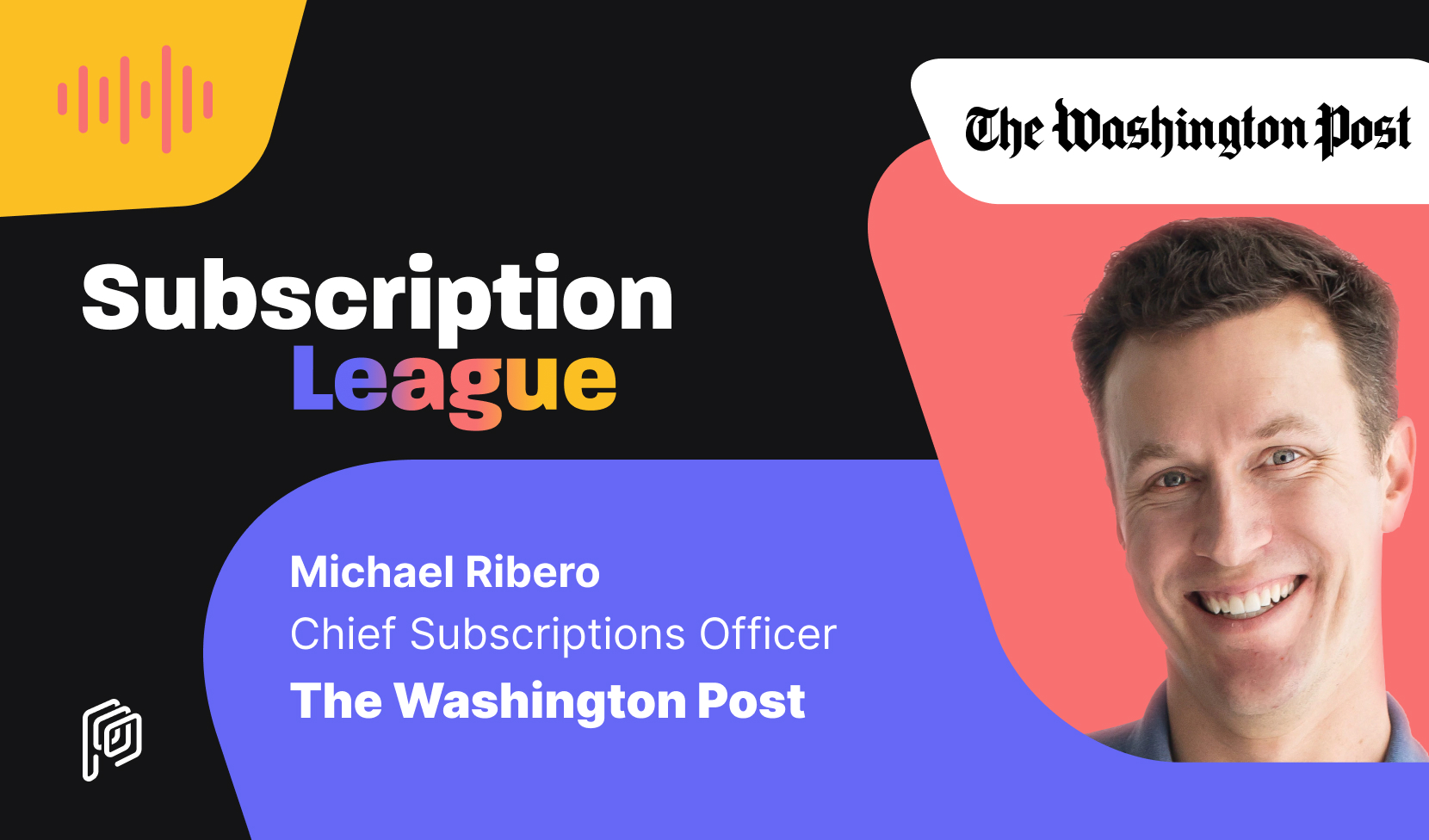 The transition from print to digital has been a challenge for many newspapers, and The Washington Post is no exception. In a conversation that took place recently, Michael Ribero, Chief Subscriptions Officer at The Washington Post, shared his insights on how the new brand is working on delivering successful journalism while overcoming a variety of time-sensitive challenges.
This article provides an overview of the Subscription League Podcast episode, covering topics such as personalization, subscription pricing and retention, and privacy concerns.
Challenges of transitioning to digital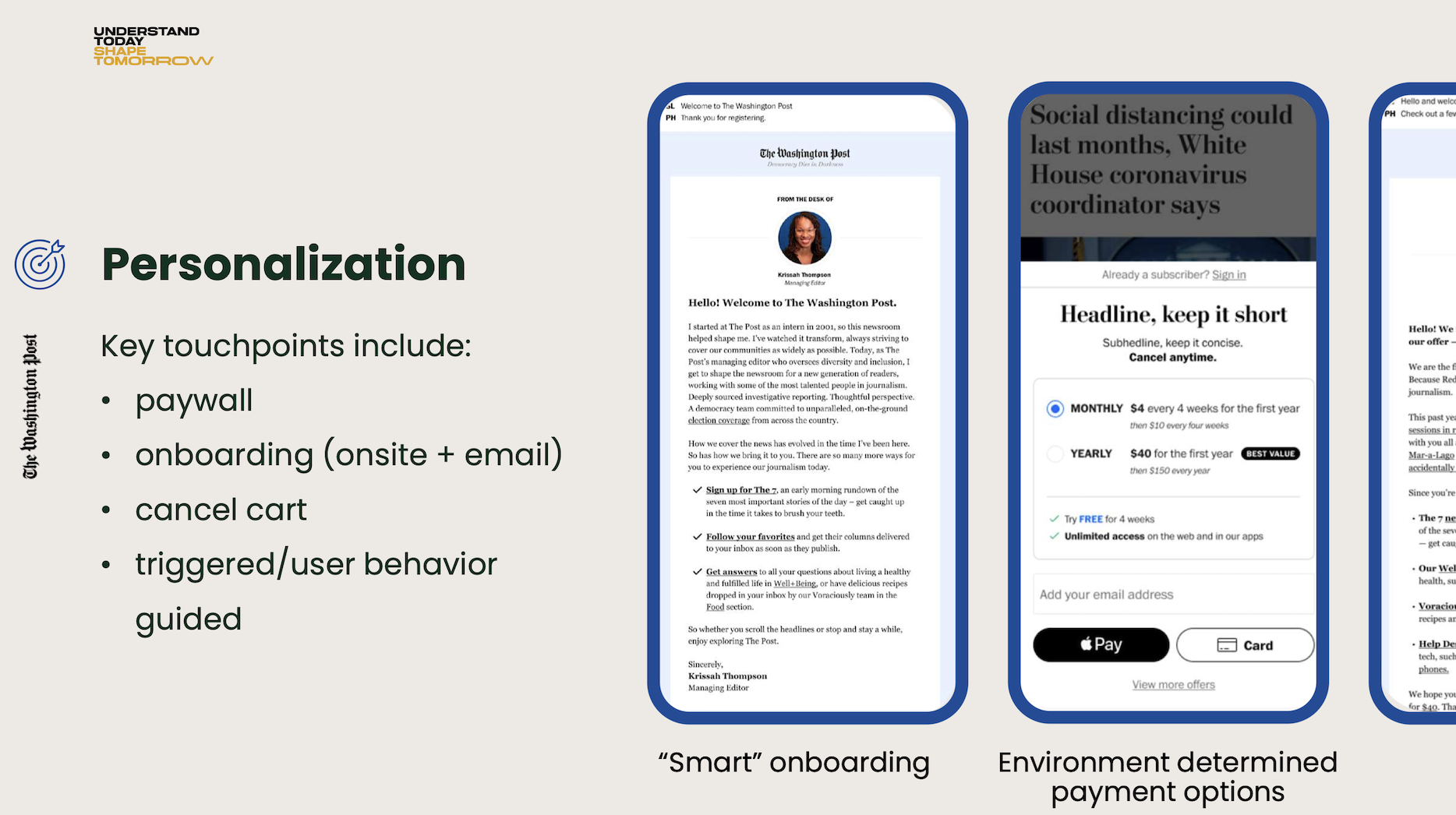 Michael Ribero explains that the first wave of transitioning from print to digital for The Washington Post was relatively easy. However, the second wave was more significant and involved meeting the increased demand for news during the Trump presidency and the COVID-19 pandemic.
The Post successfully rose to this challenge (60+ million monthly readers, 3 million active subscribers) but Michael acknowledges that transitioning to digital is hard, especially when there are so many free options available, and macroeconomic trends tightening people's belts.
Accommodating and understanding changes in technology
Michael emphasizes the rising interest in generative AI for journalism and its potential for increasing productivity. He also acknowledges the numerous questions surrounding this technology, including copyright concerns and potential risks.
Staying up to date with technological advancements and being open to incorporating them into journalism can provide a competitive edge for news organizations. It is essential to consider the benefits and risks of new technologies and adapt accordingly to stay relevant in the ever-changing world of journalism.
Personalizing with ethical considerations
The Washington Post wants to personalize its product to ensure that the right articles reach the right people, but Michael acknowledges the ethical questions that arise with this approach. The risk of becoming an echo chamber or pushing people further towards one end of the political spectrum is a concern. The Post is working to address these issues while still giving readers access to a wide range of perspectives.
Subscription pricing and retention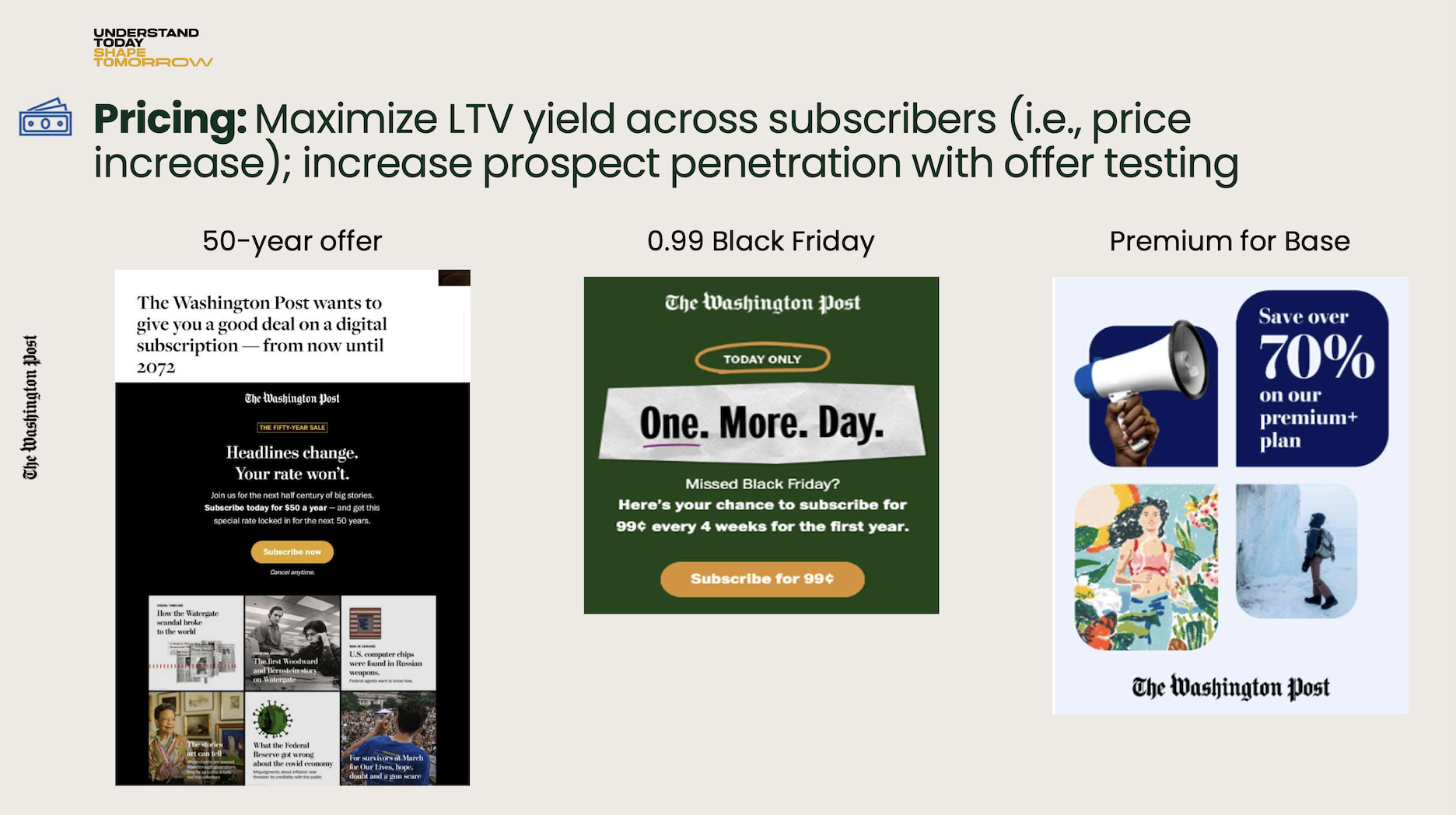 Michael reveals that The Washington Post manages paper and digital subscriptions as separate P&Ls, with price increases historically done on the paper side. Cross-selling between newspapers and digital is a delicate dance, as they don't want to encourage people to switch to a lower-profitability product.
The brand targets former paper subscribers through various channels like direct mail, email, and paid media. Privacy concerns are also a challenge, and The Post is preparing for upcoming legislation in California, New York, and Virginia.
Following a scorecard approach than a single North Star Metric
Michael also discusses the North Star Metric the brand follows. Rather than one metric, they use a balanced scorecard approach with several different metrics, including unique visitors, leads, and engagement metrics. They also focus on doing journalism that aligns with their vision, which is guided by their executive editor and CEO.
Improving the purchase experience for mobile users
Michael emphasizes the importance of considering the form in which people consume and transact.
After testing Apple Pay as the default payment method, they saw a remarkable increase in conversion rates of over 20%. This experience has led them to focus on making the purchase process as seamless as possible for their readers, especially on mobile devices.
By facilitating an impulse buy and getting readers to their journalism as quickly as possible, they are building a better customer experience. Michael also emphasized that making the cancelation process easy can be an opportunity to delight customers, as they are likely to come back in the future. By prioritizing customer experience, businesses can win and retain loyal customers.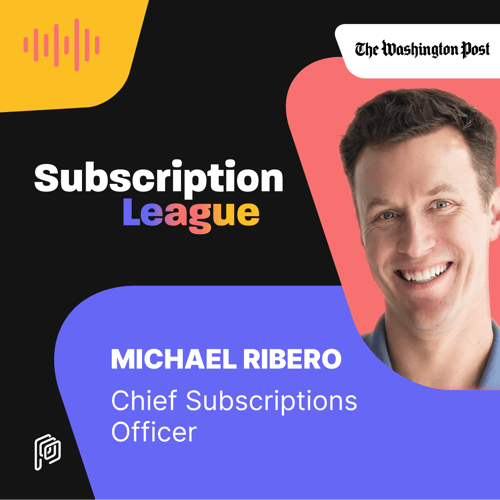 More about Michael
Michael Ribero is the Chief Subscriptions Officer for The Washington Post. In this role, Michael oversees The Post's digital subscriptions business and plays a vital role in The Post's international growth. Michael works across marketing, product, analytics, finance, and news.
Michael joins The Washington Post from Paramount+, where he was Vice President of Global Marketing. Previously, he was General Manager of Brand and Media at Sling TV. Prior to Sling, Michael worked at Visa, and, earlier in his career, he was a technology investment banker, advising emerging technology companies on key growth initiatives.
Michael graduated from Dartmouth College with a degree in Engineering modified by Economics and an MBA from Kellogg Graduate School of Business at Northwestern University. He is happiest with his wife and 4 children either wearing cowboys or skiing in Colorado.
Episode 25 Sneak Peek
On the transition to digital
"We still deliver here locally in the DC area. We have a very established base, a very committed base. But there were individuals who preferred, whether it's the price point or just the form factor, going to digital. That also opened up. We overnight became a national paper."
On the North Star Metric
"Ultimately, I would say, you hear we want to drive subscribers. I would say that's a lagging metric than a leading metric. Things that we think about otherwise in that scorecard is unique visitors to the site, leads. In 2023, we've done this push forward into more first-party data capture to really benefit the entirety of the enterprise."
" I think we may be more qualitative continue... Just going back to journalism, we ask ourselves, "Are we doing the work that we want to be doing, too?"
On challenges
"People are trimming down their subscription portfolio. I think the streamers are definitely feeling it. But really, the entirety of the subscription world, free is always hard to beat. More directly in my world, I would say, not necessarily struggling, but privacy is becoming just a greater portion of all of our conversations."
On AI
"Generative AI for journalism is really something. There's a lot of questions to ask. Even for us developers, it's really something, and we are looking into it, how it can help us have more productivity and what are the risk and all the copyright issues because all the code that's been available for free for everyone on this platform as type of a flow, etc, is used and resolved to us through another channel, so you can also question that."
On facilitating the purchase experience
"The vast majority of people that buy from us have an iPhone. They will transact on an iPhone. We tested Apple Pay as the default payment. Just in terms of the conversion versus control was just out of this world. I mean, I want to say 20 plus percent. That, to me, was just like, you think about it, after you've paid with Apple Pay a couple of times, you double click the side of your phone and then you've transacted. That was such an unlock for us."
Episode Topics at a Glance
Michael Ribero's transition to the media industry

Washington Post's strategy for transitioning to digital and personalization efforts.

Delivering personalized experiences

Using data to inform monetization strategies

Experimenting with pricing and cross-selling strategies

AI in Journalism

Reducing Friction for Subscriptions
How to listen to Subscription League
Go to SubscriptionLeague.com or subscribe to our podcast on Apple Podcasts, Google Podcasts, Spotify, Podcast Addict, Amazon Music, or wherever you listen to your podcasts.
HAPPY LISTENING!
Previous episodes
#1: Phiture - All about Retention with Andy Carvell
#2: Babbel Live - How to create a success in a crowded market with Belen Caeiro
#3: Mojo - Strategies you should focus on for a successful subscription business with Jean Patry
#4: The Guardian - Growing the user base The Guardian way - with Jesse Wilkins
#5: Blinkist - Using transparency to increase your conversion rate with Eveline Moczko
#6: Rootd - How to bootstrap #1 health and fitness app with Ania Wysocka
#7: Luni - Subscription Marketing 101: tips to drive acquisition and retention with Adrien Miniatti
#8: Uptime - How to build a successful user-first app strategy with Léa Samrani
#9: GP Bullhound - What venture investors look for in subscription apps with Eric Crowley
#10: Phiture - How to optimize mobile app subscription with Andy Carvell
#11: Jodel - Shifting from ads to In-App Subscription-led revenue generation with Tim Schmitz
#12: BlueThrone - Product market fit, Subscription, and Other Secrets of Success by Idan Waller
#13: Aperture - Tips for Creating the Right Mindset for Business Growth by Hannah Parvaz
#14: MobileGroove - The Subscription Model - the state, benefits, and success tips by Peggy Anne Salz
#15: Appic - All about subscription app onboarding with Tobias Boerner
#16: Together Labs - Leveraging user research to maximize subscription app monetization with Jenny Pollock
#17: BlueThrone - Product market fit, Subscription, and Other Secrets of Success by Idan Waller
#18: Pollen VC - A guide to financing your user acquisition with Martin Macmillan
#19: CoinState - Finding the sweet spot with the right subscription app monetization and pricing strategy with Vahe Baghdasaryan
#20: PhotoRoom - How to grow a subscription app business and its user base globally by Olivier Lemarié
#21: App Masters - How to monetize your app: expert tips from Steve P. Young (App Masters)
#22: How Mimo builds an experimentation culture with Ekaterina Gamsriegler
#23: Applica - Framework for subscription optimization: tips from behavioral science expert Sviat Hnizdovskyi
#24: Papumba - Making a safe digital playground for kids with Gonzalo Rodriguez