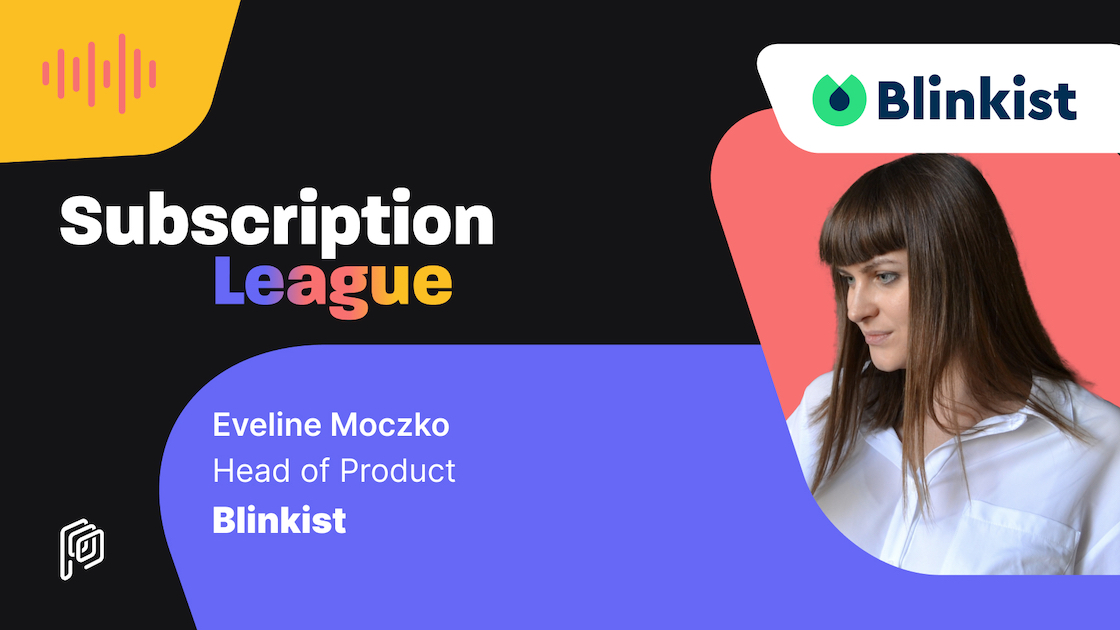 A leading book summary service, Blinkist was an inspiration for one of our latest Paywall templates, STEPS. But the app loved by over 20 million users offers so many more inspirations for success than its famous paywalls. From A/B testings to transparency, listen to our conversation with Eveline Moczko,
Head of Product Management at Blinkist
, to glean insights about how to increase subscriber conversion.
Blinkist
Blinkist is a leading book-summarizing subscription service based in Berlin that sports 22 million subscribers. The app provides 15-minute explainers of the most memorable insights from non-fiction books and podcasts. Since its launch, the app has won multiple awards, been repeatedly featured by Apple, and made countless headlines in major newspapers and magazines.
The secret behind Blinkist's success is its growth strategy that focuses on transparency and continuous app optimization through A/B testings. Blinkist operates a freemium model with monthly and yearly plans. The yearly plan offers a free 7-day trial.
Disaster-driven development
Blinkist's journey toward success wasn't all plain sailing. There were times when the underdog startup from Berlin came dangerously close to collapse and was unaccepted by its home market in Germany for years. The brand grew out of the unsettling phase by taking a so-called disaster-driven development approach.
For every idea and attempt to optimize subscription flow and increase conversion, the team made big bettings and extensive A/B testings with the primary focus on ​​the riskiest ones, then on alternatives.
Following are some examples of Blinkist's experiments:
Before landing on a soft paywall that allows users to enter and explore the app and eventually start a seven-day free trial, the big bet was made on a hard paywall which completely blocks the access unless credit card information was shared to activate a seven-day trial period. It may sound counterintuitive, but you know what works and what doesn't only by trying.
In the very early days of Blinkist, users could download and open the app and immediately access content for three days without giving credit card information. Then prompting the users to subscribe was an enormous burden, leading to betting on a seven-day trial with obligatory signup for a yearly plan. Result? See how many are using Blinkist today.
A/B testing is an excellent tool for optimizing and finding the best variable. But sometimes, you need to gamble on big innovations such as launching a new product line. For example, when Blinkist launched a new content format called Shortcasts, the big jump was not achieved based on A/B testings but on faith in the new vision and audacity.
To provide personalized content to each user, Blinkist implemented an app onboarding flow through which users had to sign up first, then express their interests. After realizing the approach was hurting conversion rates, the brand carried out two years of extensive experimentation and decided to remove the upfront signup. It allowed users room to experience the app's propositions before even seeing the subscription screen.
Coping with subscription anxiety
One of the blessings and curses of the subscription model is that users can easily signup but also easily leave. Countless apps experience users canceling their trial on the first day or even minutes after subscribing. But we can't blame them for fearing accidental payments, which already happened to them in many cases. Who likes to pore over recurring(and unwanted) subscription charges in their bank statements anyway?
Fortunately, there is a proven way to cope with such subscription anxiety - transparency.
Transparency is about being open and straightforward. It happens when apps switch their focus from monetizing to empowering users with knowledge and information that helps them turn into smart and confident customers. The impact of transparency extends beyond conversion. When customers are confident and able to own their decision to commit to a subscription, they become the biggest advocates and literally the megaphone of brand marketing efforts.
Blinkist's success story is a real-life case in point. The app's conversion and retention dramatically increased after implementing targeted and personalized messaging that completely opens about things like how much and when a user will be charged; when the trial period will end; where a user is along the in-app journey; what is the benefit of the subscription, etc.
The famous Blinkist paywalls
The app also implemented beautifully designed and informative subscription paywalls to empower users with information, which alone brought the following benefits:
increase the conversion to trial by 23%,

increase the conversion to paid by 4%,

increase the push notification opt-in from 6% to 74% (!!)

decrease the customer complaints by 55% (!!)
Get more insights about Blinkist paywalls from Purchasely CEO Nicolas Tissier.
The positive impact of Blikist's transparency approach also contributed to its glowing reputation. Proofs are over 10 thousand five-star reviews, recognition, and support from renowned leaders and organizations including the United Nations and Apple's Tim Cook(a Blinkist user himself).
Read on for some of the inspiring knowledge shared by Eveline Moczko during our conversation.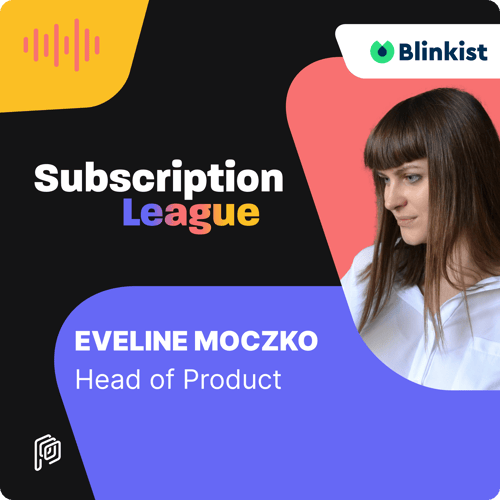 Episode 5 Sneak Peek
On A/B Testing
"I just love A/B testing because it really helped us and enabled us to really crack basically the conversion problem for us. I think it's a great tool to optimize funnels, to optimize flows. Yeah, it just really shows you exactly what works, so you don't get more real life in terms of testing than an A/B test"
"There are definitely limitations to A/B testing. What I always say is A/B testing is great for optimizing, but never for really big bets for big innovation. Those big jumps that really lead you towards your big vision will never be able to A/B test."
On Onboarding
"We decided to remove our sign up step. Before, to enter the app, you really had to create an account. We removed that and suddenly creating onboarding worked…because we had this space to really convey our value propositions to the users before they even see the subscription screen"
On subscription anxiety
"We saw the exact same behavior, users that do start the trial, cancel on the very first day, just a few minutes actually, after subscribing. But there's also a lot of users that never even start the trial, just because they have so much anxiety about being charged accidentally and oftentimes it already happened to them. There's history there that we need to overcome."
On transparency
"What we always knew that we wanted to do is basically, be fair and be transparent. It's like one of our company values too."
" Trial retention went up. Just like being transparent with these users already created this relationship to the brand. Also the user reminder really helped."
"We're actually making more money because we are transparent with the users. I really love that. There's a lot of companies that are actually copying this screen. Yeah, that's also something I'm really proud of, that we could actually set this industry-standard there."
More about Eveline Moczko
Currently Head of Product Management at Blinkist, the leading destination for lifelong learners, Eveline has been responsible for maximizing conversion and optimizing subscription funnels, playing a key role in growing the app's user base to 20 million.
Prior to joining Blinkist, Eveline launched and managed products in the e-commerce and food delivery space. She's now dedicated to bringing to life the big vision of inspiring people to keep learning.
Episode Topics at a Glance
Love for A/B testing and its limitations

Examples of A/B testings and big bets

Simplifying app onboarding process

How to cope with subscription anxiety

Hard paywall vs soft paywall

How to achieve long-term habits with users
Only for Subscription League listeners - Try Blinkist for free!
Enter promo code "subscriptionleague" for a free 3-month subscription to Blinkist! Use this link ONLY https://www.blinkist.com/nc/friends to redeem the free trial code.
How to listen to Subscription League
Go to Subscriptionleague.com or subscribe to our podcast on Apple Podcasts, Google Podcasts, Spotify, Podcast Addict, Amazon Music, or wherever you listen to your podcasts.
HAPPY LISTENING!
---
Previous episodes:
#1: Phiture - All about Retention with Andy Carvell
#2: Babbel Live - How to create a success in a crowded market with Belen Caeiro
#3: Mojo - Strategies you should focus on for a successful subscription business with Jean Patry
#4: The Guardian - Growing the user base The Guardian way - with Jesse Wilkins