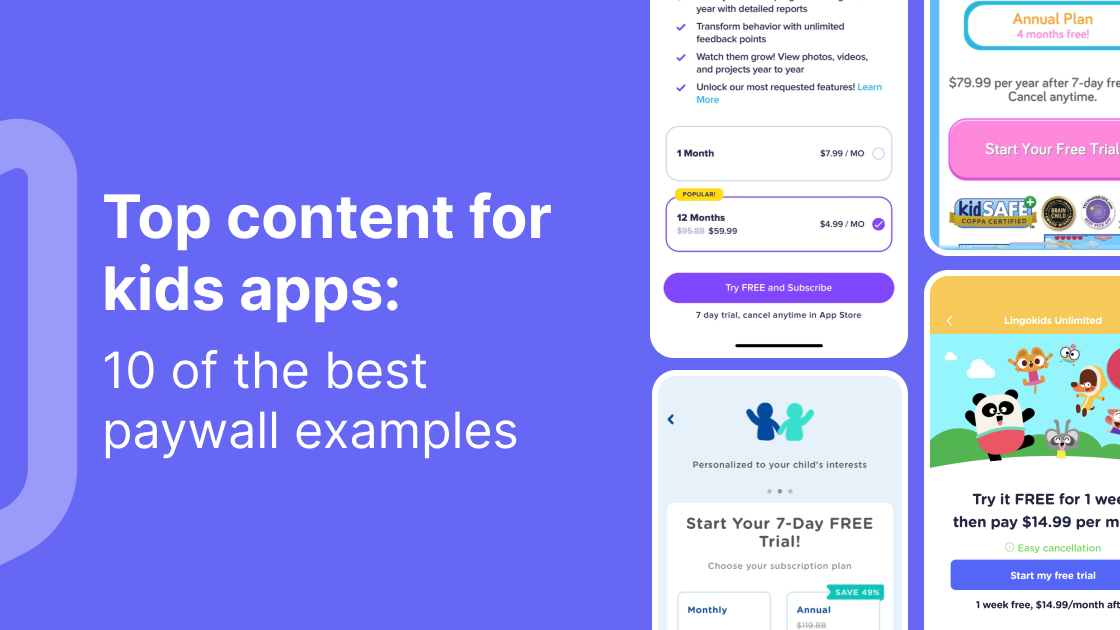 Apps for children represent a lucrative market for developers. But with over Over 36,000 apps published across the Apple App Store and the Google Play Store in the United States only and new releases coming out daily, what's the best design for paywalls on apps for kids to position yours for success?
Your paywall screen is one of the most important elements in your conversion funnel, allowing you to address any doubts and uncertainties that might limit the volume of your in-app purchases.
Our team has reviewed dozens of apps and dug deep to find you some best app paywall examples. In this article, we'll cover:
Why kids apps use paywall screens

How to integrate kids app paywalls

The best content strategies for kids paywall design

10 of the best paywalls on apps for kids
Why kids apps use paywall screens
Firstly, paywalls serve as a method to facilitate in-app purchases, which are a significant source of revenue for various app categories, including kids' apps. In-app purchases allow apps to offer additional content, features, or functionalities to enhance the user experience.
Secondly, kids' apps encompass a broad range of experiences, values, and features. There are educational apps designed to enhance learning, as well as entertainment-focused apps for children's enjoyment. Paywalls serve as a useful screen within the app, presenting users with a condensed preview of what they can expect in their upcoming journey. By showcasing premium content or features through paywalls, apps can effectively highlight the value and benefits of upgrading or unlocking additional content. This approach allows users, and their parents or guardians, to make informed decisions about whether the paid offerings align with their needs, preferences, or educational goals for the child.


The best content strategies for kids paywall design
There are many different value propositions you can highlight on your kids app paywall. If you're not sure what to focus on, this list should help you narrow down your options.
Free trials - 7-day free trials are the most commonly used across the best kids apps. Usually, a week is more than enough time for parents to assess how well your content engages their little ones and pull the trigger on committing to a purchase.
A range of subscription plans - There's a fair amount of variance when it comes to subscription options. Many apps offer monthly or annual options, whereas some only offer one or the other. So you'll need to decide which fits your business model better.
Discounts for annual sign-up - Offering a hefty discount for an annual subscription is often easy money because kids develop quickly, and they may only stay engaged for a few weeks or months.
Easy cancellation - Kids can change their minds, like the weather. If their favorite 'in thing' changes overnight, parents like to know they can cancel anytime without losing money on a lengthy subscription.
Easy Restoration - Easy restoration features enhance user satisfaction and provide a hassle-free process for retrieving data and progress if parents decide to reinstall after cancelling their subscription.
Fun graphics - Utilizing age-appropriate content with themes and imagery that appeal to the kids themselves can be a great way to optimize subscriptions.
Simplicity - Cluttered paywalls with too much text are rarely an effective strategy on kids apps. Information needs to be as simple as possible so it's easy for both kids and adults to understand.
Parental controls - Showcasing controls that help parents manage their child's use of the app and prevent unauthorized purchases can be an effective way to overcome objections about paying for a subscription.
Brand association - Few things are as important to parents as the quality of their child's education. So, if you have brand associations with reputable industry partners, it's a savvy move to display that clearly.
Sneak Peeks - Using your paywall screen to give users a sneak peek at some of the content - or at least the type of content - that lies behind it can be effective in removing doubts about the value proposition.
10 of the best paywalls on apps for kids
We've broken down our list of the best app paywall examples by age range to help you understand which approaches work best for different types of value propositions at various stages of educational development. As you can see, many of our top pics have combined several of the approaches above in their paywall design.
Best Kids App Paywalls for Toddlers
1. Speech Blubs

Best Practices: Simplicity, Free 7-day trial, fun graphics, brand association, easy cancellation.
Speech Blubs is a learning app that promises to help kids over 12 months to speak better, sooner, and more confidently. It utilizes therapist-approved activities to teach toddlers new words every day.
The Speech Blubs content paywall uses fun, playful graphics and focuses on the value proposition of parents playing an active role in their child's development. Like many of the best kids apps, a free 7-day trial is offered. The slider button makes it clear that this is the best value option, and the logos at the base of the paywall design instill parental confidence by demonstrating a brand association with reputable companies like Forbes and FB Start.
2. Noggin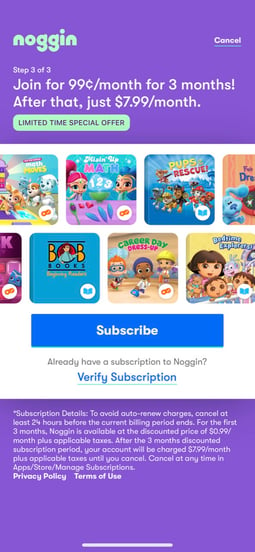 Best Practices: Sneak peeks, clear pricing, easy cancellation.
Featuring several Nickelodeon favorites like Dora the Explorer and Paw Patrol, Noggin comprises a wide selection of preschooler activities focusing on letters and numbers.
This paywall design features no less than eight different previews of the content that lies behind it. The information provided is incredibly transparent, thanks to an entire paragraph below the pricing panel providing clear details on pricing and cancellation. The choice of lilac as a background color is unlikely an accident. It's a very soothing shade - and one that color psychologists claim encourages emotional expression.
3. World of Peppa Pig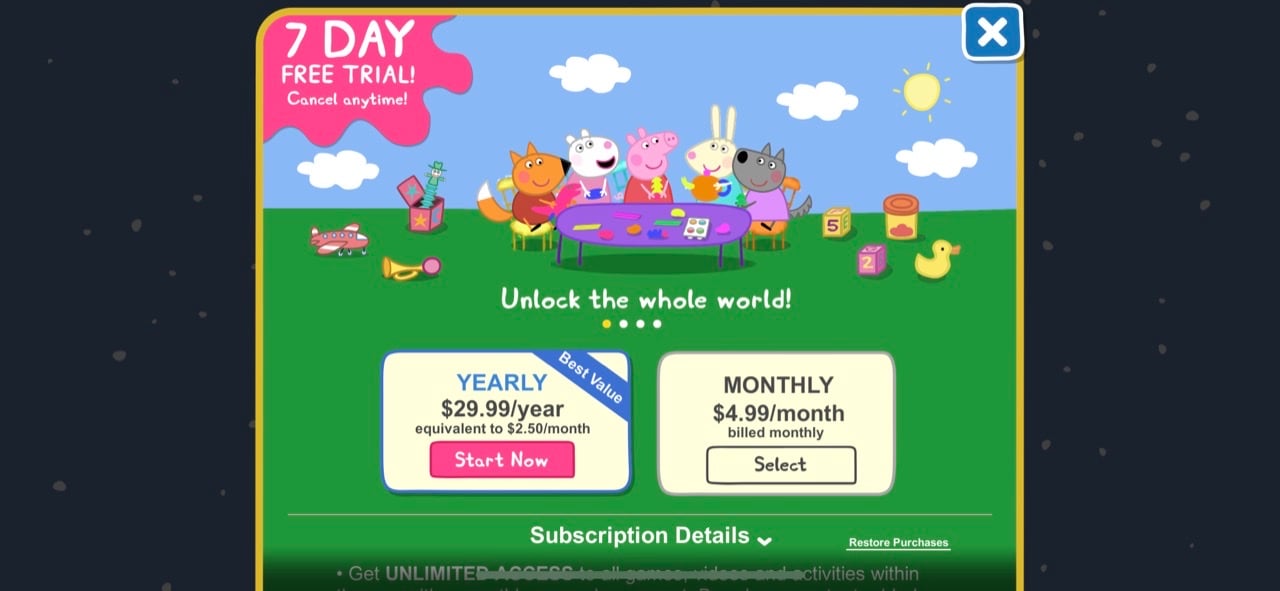 Best Practices: Fun graphics, free trial, two subscription options, easy restoration.
The World of Peppa Pig promises parents hours of fun and games with countless creative activities, puzzles, and videos that are perfect for playtime, home, or on the go.
The background scene of this paywall shows Peppa Pig gathering with friends at a table filled with arts and crafts materials. Combined with the tagline 'unlock the whole world', this leaves users with little doubt about the context of the paid content. The free 7-day trial option is the highlighted feature, and using the same eye-catching pink for the 'start now' CTA button on the annual subscription is a smart way to encourage instant sign-ups.
4. Montessori Preschool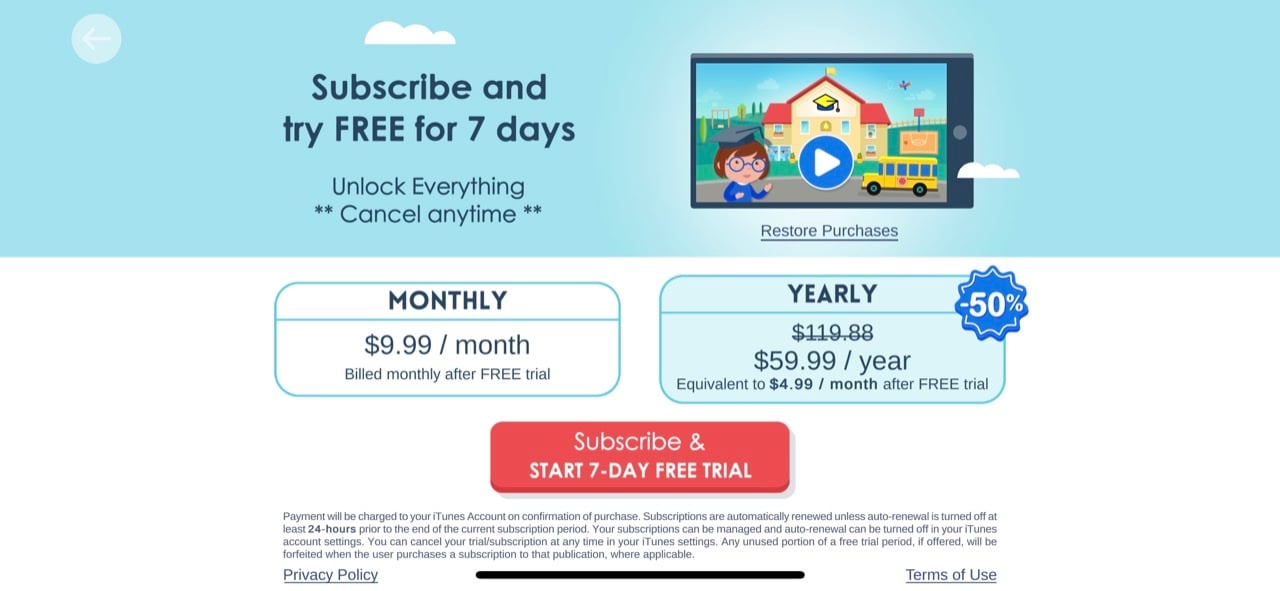 Best Practices: Fun graphics, sneak peek, free trial, two subscription options, easy cancellation, easy restoration.
Aimed at kids aged 3-7, the Montessori Preschool app covers a wide range of developmental activities, including phonics, reading, writing, numbers, colors, shapes, nursery rhymes, and coloring.
This paywall design features a video, which is a clever way to show parents exactly what they'll receive when they sign up for paid content, while also grabbing the attention of any nearby children. The layout is simple, and the terms and conditions are laid out clearly. Particular emphasis is placed on the fact that subscriptions can be canceled or restored at any time, which helps alleviate any lingering doubts over hitting the subscribe button.
5. Sago Mini World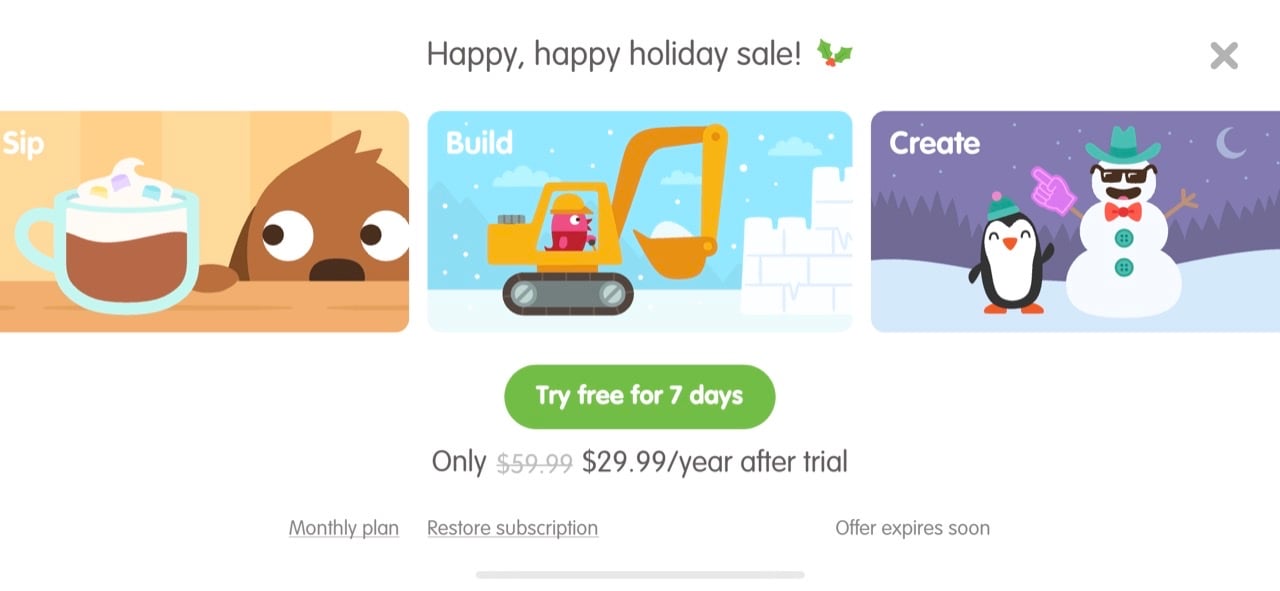 Best Practices: Simplicity, free trial, sneak peek, discounted annual subscription, easy restoration.
Sago Mini World is aimed at encouraging children aged 2-5 to build, create, and pretend through a range of games that spark curiosity and cognitive development.
Simplicity is the key factor in this paywall design. Three featured images using cartoon-like graphics mirror the paid content on the other side. The remainder of the screen is mostly blank space, and the only other splash of color is the button linking to the 7-day free trial. Unlike many other popular kids apps, there is no monthly subscription option, only an annual plan. This could prove an effective tactic for revenue optimization.
Best Kids App Paywalls for Older Children
1. Codespark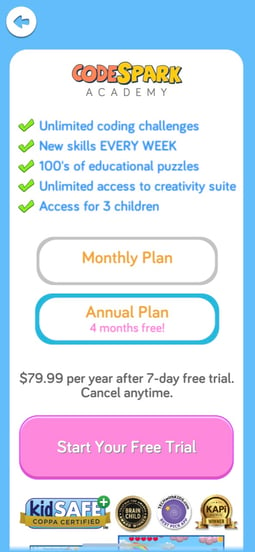 Best Practices: Simplicity, free trial, two subscription options, discounted annual subscription, easy cancellation.
Designed to suit children aged 5-9, Codespark is widely regarded as one of the best apps for kids to get a head start on the ABCs of coding.
The funky pastel colors are eye-catching, and the paywall screen is uncluttered and easy to read. The use of chunky green ticks to highlight the five primary benefits of premium content help users see the value of paying for additional access. Highlighting the words '4 months free' under the annual subscription offer in the same pink as the free trial button is a savvy subliminal indicator of value.
2. Lingokids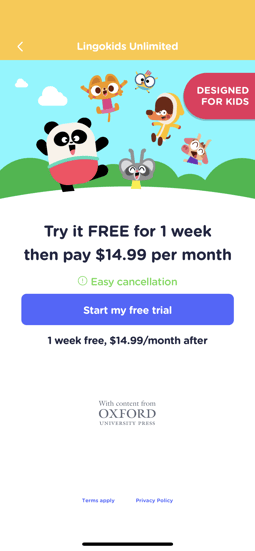 Best Practices: Fun graphics, simplicity, free trial, easy cancellation, brand association.
Lingokids is built for kids between 2 and 8 years old. It features programs focussing on helping children who do not yet know how to identify sounds and letters to develop their linguistic abilities.
Lingokids' paywall design uses bold, bright colors to depict fun-loving cartoon characters, which will be sure to capture the attention of their young audience. The screen is clutter-free, shows clearly that content is available for a monthly fee after the initial 7-day trial, and the words 'easy cancellation' are highlighted. The entire bottom third of the screen is utilized to show brand affiliation with the Oxford University Press, which leaves users in no doubt about the quality of paid content.
3. Reading Eggs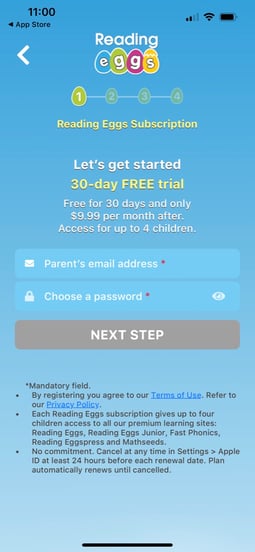 Best Practices: Simplicity, parental control, free trial, easy cancellation.
Suitable for kids aged 2 and up, Reading Eggs makes learning to read interesting by engaging kids with a variety of online games and activities.
This content paywall is very user-friendly because the egg icons at the top of the screen show users exactly how far along they are in the sign-up process. Asking users to set up an account with an email address and password alleviates any concerns over parental control. Plus, the small print details precisely what's included in the subscription and lets parents know they can cancel at any time.
4. Class Dojo

Best Practices:

Fun graphics, free trial, two subscription options, discounted annual subscription, easy cancellation.
Class Dojo helps parents, students, teachers, and school leaders communicate and collaborate. The focus is on supporting social-emotional learning and giving kids access to a portfolio of their learning achievements.
While the playful graphic makes it clear this app is kid-related, this paywall design is tailored more toward adult users than children. The information provided focuses on the parental benefits of transitioning to a paid account, with a clear option to try it for free first. The 12-month plan is highlighted, with a dollar amount breakdown that makes it easy to see the value in choosing an annual over a monthly subscription.
5. HOMER
Best Practices:

Simplicity, free trial, two subscription options, discounted annual subscription, easy restoration.
HOMER is an early learning program designed to prepare toddlers and young children for full-time education and help them build the confidence they need for school and life.
Unlike the other paywalls on apps for kids we've examined, the HOMER paid content screen doesn't mess around with graphics or images tailored toward kids. Rather, it's clean, simple, and designed to get straight to the point by getting essential details across to parents as transparently as possible. The three main takeaways from this paywall screen are that the app offers personalization options, there's a free trial, and annual plans are the best value.
Key Takeaways
Your paywall screen is one of the most important elements in your conversion funnel

Targeting 100% paywall views by incorporating them into your app onboarding process will result in more conversions.

Incorporating content that appeals to both children and adults can be beneficial.

Appealing to parents by offering both quality and value is essential.
Increase Your Subscriptions with Purchasely
Purchasely's unique and intuitive app monetization platform has been custom-built to help developers drive revenue with one-time purchases and In-App Subscriptions.
Our no-code paywall builder enables you to create winning paywall designs, A/B test them, and implement them with a focus on optimizing revenue.
Book a free demo today and see it in action for yourself!
Looking for further inspiration? Download our e-book on the Top 10 Paywall Design Tips today, and check out these additional resources for more top tips and examples:
Purchasely no-code paywalls gallery
Paywall placement optimization 101
20 Inspiring Paywall Examples for Photo & Video Mobile Apps
The 10 Best Education App Paywalls
Making a safe digital playground for kids with Gonzalo Rodriguez (Papumba)