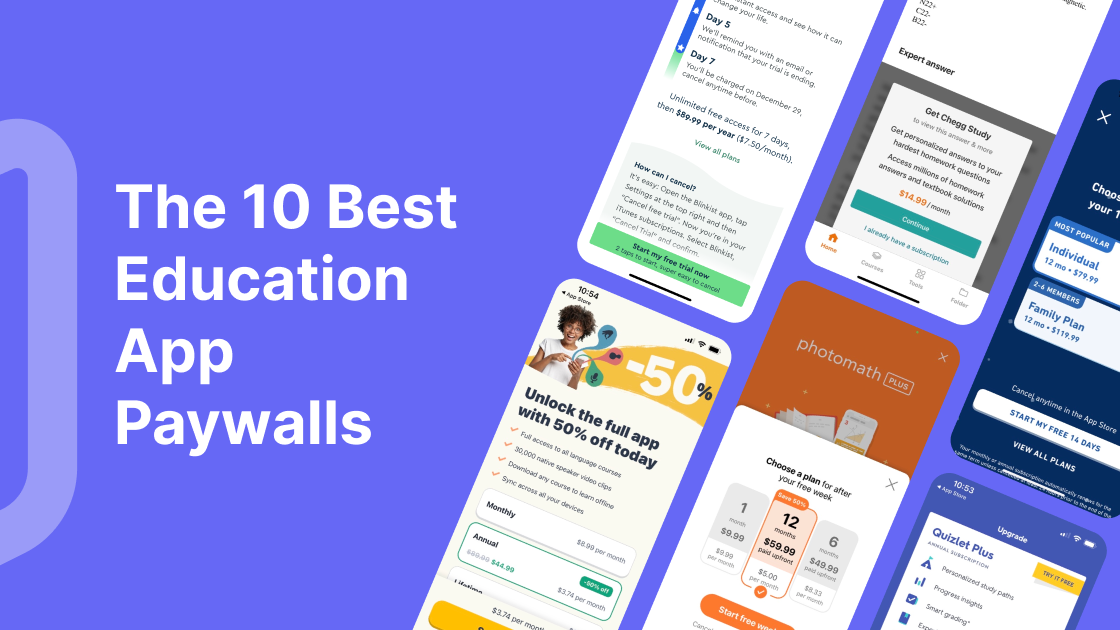 Today, students can consume content on the go and complete coursework whenever it fits into their day. App developers have jumped on this opportunity to design products that allow people to learn on their terms, and there are now over 100,000 educational apps available worldwide. In such a competitive market, every element of app design needs to be perfect - including subscription paywalls.
Looking for creative ways to optimize your app for maximum subscriber conversions? We've dug out 10 of the best education app paywalls to give you some inspiration. But before that, let's cover the basics of why you should use a paywall, what makes them effective, and why paywall design is an essential consideration.
Why Do Education Apps Use Paywalls?
Paywall screens are popular among all genres of digital publishing, but especially so in the education sector. Why? Because great content takes time and effort to produce, and most education app developers are hesitant to go to all that trouble just to give it away for free and rely on ads for ROI. Revenue streams from paid subscriptions are more predictable, allowing companies to forecast future income more accurately. But there's more to it from the user experience side too…
Discovering the true value of an education app can be a time-consuming process, involving several potential obstacles:
There's often a learning curve involved in understanding the app's teaching methodology and user interface.

Users need to build a habit of consistently using the app in order to see its benefits over time.

There's a time investment required to actually make progress in learning a new subject and feel the true value of the app.
To help overcome these obstacles, many education apps use content paywalls as an effective tool to engage and pitch users, educating them on these factors in advance and luring them into taking the next steps.
Why are Education App Paywalls Effective?
The best app paywalls can drive user engagement, acquisition, and retention by offering subscribers the followings:
Content, courses, and tools they may not be able to access elsewhere.

The flexibility and convenience to learn whenever and wherever they want, without having to attend physical classes or adhere to specific schedules.

Personalized learning experiences based on interests, skill level, and learning goals.

Interactive and engaging learning journeys.

Insights from knowledgeable experts and instructors worldwide.
How Important is Paywall Design?
Effective paywall design plays a significant role in guiding users through the entire user funnel, from initial app installation to long-term retention and engagement. Used well, paywalls serve as an effective method to address any lingering doubts, fears, or uncertainties people may have and encourage them to sign up. And don't forget, it's another opportunity to shine. By deploying paywall screens that connect with your audience for the right reasons, you can strengthen customer relationships and improve your brand image while simultaneously driving conversions to paid accounts.
For more inspiration, be sure to download the Purchasely e-book detailing our Top 10 Paywall Design Tips.
10 of the Best Education App Paywall Examples
Down with the basics and ready to get going? Then it's time to check out some of the best app paywall examples to get your creative juices flowing. Here are our top picks from across the education category.
1. Duolingo Plus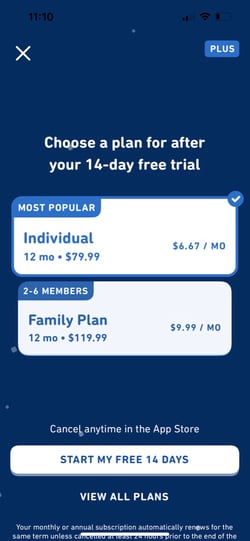 Value proposition: Group learning
Duolingo is a well-known language learning app offering free courses, whereas Duolingo Plus offers additional features, offline access, and ad-free learning. In addition to individual subscription options, the Duolingo Plus paywall taps into the psychology of families that want to learn and grow together by providing family plans for 4-6 members at a discounted rate. The design is clean, the information is clear, and the 14-day free trial makes subscribing feel risk-free.
If you want to know more about Duolingo, please read our article EdTech and language-learning: 10 insights from Babbel & Duolingo.
2. Quizlet Plus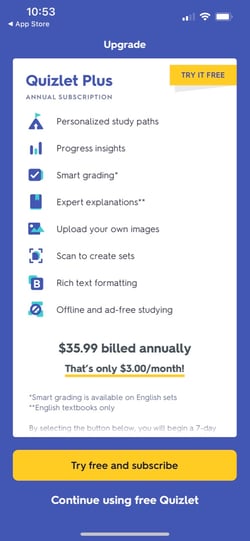 Value proposition: Personalized learning
Quizlet is a study tool- allowing users to create educational quizzes, games, and digital flashcards. Extra features available on Quizlet Plus include image uploading, voice recording, and the option to scan in additional learning materials to create custom flashcard sets. This is one of the best app paywalls we've seen for customized learning. The first three features listed on the paywall screen all focus on how programs can be tailored to individual needs with personalized study paths, progress insights, and smart grading.
3. Coursera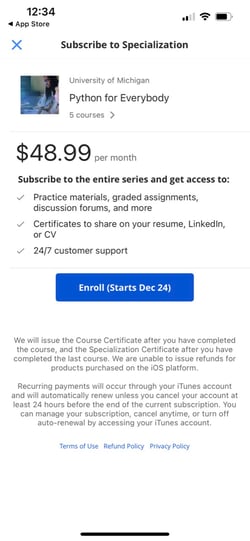 Value proposition: Complete transparency
Many courses on Coursera are free. However, when users reach one of the platform's content paywalls, they get all the information they need to help them decide whether to proceed to a paid product offering. The details provided about each paid course are comprehensive and include:
The university offering the course

The price

The start date

The support subscribers get during the course

The certificates available upon course completion

How to cancel/manage the subscription
4. Memrise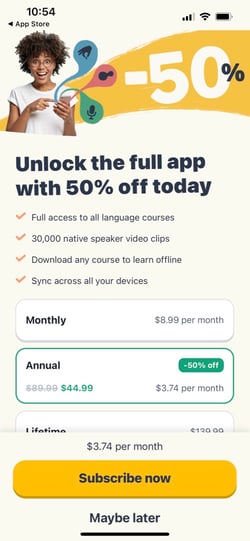 Value proposition: The fun factor
Like most education app paywalls, this language learning app provides a breakdown of the main USPs of having a premium account. But it's the paywall design that really stands out. The Memrise paywall screen is fun, engaging, and features colorful illustrations that perfectly reflect the language-learning focus. Plus, having the annual price highlighted in green with the percentage discount clearly on display is a proven way to optimize yearly subscriptions. Of course, Memrise isn't the only education app to capitalize on the use of bold colors. Other paywall examples that use a similar strategy include Headspace, Lingokids, and Codespark Academy.
5. Blinkist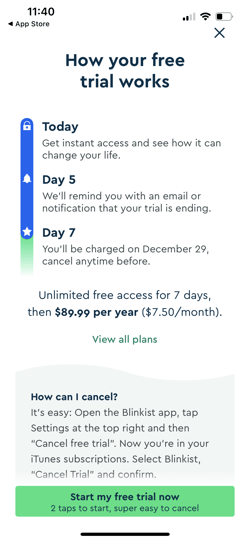 Value proposition: Free trial focus
Blinkist is a book summary service that provides insights from leading non-fiction books in under 15 minutes. Rather than focusing on the product offering, the Blinkist paywall screen gives in-depth details on how the 7-day free trial works, how to cancel, and how much app access costs afterward. This approach is likely to win the type of trust that will encourage users to continue reading after their trial. A popular technique, the same value proposition is used by numerous other education apps, including Elevate and Headway.
6. Photomath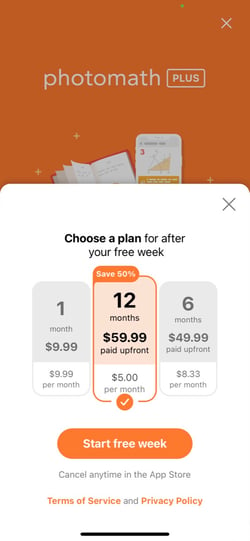 Value proposition: The Goldilocks principle
Like many of the best app paywalls we've listed here, Photomath offers tiered subscription options on its math app that covers elementary, high school, and college-level algebra and equations. This paywall design capitalizes on the psychological phenomenon that people are inclined to seek 'just the right amount' of something. That's why the 12-month plan is positioned front and center in a bold orange color to maximize clicks. Other education app paywalls that have adopted a similar approach include Rosatta Stone and EWA English Language Learning.
7. Udemy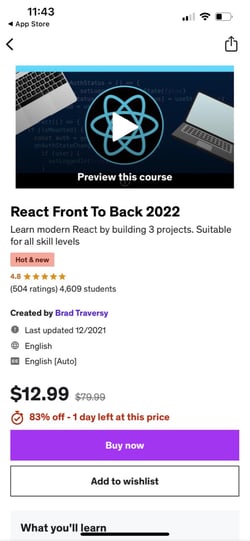 Value proposition: Social proof
Udemy offers several free courses, but some require a subscription. With so many education apps and online courses to choose from, getting conversions can be challenging. Udemy navigates this hurdle by clearly positioning a course rating on its paywall screen. Based on previous student feedback, each paid course is rated out of 5 stars. This approach creates trust and validates the value of the course, making it more likely students will commit to a purchase.
8. Babbel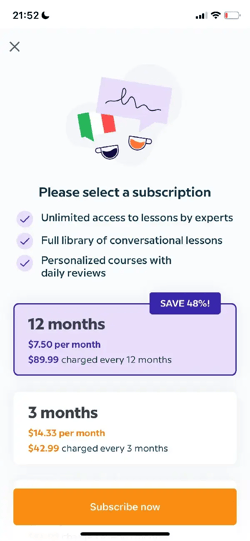 Value proposition: Discounted annual subscription
One of the best app paywalls for establishing value for money, this popular language learning app doesn't mess around when it comes to demonstrating how much bang students will get for their buck. The playful and colorful design attracts user attention, and the 12-month subscription option is highlighted to draw the eye to the annual package, where the additional graphic displays the percentage discount compared to making monthly payments. Other education apps using a similar approach include Skillshare and Course Hero.
9. Skoove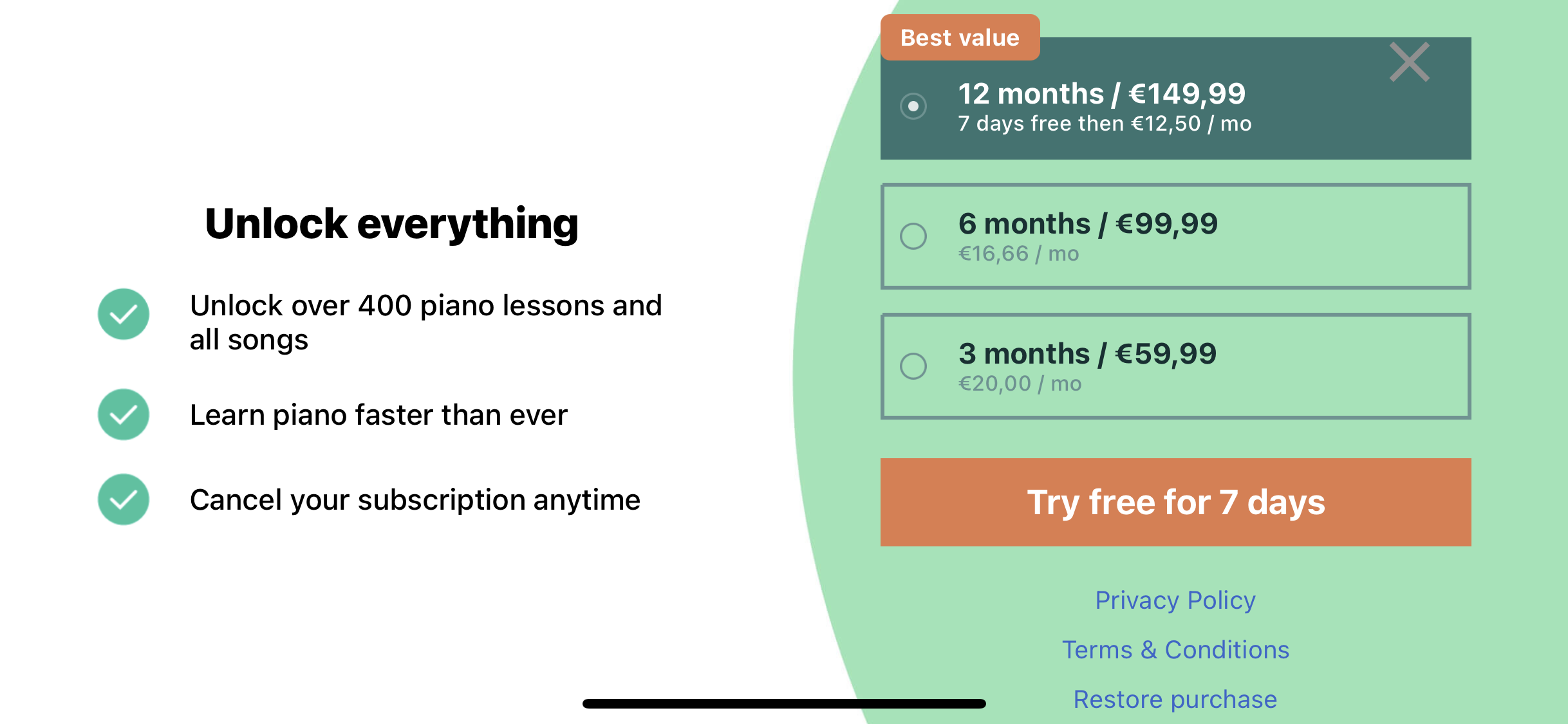 Value proposition: Paywall layout adopted for the app's use
Skoove is a music education app that provides interactive piano lessons for beginners and advanced players alike. Skoove understands the common display specifications of its users' mobile devices and optimizes its paywall display for horizontal view, ensuring a seamless and engaging user experience.
10. Chegg Study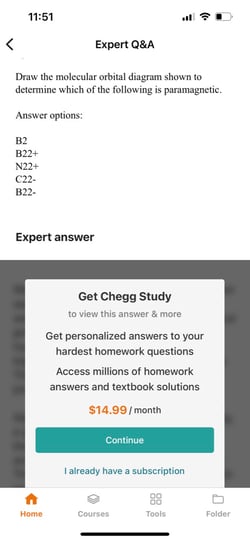 Value proposition: Real examples
While not one of the biggest industry players, this is one of the best education app paywalls for demonstrating real-world value. Chegg's homework help app features an example question on the paywall screen, leaving users in little doubt about whether it will be a good fit for their needs. It's also made clear that millions of answers to difficult questions are available and that answers come from expert sources, which further consolidates the value proposition.
Education App Paywalls: Summary and Key Takeaways
The best app paywalls are effective because they offer users value, convenience, personalization, engagement, and access to experts. The best paywall designs on education apps are clear and transparent about what users get when they pay. All of these factors showcase an app's value and make the learning process more enjoyable, encouraging users to pay to access content and continue investing in their education.
Unlock Your App's Full Potential with Purchasely
Purchasely's app monetization platform has been designed with the primary goal of helping developers attract and retain more subscribers via one-time purchases and in-app subscriptions. Our no-code paywall builder enables you to create, A/B test, and implement winning paywall designs with a focus on optimizing revenue.
Book your free demo today and get started on creating custom content paywalls that convert!
Looking for further inspiration or more education app paywall examples? You might find these resources useful: