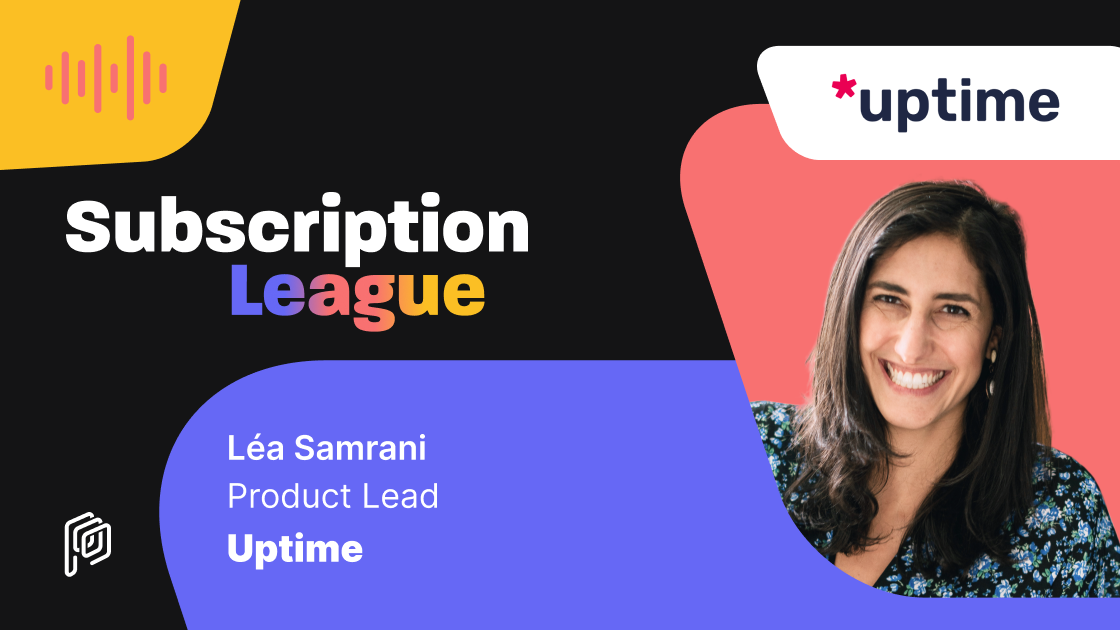 In just over a year since its launch, a micro-learning platform, Uptime has been selected as an Apple Editor's Choice and a Google Play App of the year 2021. In the Subscription League Episode 8, Léa Samrani, Lead Product Manager at Uptime, talks about how identifying the customer needs, frequent testings, and setting up the right KPIs led to the brand's current value proposition that hits the bullseye.
Uptime's mission and value proposition
Uptime is a London-based start-up company founded in 2018. The company's brainchild platform, Uptime, is built on a mission to inspire people to learn quickly and grasp knowledge from trusted thought leaders without spending too much time, energy and/or resources.
The "micro-learning platform" presents five-minute "knowledge hacks" from books, courses, and documentaries. The hacks are presented in a unique, snackable, easy-to-watch visual, audio, and text format. At the end of each Hack, the user is presented with the option to buy the book, watch the full documentary or sign up for the course from the original source.
Users can use the app for free or access more of the 3,000 plus titles with a premium subscription that costs $20/month or $80/year. There is also a free 3-day trial letting users experience the premium content before subscribing.
Only launched in 2021, the app already boasts almost five-star customer reviews on the App Store, recognized as an Apple Editor's Choice and a Google Play App of the year 2021.
Understanding the customer needs
The platform's journey started with a hypothesis that spending too much time on social media is not a healthy digital habit for a person in general and that an answer to this problem is instead to dedicate even a fraction of time spent on mobile devices to learning something new.
To validate the hypothesis, Uptime analyzed over 100 apps and surveyed about 5,000 participants over several weeks.
One conclusion derived from researching the participants' learning habits was that despite the current needs, there are hardly any platforms out there that successfully balance two important factors - access to high-quality educational content and a fun user experience.
What the team saw in most digital learning products was rather a very formal and overwhelming amount of information that was presented in ways that are not accessible in realistic scenarios, such as when on a commute, during a break at work, or when cooking. Then it became clear where the ambitious brand should be focusing - making learning faster and easier by packing great ideas in 5 minutes.
Testing
Today's mobile app industry is intensely competitive, and just a few clicks and swipes are enough for a user to praise or abandon an app. For this reason, any forward-thinking application owner would understand the importance of testing to offer gratifying UI, UX, content, and in-app product.
Uptime had this vision in the core from the start and implemented the right data tool early to generate user insight at every step of the growth process.
As every young app would experience, however, the app didn't have enough users to leverage for conducting meaningful testings in the early stages. So the team engaged with a small number of users one-on-one to gain feedback on their app experience.
Once the app has built enough user base, A/B testing became the default methodology of every feature release. However, Léa's pearl of wisdom for smaller companies is to carefully juggle what are essential features or subjects to test instead of testing everything because not all tests are worth the heavy cost and risk.
Paywalls strategies
What works for others won't always work for you
When it comes to creating and implementing a winning paywall, reinventing the wheel is not always necessary. When resources don't allow, borrowing inspiration from best practices and copying what worked for other applications could be a shortcut to implementing a decent paywall in your app.
But Léa warns that not only focusing so much on other's practices can prevent you from being innovative, but also every app has different brand awareness, pricing strategy, audience, and localization. Therefore, when possible, you must find what works for your own product and own audience.
One mistake to avoid when developing your own paywall is testing multiple paywall elements all at once. If you are experimenting with different prices, intro offers, copies, and designs, try to conduct individual tests focusing on one single element to have an accurate analysis.
KPIs - Find your north star
When measuring your paywall's effectiveness, it's essential to keep your eyes on higher metrics, such as retention rate, that hold real value to your app's business performance. For example, your A/B testing can show that a new notification has an amazing paywall open rate, but then you actually realize that retention dropped. This hints that the effort put into monitoring the open rate is wasted.
The best way to find out what metric to look at is first to embrace the fact KPIs are never black or white as some do good and some do less. Then before numbers start coming in, decide what success means for your app and what are the most important signs to measure so that your business efforts are laser-focused on what really matters.
Educating customers with full product experience
Getting users on board with the value of your product is not an easy job. Especially if your app is brand new, there is no awareness or social proof. Uptime went over this roadblock through 3 approaches.
Leading with the product so that the app speaks for itself.

Allowing users to get the full premium experience straight from the beginning.

Leading with premium subscription when users finally get to the Aha moment.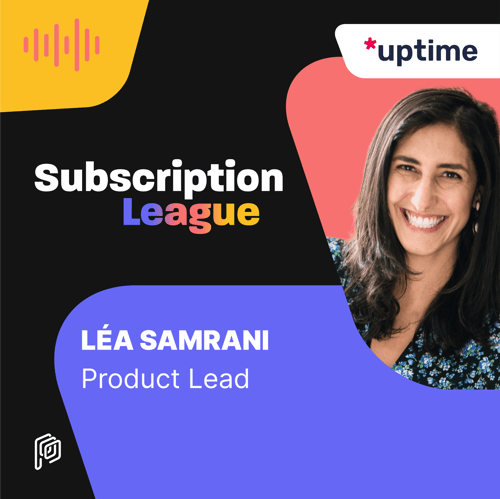 Episode 8 Sneak Peek
On research
"It actually became very clear that there was a need for a way to spend short amounts of time throughout your day gaining knowledge, but it's actually very difficult to do so. It's really not easy to do so. We met people that were giving us example of how they were hacking existing products that were not intended for learning and they were making them work for them in that way. But the details of how they would do that, it's just crazy."
"We basically realized that a lot of education products that exist out there were very formal, it's more on the long-form side of things. And it's great. It's really good to have that. But it's not necessarily something that you can do in, you know, 5 minutes, in your downtime, when you're on a commute, when you have a break at work or when you're cooking, anything like that"
On user feedback
"We were receiving incredibly positive feedback from users. It really got us thinking we are doing something right. We were also receiving requests for things like for the future or for behavior in the app that we were planning on doing. "
On testing
"We didn't start testing from day one, what we did was introduce the basics needed for testing. We made sure that everything was tracked properly, for example. So from the very beginning, we never actually launched a feature with adequate tracking in place. The second thing is we actually invested in tools that would democratize access to data. We made sure that data wasn't something that was siloed."
"You have to think about the cost of getting the data you may not use versus the possible cost of not having any visibility and not making informed decision, those are tradeoff as well that you have to considered. "
"I think in startup, there's a lot more pressure to have results. And also because you have less user, you have less resource, the impact is much bigger. So you have to be a lot smarter about how you test in a startup, but you can actually move faster too, which is great."
On paywalls
"There's a big caveat here because works for one product doesn't necessarily work for another one. There are a lot of other factors to be taken into consideration, like your brand awareness, your pricing strategy, your audience, and your localization. "
On educating users
"Why should someone choose to use your product and trust you rather than anyone else out there? There's a lot of ways to go about that. But we've decided, at Uptime, to actually lead with the product first, let the product speak for itself. So the value comes from the full offering."
More about Léa Samrani
Léa Samrani is a London-based product management veteran with about a decade of experience managing teams, driving product strategy, and building products ground up in fast pace environments. Currently, she's the lead product manager at Uptime, a freemium app featuring 5-minute knowledge hacks from the world's best books, courses, and documentaries.
Prior to her current position, Léa worked as a senior product manager at Bumble and Badoo. She also has years of experience as head of product management in the charity sector. Her educational background includes a public law and politics science degree and a master's in marketing communications advertising. Léa is also a lecturer at Product School.
Episode Topics at a Glance
Uptime's mission and history

Initial research and consumer survey

A/B testing

Setting the right KPIs

Paywall strategies

Educating users about the app's value
How to listen to Subscription League
Go to SubscriptionLeague.com or subscribe to our podcast on Apple Podcasts, Google Podcasts, Spotify, Podcast Addict, Amazon Music, or wherever you listen to your podcasts.
HAPPY LISTENING!
---
Previous episodes:
#1: Phiture - All about Retention with Andy Carvell
#2: Babbel Live - How to create a success in a crowded market with Belen Caeiro
#3: Mojo - Strategies you should focus on for a successful subscription business with Jean Patry
#4: The Guardian - Growing the user base The Guardian way - with Jesse Wilkins
#5: Blinkist - Using transparency to increase your conversion rate with Eveline Moczko
#6: Rootd - How to bootstrap #1 health and fitness app with Ania Wysocka
#7: Luni - Subscription Marketing 101: tips to drive acquisition and retention with Adrien Miniatti