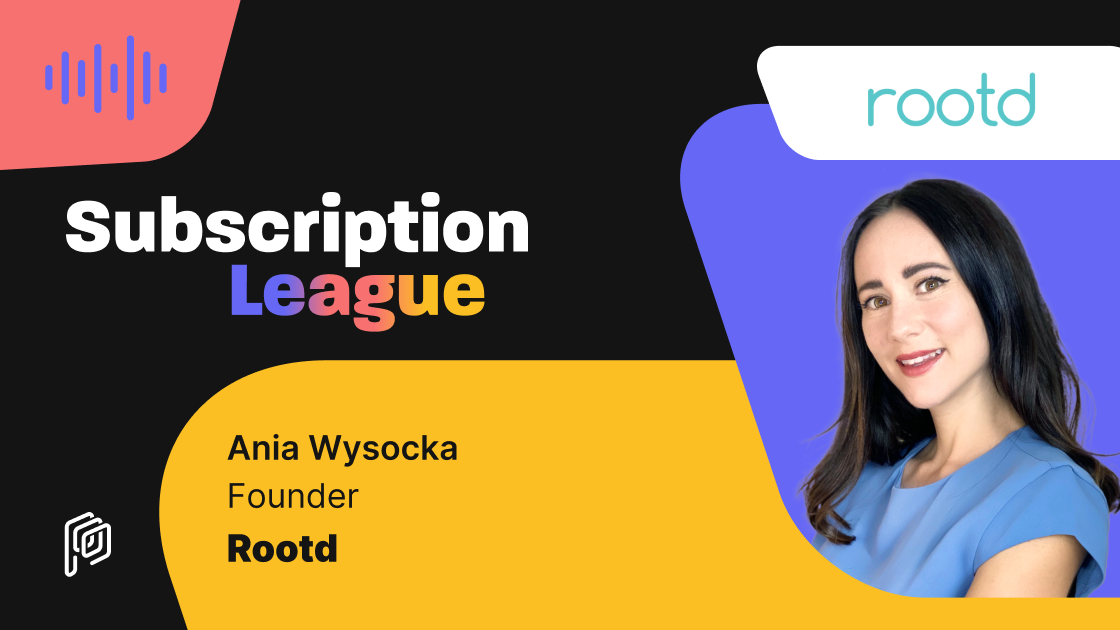 Big-budget ads, outsourcing, venture capital fundings - these are what Rootd, an anxiety & panic relief app DID NOT do to achieve a 1.7 million user base. Listen to the Subscription League Podcast Episode 6 with Ania Wysocka, Founder of Rootd to find out how the app paved its unusual path to success with a unique value proposition, bootstrapping, and eye-level user engagement.
Rootd's story
Rootd is "anxiety and panic attack relief right in your pocket". It leads the #1 rated app on both iOS and Google Play and boasts over a 1.7 million user base.
The award-winning application blends stigma-breaking design with therapist-approved features, including a panic button, gamified stats, a deep breathing tool, and lessons, helping users during all stages of overcoming anxiety and regaining confidence.
Ania Wysocka started Rootd due to personal experience with anxiety. When she first discovered her illness, there were very few decent and affordable resources available, let alone mobile applications that could help her manage her struggles. She found that reading expert research helped her personally and wanted to extend that to others in an engaging, interactive, and affordable way which is where Rootd was born.
Fast forward a few years, Rootd operates on a freemium B2C model, revenue-generating partnerships, and B2B company plans. Rootd also offers a lifetime access plan.
What worked well for the app?
Focusing on the niche market
With 6.8 million adults in the U.S. suffering from a generalized anxiety disorder, and only 43.2% receiving treatment, there's a massive opportunity for tech to step in. Rootd took a strategic approach to enter this niche market. Rather than going after a larger market segment of anxiety, the app focused on a value proposition around panic attacks with lower volume and difficulty keywords. By adding more tools and content on anxiety over time, the app succeeded in ranking #1 for panic attacks and #3 for anxiety in the U.S. Ania's advice? Stay hyper-focused in the early stage, then expand in both product and App Store Optimisation (ASO=.
No funding, yes freedom
Raising venture funding is a celebrated practice in the startup industry today. V.C. fundings give startups the wings to scale quickly, invest and experiment. Start-ups can also benefit from venture capitalists' connections, guidance, and business knowledge. Please read our article to know how to finance a Subscription App.
But there is a flip side to it - loss of control. With a large injection of cash, V.C. partners will likely want to be involved and ensure that their investment returns a profitable return. This can impact from shaping a company's long-term philosophy to small and big details of business operations.
From the early stage, Ania's vision on this matter has always been clear - to choose freedom over immediate financial backing. Years later, the app still stands on its own, gaining immense user trust and growing revenue while pursuing the same passion it was built on from day one.
Eye-level engagement
Without a ton of capital to invest in advertisements, Rootd naturally turned to the next best thing they can do to build user trust and up the app store ranking game - actively responding and acting on user feedback on a personal level.
It has significantly contributed to the app's evolution and user satisfaction. For example, whenever a negative or positive review comes in, Ania personally responds, investigates the issues, makes necessary adjustments within the app, and then encourages the user to update the original review. With this approach, the app has addressed many 1 star reviews and significantly increased in-app engagement time.
Onboarding experimentation
As a bootstrapped application, Rootd's journey toward where it is now started lean, and a lot of what may be a normal practice for businesses with more financial safeguard was a big bet for the brand. Implementing an onboarding process was one of them. At first, app onboarding didn't exist. Users came into the app, experienced the content without guidelines on what to expect next, and eventually subscribed if they were satisfied.
Then the app introduced a new onboarding experience that displays a free trial paywall near the beginning of the process and immediately increased the In-App revenue by 600%.
Read on for some of the inspiring knowledge shared by Jesse Wilking from The Guardian during our conversation.

Episode 4 Sneak Peek
Reviews
"Reviews help with your ranking in the app store, and if you don't have funding like Rootd, you're not spending your time on advertising, then obviously you need to focus a lot on app store optimization and doing whatever you can to rank higher and reviews are really key to that."
No investors
"People are like, "Well, why wouldn't you take investment if you have the offer?" Which makes sense. But in my personal experience, I got to work with a lot of startups. I saw how, after raising capital, they weren't often doing what they started out doing because then their main objective is to increase the value for investors as opposed to doing what they love doing."
"the biggest thing was just putting it(paywall) closer to the front really. That had the biggest impact. Yeah, I keep the page quite simple. I think that one thing I'll do moving forward is to actually list more features on it. "
Bootstrapping
"You just have to really think back - Okay, why did I start this? Why am I doing this? and hopefully, that will help you get over some of the negative criticism. The rhetoric around bootstrapping a company is changing. Now more people are talking about it at conferences. We're seeing that you can actually get a lot of great results bootstrapping.
More about Ania
Ania is the founder of Rootd - the #1 rated mobile app for anxiety & panic attack relief. Ania designed and created Rootd's complete content and has led the business to over 1.7 million users in over 150 countries. Her unique combination of graphic design, marketing, and subject matter expertise provides Rootd with its unmistakable personality.
Previously Ania served as Program Director at Alacrity Canada, where she created and led a Digital Marketing Bootcamp to run province-wide in partnership with the BC government, helping over 6,000 individuals and small businesses, particularly those impacted by COVID-19.
Entrepreneurial by nature, with a strong sense for effective design and cross-cultural communication, Ania has been selected for a Developer Spotlight by Apple, as a "30 Under 30" winner by BC Business, a "Canadian Woman in Tech you Should Know" by the Daily Hive, and one of "20 Women Entrepreneurs to Watch" by Founders Fund.
Episode Topics at a Glance
The story behind Rootd's creation

Bootstrapping

Ania's personal experience with anxiety

User reviews

Onboarding and early-stage paywall display

Story submission

Next steps for Rootd
How to listen to Subscription League
Go to Subscriptionleague.com or subscribe to our podcast on Apple Podcasts, Google Podcasts, Spotify, Podcast Addict, Amazon Music, or wherever you listen to your podcasts.
HAPPY LISTENING!
---
PREVIOUS EPISODES ON SUBSCRIPTION LEAGUE