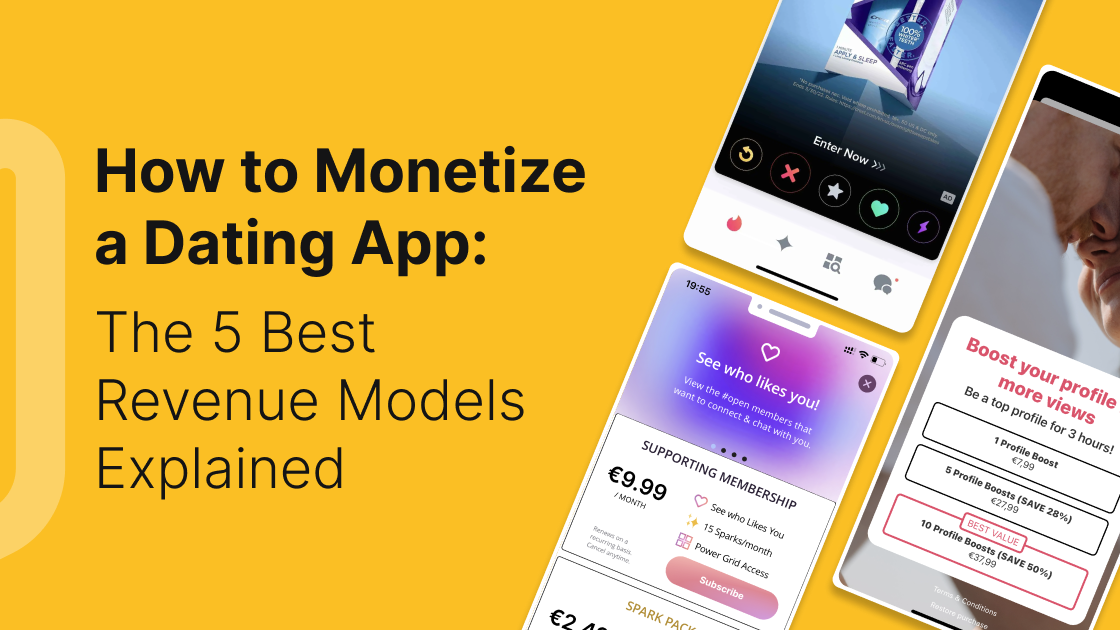 How to monetize a dating app: The 5 best revenue models explained
10 May 2023
Subscription
Dating
Ready to skyrocket your revenue? It's straightforward to implement a variety of dating app monetization strategies.
The online dating market is booming. It's estimated that there are now over 8000 dating apps worldwide. With all that competition, the challenge for developers lies in working out how to monetize dating apps to secure a slice of the $5+ billion in annual revenue.
There was a time when online dating was considered unfashionable - and almost embarrassing. But those days are long gone. Research shows that increasing numbers of people are looking for partners online, and the total number of dating app account users is expected to surpass 441 million by the end of 2023.
With these stats in mind, it's a no-brainer that monetizing dating apps and maximizing revenue can be lucrative. But, that involves some thought and planning to figure out the best strategies and tactics to achieve your goals. But, exactly how do dating apps make money, and what are the most effective monetization models to utilize? Consider this article a guide to help you navigate the answers and kick-start your own dating app's monetization journey.
1. How to monetize dating apps via In-App Subscriptions
While initial registration may be free, the majority of dating apps utilize tiered subscription models as their primary method of revenue generation.
Tiered monetization models for dating apps offer users bonus features for an additional weekly, monthly, or annual fee. Some examples of popular subscription features include:
"Boosting" a profile to get more views

Seeing who has liked a user profile

Extending the response timeline

Seeing who has liked a profile

Getting more profiles in a feed

Fine-tuning filters of profiles in a feed

Options to message before matching

Accessing read receipts

Using incognito mode

Undo functions on messaging
Bundling sought-after features into tiers is one of the best ways to monetize a dating app, as it stimulates regular payments. A three-tiered system for free, standard, and premium accounts is most common and is a strategy heavily utilized by the 'big players' like Tinder, Match, Bumble, and eHarmony.
Once you've decided what to include in each tier, you need to decide on an app pricing strategy that encourages people to stay active for longer by offering a reduced price for extended subscription periods. For example:
One week - $9.99

One month - $29.99

Three months - $69.99

Twelve months - $99.99

Lifetime - $149.99
2. How to monetize dating apps via one-time purchases
Offering one-time purchases allows users to customize their app user experience by selecting features they want to add. Such models allow users to retain control over how much they spend, without having to commit to recurrent payments. Popular dating apps like Hinge, Bumble, Tinder, SoSyncd, Hashtag Open, and OkCupid all offer one-time purchases.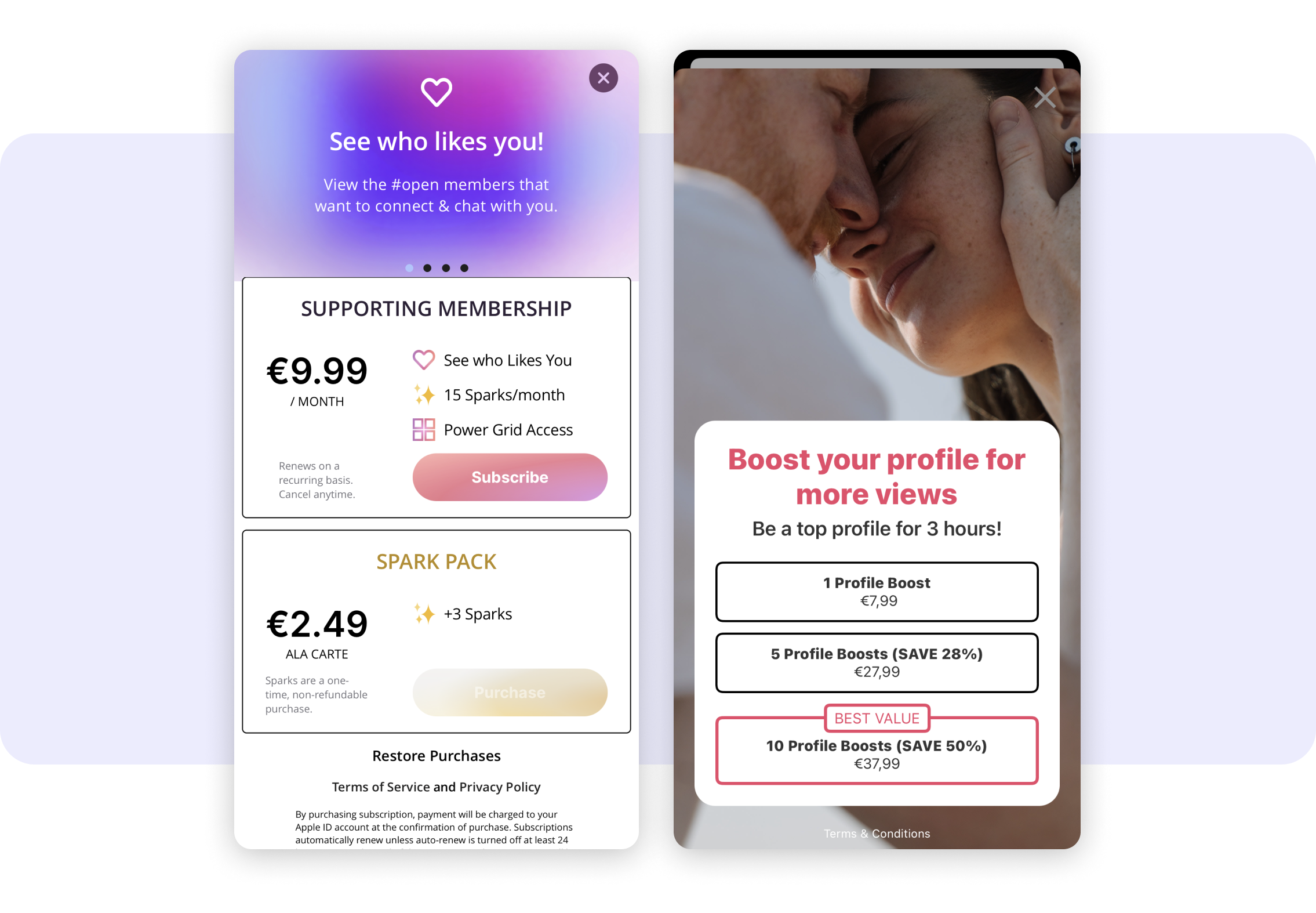 Consumable OTP paywall examples of #open(left) and Socynd(right).
One-time purchases are one of the best dating app revenue models for generating additional income streams from free accounts. An increasing number of apps in diverse categories are replacing one-time purchases with the subscription model. But conversely, the majority continue to offer OTPs.
Dating app monetization via one-time IAPs generates additional revenue from users who want to benefit from "pay-as-you-use" features including:
Profile boosts

Unlimited swipes

Super likes

Virtual gifting
Offering consumable features like this in combination with premium subscription options can also be an effective app monetization technique if the additional investment provides sufficient value. For example, premium access users can maximize the chance of finding their match by purchasing add-ons such as "profile boosts" or "super likes".
Providing access to diverse non-commitment options allows users to carefully consider which features will enhance their overall experience and design their own in-app experience. So, offering one-time IAPs can be an excellent win-win monetization strategy for both the app publisher and the users.
3. How to monetize dating apps via advertising
Advertising is one of the common ways to monetize a dating app that functions on a freemium model (freemium apps operate on a business model where basic or limited features are included, but additional charges apply to supplemental or advanced features). Typically, users must watch ads to continue interacting without paying an additional fee. Broadly speaking, there are three categories of ads.
Standard ads
Standard ads are shown to every app user, regardless of their demographic profile. Dating apps earn money for every ad view, click, or transaction a user makes. Subscribers must watch every ad to continue platform usage unless they subscribe to an ad-free version. Popular platforms like Tinder use ads a lot for app monetization. There are many different types of in-app ads, spanning:
Banners

Videos

Surveys

Text
Custom Ads
Custom ads use app user profiles to promote specific themes and topics based on demographics, buyer interactions, and in-app behaviors.
Some dating apps offer in-app advertisements as a service. Grindr is a great example and earns significant revenue from brands looking to target the LGBTQ community through specific marketing activities tailored by budget, ad performance insights, and geo-targeting.
For companies with high budgets, some apps offer account representative assistance to help brands create even more customized, highly targeted, and optimized in-app advertising solutions.
Reward-based Ads
Reward-based ads allow temporary access to bonus features in return for watching. Particularly popular on gaming apps, reward-based video ads can also be a great fit for online dating platforms because they can be targeted very accurately. Users are provided with an incentive for watching each video - like access to extra likes or temporary subscription upgrades. Not only does this drive advertising revenue, but it also increases the likelihood of freemium users upgrading to keep receiving the additional benefits.
4. How to monetize dating apps via affiliate marketing
Just as dating apps connect people looking to find new partnerships, they can also play the role of a matchmaker in connecting publishers with advertisers. Joining affiliate networks allows app marketers to build more lucrative dating app monetization strategies by pushing app traffic toward the websites/apps of their chosen affiliate partners, for which they receive a commission.
Promoting products and services directly related to (but not in direct competition with) your platform is a smart move, as it simultaneously increases user experience and engagement. Some examples of applicable affiliate services include:
Online relationship courses

Dating coaches

Matchmaking services
5. How to monetize dating apps via e-Commerce
While it's not a technique heavily used on dating apps, there's no reason you can't drive revenue through e-commerce sales. This strategy is best suited to dating platforms that operate in a particular niche, where the type of merchandise sold is not readily available on the open e-commerce market. For example, Grindr has an e-commerce store called Bloop that sells various LGBTQ merch.
Another common way of driving revenue is to sell games or quizzes:
Selling online games like chess and Scrabble allows couples to indulge in a shared interest in a private space. You may even decide to integrate chat and video calling options to increase revenue even further.
Selling online quizzes provides couples with ways to get to know and learn about each other's past, passions, and pastimes. Featured on platforms like OkCupid, letting users build personalized quizzes for a fee is one of the most innovative ways to monetize a dating app.
Dating app monetization models: Key takeaways
You don't need to use all of the dating app monetization strategies listed above. Still, it's a good idea to experiment with diverse approaches to ensure you're reaching as wide an audience as possible and upselling extra features at every opportunity. Ultimately, finding the right approach will depend on your target audience and overall marketing goals.
Regardless of which dating app revenue models you choose to implement, the following remains constant:
The best monetization models for dating apps balance value, convenience, functionality, and user experience.

Customization is key, so it's essential to develop a range of options with something to suit each market segment.

The scale of profitability will depend on how well your app maintains user interest over time.
Maximize App Monetization with Purchasely
Ready to skyrocket your revenue? It's straightforward to implement a variety of dating app monetization strategies when you partner with Purchasely. Our software provides mobile marketers with both subscription-based and one-time purchase solutions to win and retain users while maximizing additional revenue streams.
The best bit? Absolutely no coding is required! Our intuitive DIY paywall builder makes light work of designing stylish and visually appealing branded paywalls in just a few steps. After that, you can:
Update paywalls remotely

Perform

A/B tests

on UI and pricing

Customize and localize subscriber experience per cohort
So Syncd, a UK dating app that matches personality types, is a data-driven company that understands the role of paywall A/B testing in improving app revenue. Read our case study Finding quality in quantity: How So Syncd is optimizing its paywalls without compromise.
Book your free demo today and discover how to monetize a dating app the easy way with Purchasely.