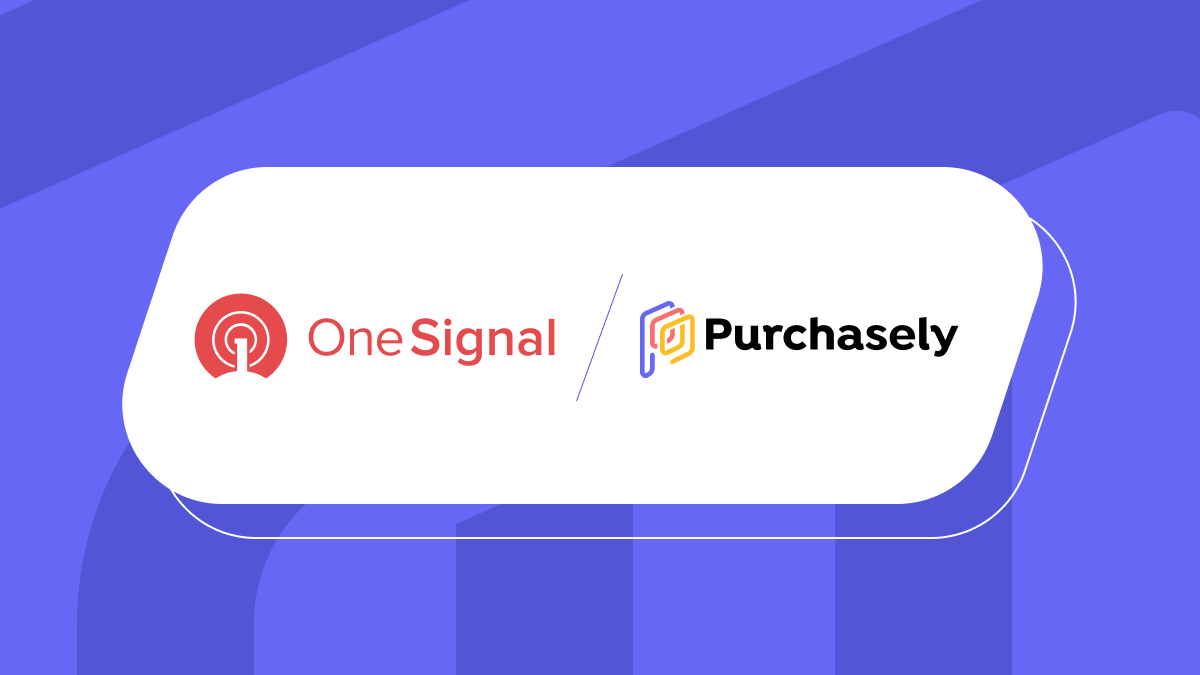 Purchasely is designed to be an open platform that enables extensive communication with a wide variety of third-party marketing and analytics tools. We are proud to share that Purchasely seamlessly connects with OneSignal, the market-leading self-serve customer engagement solution for mobile and web push notifications, email, SMS, and in-app messaging. Now you can take advantage of Purchasely's powerful integration with OneSignal to maximize your in-app subscription revenue.
What is OneSignal
Modern-day companies are consistently switching over to push notifications as the new way to engage with their users. OneSignal's powerful in-app messaging offers a variety of ways to communicate the value of an app and help convince users to continue to come back.
The most effective push notifications have impeccable timing and personalization, and the more relevant a message is to a specific user, the more likely that it will resonate and inspire action. Countless apps use push notifications and in-app messages for onboarding, introducing new features, in-app promotions, and transactional messaging.
OneSignal, the market-leading customer engagement platform, sends over 10 billion messages per day and is trusted by 1,700,000+ developers. With OneSignal, you gain access to:
Realtime reporting: Real-time view of delivery and conversion performance for every message.
15-minute setup
Multi-platform support: Cross-platform support for iOS, Android, Amazon Fire, Windows, Chrome Apps, etc.
A/B Testing: Ability to compare message performance and automatically send the best.
Scalability: Abilities to send out billions of notifications to millions of users daily.
Multi-SDK support: provides SDKs for nearly every major cross-platform mobile development environment, including Unity, PhoneGap, Cordova, React Native, Intel XDK, etc.
Messaging automation: Automatically trigger notifications based on in-app user events.
How Purchasely and OneSignal work together
When connecting OneSignal to Purchasely, apps can send In-App messages to show content each user wants to see following the trigger of their In-App actions.
The key to this integration is in the automation of these messages enabled by rich and real-time data.
Automation is initiated by an event trigger enabled by Purchasely throughout a user's in-app journey such as:
Activation (initial purchase, offer started...)

Plan change (subscription upgraded, crossgraded, downgraded)

Renewal (renewed, deferred)

Cancellation (renewal disabled, enabled...)

Reactivation

Billing issue (grace period started, terminated, entered billing retry)

Pause (will pause, paused...)

Transfer
OneSignal can be used for sending automated messages in the following example scenarios:
Prevent churns: Schedule a message to be sent following the trigger of a RENEWAL_DISABLED event that reminds users of the benefits they have been enjoying to create the fear of loss.
Onboarding: Schedule a message to be sent following the trigger of an ACTIVATED event that informs users of the benefit of the subscription.
Upsell: Schedule a message to be sent following the trigger of a SUBSCRIPTION_RENEWED event that asks loyal customers to upgrade to a longer-term subscription.
Intelligently reactive In-App Messages enabled by rich event data such as above can then be coupled with Purchasely paywalls to enable transactions throughout the entire user lifecycle on the app.
See below resources to learn more.
Useful Links
OneSignal:
Purchasely:
Purchasely Paywall Builder demo:
Book a meeting with a Purchasely paywall expert to learn more.
Video: 40s-introduction to Purchasely Paywall Builder