Check the latest episode of Business of Apps podcast to learn how to improve the performance of subscription funnels.
Since the launch of subscriptions on the App Store in 2011, thousands of apps have adopted the idea of bringing subscription offers inside the app so customers can easily commit to a recurrent experience with one click.
By the end of 2022, Apple drove more than 900 million paid subscriptions across its services (source) and 1400+ apps and games generated over $10 million in 2022 (source: Data.ai State of Mobile).
On the flip side, the subscription hype has created soaring competition and a host of challenges for subscription apps, far outpacing their ability to optimize conversion and retention by minimizing churns.

A typical subscription funnel with a free trial


Recent data demonstrates the challenging reality. Today, Most apps lose 77% of their Daily Active Users (DAUs) within the first three days after install. The churn rate increases over time, to 90% after 30 days, and 95% after 90 days.
Click here to learn more about the major causes of subscriber churn, how to measure it and reduce it, and the benchmarks to target.
Business of Apps Podcast: Improving Your App Subscription Funnels with Jeff Grang
To glean insight into how subscription apps can optimize the overall funnel and sustain their business, Business of Apps, the leading media and information brand for the app industry, invited Purchasely's CPO, Jeff Grang.

Download file | Play in new window | Duration: 35:44 | January 9, 2023
Episode topics
Jeff's path is from being one of the first 500 beta testers for iOS 2 back in the day to running Purchasely – a no-code paywall builder for In-App Subscription maximization

App Subscription Funnel definition

Introduction of the app's users to a paywall

Trials in mobile apps

App users' retention

One thing Jeff would like to change about app marketing

What features would Jeff miss most?




Episode Sneak Peek
"I really like to say that subscription starts even before the paywall, it's when you're on the app's page on the app store."
"It's very important that from the first paywall that you will be showing to your customers to raise their awareness on your business model and to explain your value."
"You can also choose to toggle on and off that trial period or offer trial only in some cases so that you create that fear of missing out."
Maximize subscription app revenue with lifecycle paywall engagement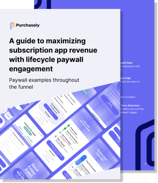 Looking for some real-life paywall examples, retention benchmarks, and engagement tactics for each step of the subscription funnel?
Download the eBook Maximize subscription app revenue with lifecycle paywall engagement