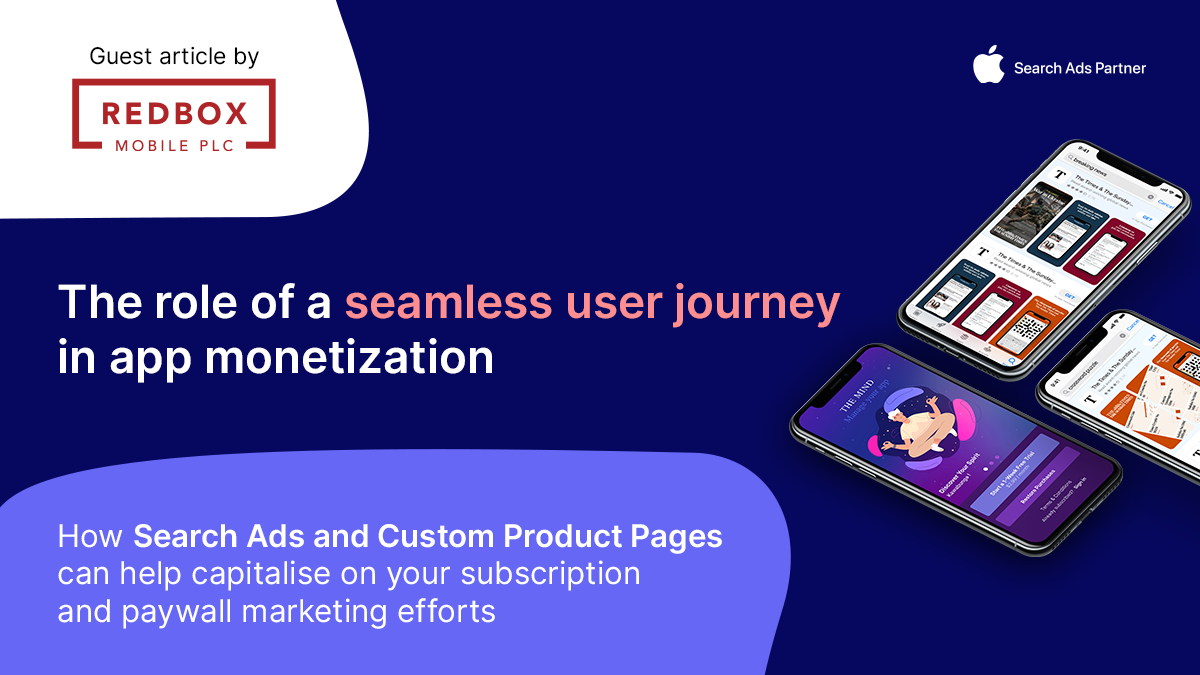 Guest Article by Redbox Mobile: The role of a seamless user journey in-app monetization
17 August 2022
Acquisition
Guest Article
Sarah Priseman
Commercial Head of Platform @ Redbox Mobile | An Apple Search Ads Partner.
How Search Ads and Custom Product Pages can help capitalise on your subscription and paywall marketing efforts
Those responsible for marketing and growing subscription-based apps, will know that the more seamless you can make the journey through brand engagement, download and sign-up, and the more user-tailored you can make the communication, the greater the likelihood of success.
However, with app monetisation having to be balanced carefully against quality content, user value and participation, the path to acquisition is littered with tried and tested paywall strategies.
Achieving a successful paywall campaign is a complex challenge
For app managers, creating and testing paywall strategies requires budget-bravery, patience, and an open door to the development and creative teams who are constantly asked to tweak images, adjust offers, hone copy and track responses. I bet more than a few boxes of donuts have made their way to the desks of these time-poor teams.
A lot of effort and data goes into creating a myriad of paywall campaigns, regardless of whether they are for a media app, well-being, or networking app. They're time-consuming to implement, hard to adjust nimbly, and to make matters more frustrating, it takes time to prove what works and what doesn't.
Learn how Purchasely can help you test an unlimited number of paywalls on the fly
So, this begs the question of why, when app managers are repeatedly going to such lengths, aren't we seeing Apple Search Ads campaigns being tailored to complement paywall campaigns?
Use Apple Search Ads to complement your subscription campaigns
For those who don't know, Apple Search Ads (ASA) has the most attributable source of traffic available. It is universally regarded as reliable - approximately 70% of people use search to find new apps. It's the only advertising channel that runs campaigns directly within the App Store and has the potential to promote your app directly to primed users. At the very end of the UA funnel, ASA is where you capitalise on your other marketing efforts. People visit the App Store with intent because they've seen your app and subscription offer. ASA delivers a +50% conversion rate for install; it's highly competitive, and you should be using it intelligently to complement your subscription campaigns.
The most seamless way to do this is to create bespoke App Store listings to reflect the messaging, offer, and audience targeting of your subscription marketing campaigns. Apple allows you to create up to 35 different app Custom Product Pages, so there are plenty of opportunities to transition your potential user from marketing campaign to download without message disruption, to help improve your post-install conversions.
Creating Custom Product Pages also ensures that the Search Ad shown will match the individual's search criteria. For example, if your sports tracking app accommodates several sports, you've likely created marketing to appeal to specific audience groups; if someone is searching for your cycling tracker, why serve them a Search Ad featuring running? The same applies to both the Search Ad and the CPP displayed for your app's subscription and content offer; use tailored CPPs to make sure the App Store communication meets the expectations of the user.
Learn more about the CPP opportunity in this Redbox blog.
CPPs with Search Ads could be an ideal way to test your subscription packages all the way to the end of the UA funnel and beyond.
Working with subscription app clients such as WSJ and The Times, the Redbox Mobile team understands the importance of making sure the app marketing has the right 'tech stack' behind it; namely, those platforms that ensure a campaign runs properly and allows the attribution of incoming traffic.
We've found that a major issue facing subscription apps is they need help with setting up their post-iOS 14 scan network. This includes keeping a close eye on auditing of performance marketing and ensuring all the relevant product stacks are in place to determine attribution.
Key to this is getting your MMP in place, so you're tracking attribution from Search Ads. On this, tracking post-install activity isn't always easy because some apps prefer to remove the subscription process from being in-app and instead divert users to their website, but this breaks the user-flow and makes post-install attribution a lot harder. Pros and cons!
However, because of the ASA attribution API, most instals will be attributed to the correct channel; from a sales perspective, ASA is one of the most reliable channels to use currently just because by its very nature, Apple is self-attributing.
Utilising ASA in a way that extends and complements your subscription offers will see conversion improve. You're already tracking the hell out of your tailored subscription campaigns and paywall strategies, so why stop at the App Store, where intention and conversion are high?
In case you're wondering how many more boxes of donuts the creative team will need to get those Custom Product Pages done, stop sweating it; if you need CPP facilitation, Redbox Mobile has one of the most experienced App Store creative teams – we're working together with our clients' brand teams to create CPPs and Search Ads that extend existing campaigns faithfully and quickly.
If you've never considered Search Ads at all, you should know that there are two different levels: Basic and Advanced. To simply let Apple make most of your campaign decisions, Basic is the package for you, but this is unlikely to be useful for subscription brands looking to run tailored campaigns across multiple territories and manage budget and targeting in a refined way.
Search Ads Advanced is a more powerful option and offers total control across multiple campaigns. Most importantly, you can determine not only your target audience but also your target keywords. This is likely the best option for subscription apps.
However, it takes time and effort to run a successful campaign, despite the full control you have, so you need to ask yourself if you have the time to master the complexities of it and make it work for you?
Redbox has two solutions to this potential problem: an agency team of highly qualified Search Ads professionals who will manage your ASA (and ASO) for you, and Astra, a platform that allows you to launch and manage your Search Ads and Custom Product Pages more easily and efficiently. Astra has recently been rebuilt from the ground up, and now features an advanced machine learning algorithm that informs the Smart Bid Manager; plus, Astra's dynamic, intuitive dashboard makes campaign deployment and analysis more efficient. For those who want to self-manage, Astra takes away the time-consuming element of managing ASA, so you can focus on the wider marketing strategy.
Either way, if you're not fulfilling the UA potential of Search Ads, you're failing to truly capitalise on your subscription and paywall marketing efforts and are not maximising the potential return of all those donuts.