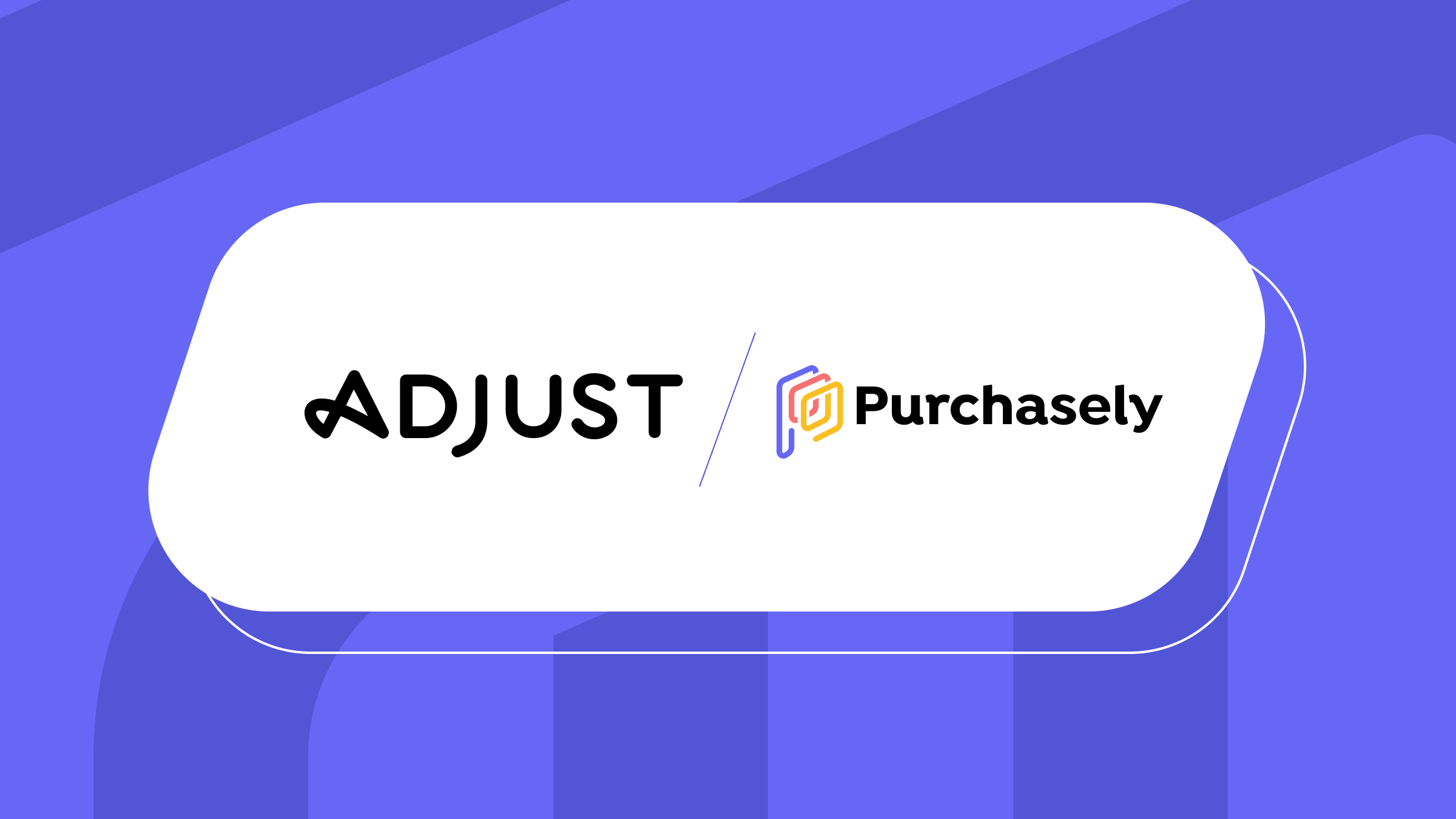 Adjust, and Purchasely integration allows you to track every important subscription event, intelligently visualize complex app user journeys, and make smarter business and marketing decisions to maximize the growth of your app.
Adjust Integration
Adjust is a popular mobile attribution and analytics company based in Berlin. With a focus on fraud prevention and data security, the solution provides app marketers with an intelligent business platform, combining measurement for advertising sources with an advanced analytics suite. By allowing you to tailor an unlimited number of subscription events to your specific conversion goals, Adjust helps you dive deeper into unique KPIs such as retention, revenue, and event conversion and understand users' behavior through the entire subscription journey: how they arrived at your app, how they interact with it, and how those behaviors and patterns compare and differ across cohorts.
How to set up the Adjust Integration
The integration requires two simple steps:
1. Associate the user to events by providing the Adjust ID to the Purchasely SDK.
2. Activate the Adjust integration in the Purchasely Console.
Head over here for a step by step instruction on how to integrate Adjust with Purchasely
Grow your app business using Adjust and Purchasely
Generate rich subscription events with Purchasely
Rich subscription events are the only and essential source of insight into what is happening in your app and the quality and effectiveness of your in-app marketing. They also allow you to determine the value of each app user.
Purchasely lets you track and send event data from your applications to Adjust securely for effective measurement and analytics.
(You can find the complete list here)
SUBSCRIPTION_STARTED: Sent when a user purchases a consumable product or starts a subscription

SUBSCRIPTION_RENEWED: Sent when a subscription renews

TRIAL_STARTED: Sent when a trial starts

TRIAL_CONVERTED: Sent when a user converts from a free trial to a normal paid-period

TRIAL_NOT_CONVERTED: Sent when a user finishes a trial period without renewal.

PURCHASE_VALIDATED: Sent when a user purchases a one-time purchase (consumable or not consumable)

SUBSCRIPTION_REACTIVATED: Sent when an expired subscription is reactivated. This event is beneficial for win-back & retargeting campaigns.

SUBSCRIPTION_REFUNDED_REVOKED: Sent when a subscription is refunded
What you can do with Adjust
Work with a predefined list of custom events as specified by Adjust

Track conversion data such as clicks and impressions using real-time tracking and attribution

Get insights on user sessions, activities, and other valuable KPIs

Modify deep links to track user data

Automate retargeting and re-engagement by deploying personalized campaigns and tailored experiences to specific user segments based on tracked actions

Automatically calculate the LTV of your users that belong to cohorts, identifying when you start profiting from paid campaigns

Detect and prevent fraud with efficient ad fraud detection capabilities
Follow the below links to learn more about Adjust and Purchasely!
Adjust useful links:
Purchasely useful links:
Purchasely Paywall Builder demo:
Book a meeting with a Purchasely paywall expert to learn more.
Video: 40s-introduction to Purchasely Paywall Builder