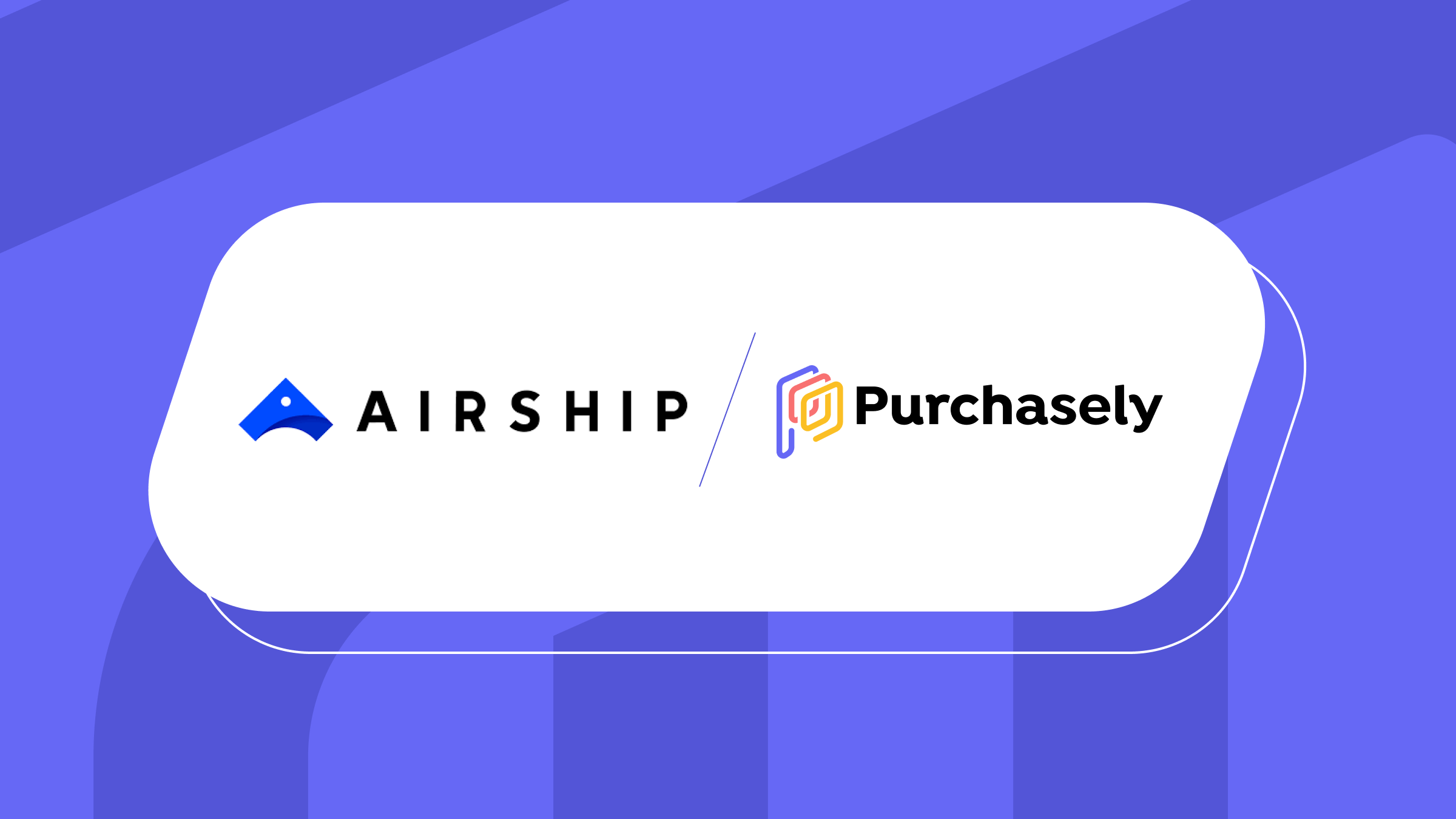 The integration of Purchasely and Airship enables brands to optimize the customer app lifecycle and enhance app growth through three mechanisms: rich In-App Subscription event data, in-app messaging automation, and paywall-driven growth enablement.
Two groundbreaking platforms
What is Purchasely?
Purchasely's no-code Paywall Builder offers an intuitive and powerful environment that removes all technical barriers from the entire development-to-delivery process. Thanks to the ease and velocity enabled by the platform, non-developers can build and iterate native paywalls while fully dedicating themselves to growth.
The dark horse behind the brand's trademark Paywall Builder is its unique set of powerful features, including price and UI A/B testing, localization enablement, real-time event data collection and analysis, paywall placement, cross-platform management, robust all-in-one analytics platform, and a lightweight SDK, as well as the capacity to integrate with a wide variety of third-party marketing and analytics tools.
More than 500 apps from the Audio, Education, Entertainment, Health, Fitness, Kids, News, Photography, Publishing, Sports, Video, and Wellness industries are already trusting Purchasely to unlock the power of their In-App Subscriptions.
What is Airship?
Airship powered the first commercial messages and then expanded its data-led approach to all re-engagement channels (mobile wallet, SMS, email), app UX experimentation, and feature release management.
Airship's famous App Experience Platform (AXP) is dedicated to helping app businesses master the activation, retention, and monetization without depending on ongoing developer support or app updates. Airship's app experience optimization is enabled by the incorporation of rich mobile app data, part of which derives from In-App Subscription events.
The world's leading enterprise brands including Mcdonald's, Fox, and ASOS partnered with Airship to revolutionize their full lifecycle customer engagement.
Leveraging Airship and Purchasely to Maximize In-App Subscriptions
The integration of Purchasely and Airship creates the ultimate engine for optimizing the acquisition, onboarding, engagement, and retention experiences. The combined platform enables brands to leverage rich In-App Subscription event data, full lifecycle in-app messaging automation, and paywall-driven growth enablement.
Rich In-App Subscription event data
Throughout the entire subscription cycle and across all app stores, Purchasely tracks user activities as they occur at moments of real-time events.
Every subscriber's app lifecycle is filled with events:
Activation (initial purchase, offer started ...)

Plan change (subscription upgraded, crossgraded, downgraded)

Renewal (renewed, deferred)

Cancellation (renewal disabled, enabled ...)

Reactivation

Billing issue (grace period started, terminated, entered billing retry)

Pause (will pause, paused ...)

Transfer
There are also UI events such as:
The user opened a deep link

The user tapped on the login button

The user tapped on the promo code button

The user swiped on a carousel to see the next slide
Additionally, Purchasely tracks myriad actions and events including payment, SDK events, receipts, phone settings, restore purchases, etc.
The significance of In-App Subscription events
Defining and collecting In-App Subscription events turns user experience into an essential set of KPI resources that lead to design, operational, and business insights.
In-App Subscription event data is solid bedrock on which any customer experience effort is built. Without having hands on this data, app owners would have to go blind making decisions on how their apps should look, what they should do to improve the quality of their product and service, and how they should enhance ongoing marketing messages, content, and overall objectives to drive more transactions.
The richer the data, the more opportunities for business growth, but it requires a synergistic cycle between data on one hand and interactive communication and paywalls on the other.
Let's spell it out. With the ability to respond to data-driven insight, app owners can program intelligently responsive in-app messaging coupled with paywalls to enable transactions throughout the entire user lifecycle on the app. The user actions performed in response to in-app messages and paywalls in turn remain the essential source of more In-App Subscription data. Then the cycle continues. This is the way forward for any app business aspiring to maximize growth.
Read on to dive deeper.
Full lifecycle in-app messaging automation
Every event collected by Purchasely is submitted to Airship and tied with moments-based automated messages designed and deployed through Airship.
What are in-app messages?
In-app messages are targeted and customizable pop-up modals that are sent to app users (subscribed or not) while they are in the app. They allow marketers and app owners to engage users at just the right time; facilitate app-user interaction, onboarding, and customer support; share updates; offer promotions; and, most importantly, nurture subscriptions.
The significance of in-app messaging automation
Considering the volatility of app user habits, it's never too much to stress the importance of velocity in running a successful app business. Implementing automation can enable in-app messaging to stay timely and sensitive and have the most significant impact.
When automated, in-app messages appear regardless of a user's opt-in/out status for notifications. While standard in-app messages appear as banners, in-app Automation messages have various style and layout options. They are stored on the user's device and then displayed according to the pre-defined triggers, such as the In-App Subscription events.
When's the right time to welcome newcomers? Share the benefit of a monthly subscription? Send reminders about a subscription renewal deadline? With automation, these questions are answered at the most relevant moments, including split seconds after users trigger pre-defined in-app events.
When tied with In-App Subscription events, in-app messaging automation helps avoid awkward situations – such as sending information on a one-time promo to a user who has already benefited from it. It also brings the app-user interaction to the next level with more personalized content.
Paywall-driven growth enablement
What are paywalls?
Paywalls and in-app messages resemble each other in that both add displays to the main application interface and provide messages external to the main app service and product.
However, the paywall environment is where meaningful transactions occur because that's where all the effort put into In-App Subscription events and messaging automation finally turns into monetization opportunities.
Unlike conventional paywalls used by websites, such as online newspapers, in-app paywalls do not immediately hide content or certain access behind a wall. Their sole purpose is to enable monetary transactions, such as subscriptions and discounts.
Given that paywalls ask users to take actions with the financial implications, they can represent pressure on users. Therefore, brands should employ consistent and personalized in-app messages to ease that impression and help guide users to find value in investing in their next step with the app.
The significance of paywall-driven growth enablement
By leveraging rich data and in-app messaging automation, paywalls can help subscription apps achieve:
Higher revenue

Consistent revenue

Higher brand value
Example applications of Purchasely x Airship powered app experience optimization
The following scenarios illustrate leveraging in-app data and messaging automation.
---
Demonstrate the value of the subscription to avoid voluntary churn
Step one: A RENEWAL_DISABLED event is triggered
Step two: Consider pushing automated messages that take customers by hand to show them the value of the subscription they had enjoyed. Emphasize the disadvantage of no longer having the access. Appeal for reconsideration with an Airship-powered in-app message that shows exactly how many times a user has accessed the premium content.
Step three: Then add a CTA that activates a Purchasely-powered paywall where the user can see different plans on specially(and personally) discounted prices. And just by pressing on the "Subscribe" button, the subscription is back in business.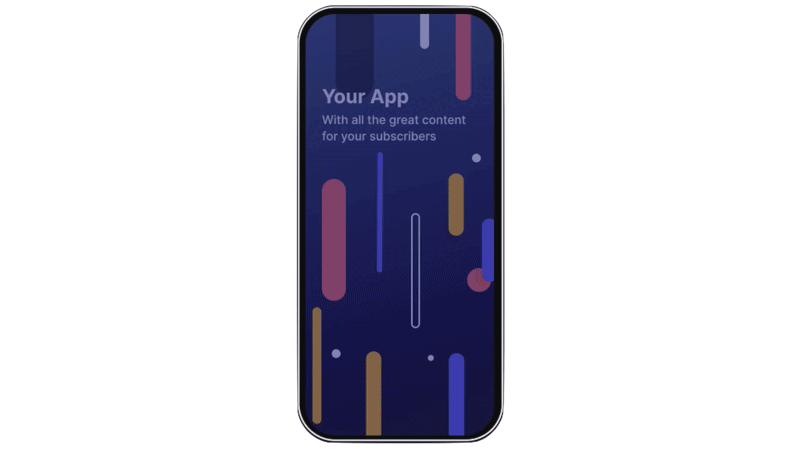 ---
Promote another price plan to increase the lifetime value of the subscriber
Step one: A subscription_RENEWED event is triggered
Step two: This is the right time to make an upsell attempt. Because loyal subscribers are likely to spend more, advocate the brand, and keep the marketing cost down, many apps put effort into making them upgrade to longer subscription plans. Go one step further than offering a discount. Using Airship-powered automated messaging, clearly educate users on the benefit of continuing their subscription with custom-tailored offers in-store.
Step three: Once users feel confident about the information gathered on the in-app message, they will press on a CTA that directs them to a paywall, where they can switch the subscription plan to a longer option.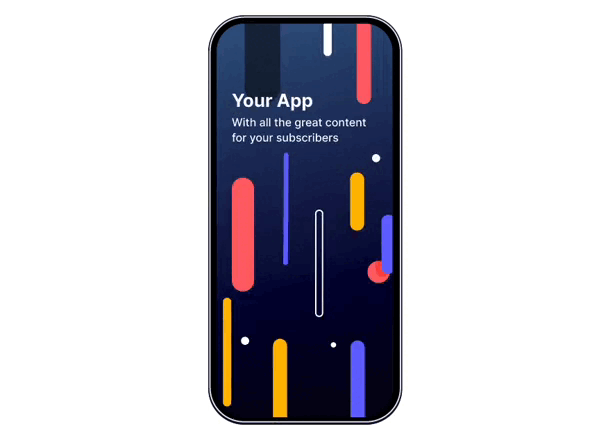 ---
Inform about a billing issue to decrease involuntary churn
Step one: A GRACE_PERIOD_STARTED event is triggered
Step two: Churns can happen because customers are cautious, unaware of benefits, have alternatives, or don't need your app anymore. But there is nothing more frustrating than losing subscribers because of a billing issue, such as credit card expiration. Respond right away with automated messages to avoid this. But first, make sure not to ban the subscription access right after the payment issue. Instead, offer a grace period. Following the trigger of a GRACE_PERIOD_STARTED event, apps can communicate about the payment issue, potential consequences, and what users can do to resolve the situation.
Step three: Then, lead the users to a paywall where they can update their payment information. Voila! The perfect collaboration between data, In-App message automation, and paywall-driven growth.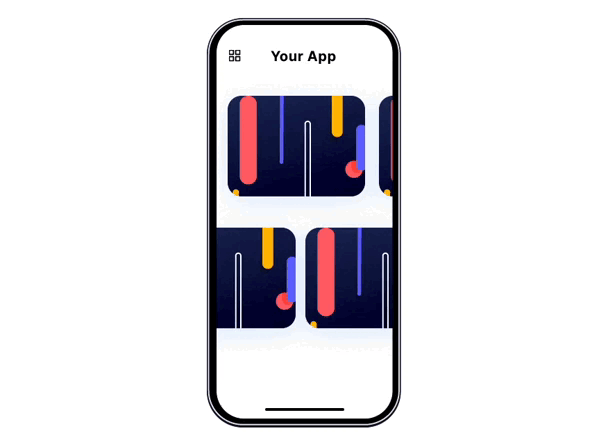 ---
Airship Useful links:
Purchasely Useful links:
Purchasely Paywall Builder demo:
Book a meeting with a Purchasely paywall expert to learn more: Book a demo
Watch below the fantastic Paywall Builder introduction video!