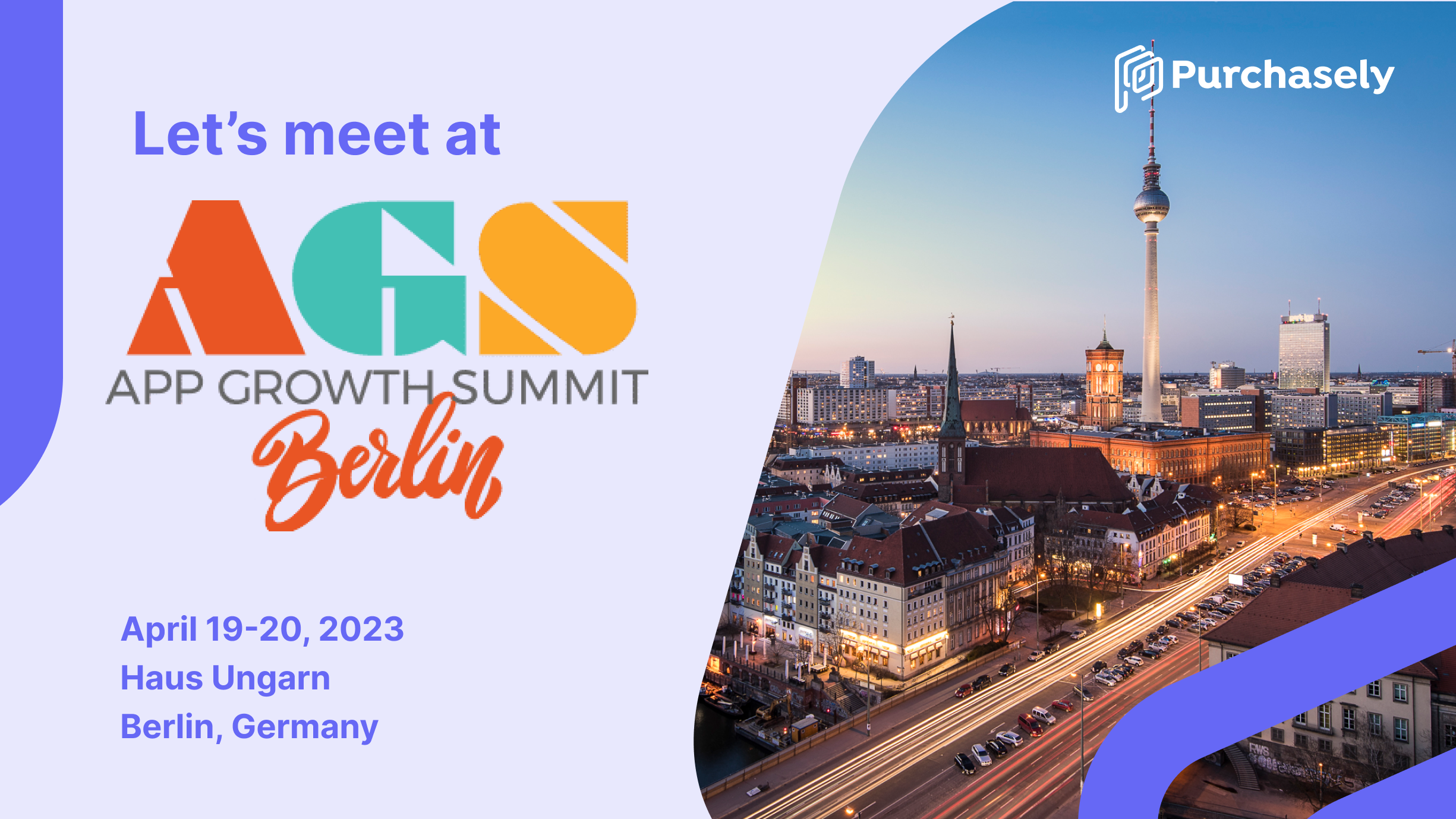 Meet Purchasely at App Growth Summit Berlin 2023
31 March 2023
Company News
App Growth Summit, an invite-only, limited-vendor mobile app conference series, is returning to Berlin. Purchasely is excited to join the high-quality networking and learning event.
App Growth Summit Berlin 2023, 2 full days dedicated to sharing the latest growth strategies to keep users engaged for long-term retention, is the perfect occasion for us to inspire the mobile app community with Purchasely's pioneering app monetization and revenue maximization technology.
Session topics that might interest you
Trends in monetization

Everything user acquisition: data, cost optimization, ASO and Apple Search Ads tactics, media mix, etc.

User onboarding best practices

Mobile app engagement optimization

User journey personalization

Full-funnel optimization

Life-cycle Marketing



App Growth Summit - 3 reasons you should join us there
72+ Industry Expert Speakers and 24 custom-curated Sessions
Opportunity to speak in person with Purchasely's subscription growth experts about your pain points and walk through the solution in action!
Opportunity to connect and exchange ideas with our CPO and Co-founder, Jeff Grang who will be on stage to speak about a

dvanced




techniq

u

es to improve the subscription funnel.
Presentation - Advanced techniques to improve the subscription funnel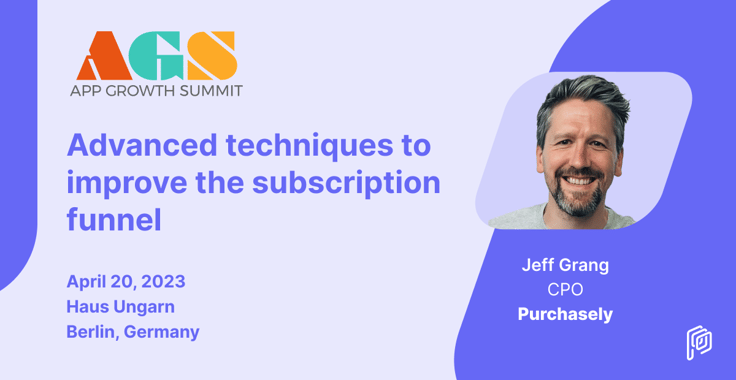 Join Jeff Grang, CPO and Co-founder of Purchasely, as he shares his expert insights on the following topics.
✔️ The pain point: churns throughout the subscriber journey
✔️ Solution: advanced stage-specific tactics to minimize churn and maximize retention
✔️ Examples: retention maximization best practices from Purchasely customers and more
Drop by and say hi!
If you're going to be in Berlin, let's take the opportunity to arrange a one-on-one meeting with us! For our long-time followers and curious folks, the Purchasely team will be there to walk you through
Lightning-fast growth experiments: Maximize In-App Subscription revenues with rapid and measurable experiments regarding Price, Copy, Design and any other paywall element.

Simply the easiest and the most powerful Paywall Builder: We'll show you how anyone can design, build and manage gratifying and effective paywalls without coding.

Flexible A/B testing: We'll show you how Purchasely makes it easy to identify the best version of your paywall campaign without having to sacrifice your time and business.
We'll also sit down(or not) to answer all your questions, deep dive into any topics of your interest, and discuss the best business move you'll ever make. Plus, we'll give you a sneak peek into our latest product update.

Hot tip: The time and space will be limited for us to share everything, so let's be proactive.
We invite you to get in touch with us before you come to Berlin, to set up a time for a talk or exchange questions or necessary information ahead of time.