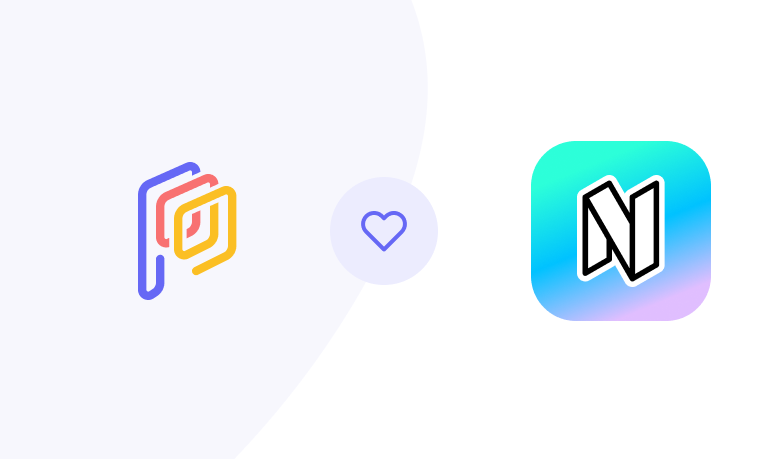 Nabla, a leading virtual clinic, is rolling out a membership powered by Purchasely. The Women's Health app offers an access to the advice of top clinicians and mental health experts.
Healthcare super apps
Healthcare is a very complex and regulated industry offering many siloed activities and characterized by a strong fragmentation of communication channels and data.
The care experience faces a lot of friction on a daily basis, mostly due to a lack of coordination and complexity accessing resources for patients. Patients and healthcare professionals are sometimes evolving in two separate worlds, set around different expectations, satisfaction levels definition and separate languages.
Therefore, there's a real need to bring back and align everyone together by streamlining disparate health services experiences into a single common workflow where delivering the care and relieving patients is the focus.
That's why super apps – defined as an aggregation of content and services within a single app – are expected to become a real game changer in the field of healthcare.
Nabla is Europe's leading virtual clinic purpose-built for women
Based in Paris and founded in 2018 by world class Artificial Intelligence and Medical experts, Nabla aims to set a new standard of care for women.
Whether for a common health query (e.g. urinary tract infections, birth control) or an ongoing medical condition (e.g. hormonal imbalances, anxiety), Nabla is offering a unique digital care experience that combines:
communication platform with a strong base of Nabla's multi-disciplinary experts,

relevant diagnostics, prescriptions and referrals tailored to every woman based on their health background, health data, physical activity and mindsets,

access to medical resources through effective and short programs designed to encourage healthy habits by leveraging challenges aimed at self-improvement.
Nabla app provides women with personalized health, hygiene and fertility advice to help manage their wellbeing.
Purchasely supports Nabla's monetisation test in the UK
6 months after a first launch in France, the Nabla app is already impacting the health journey of 20,000 women.
Delphine Groll, co-founder and COO of Nabla, highlights:
"We surveyed over 2,200 women, and the outcome was very clear: across all stages of life, there are currently critical gaps in women's health journeys. Given the success of our app in France since April, we wanted to quickly expand internationally and make our services accessible in English speaking countries."
As Nabla wants to quickly roll out its app in the UK, Nabla is partnering with Purchasely in order to deploy a membership that offers an access to the advice of top clinicians such as gynaecologists, midwives, dieticians and mental health experts for £5.99/month or £50/year.
As World Class engineers and data scientists, the Nabla team was really impressed by the Purchasely platform that is based on:
Transaction Processor: it handles the backend while the app publisher fills multi-stores into its app. Nabla has full access to the latest App stores features and saves time and energy developing them itself.
Subscriber Data Hub: it delivers unified real-time data to enhance subscriber insights with 30 transaction events in real time. Nabla can understand and enhance its complete customers' buying journey.
User Journey Optimizer: it makes Marketing and Product teams independent from developers and more successful by taking full control of Subscription Flows.
Martin Raison, co-founder and CTO of Nabla says:
"Thanks to Purchasely, we gained a lot of time and velocity implementing the entire In-App Purchase journey and build, saving us a lot of time to focus on the core of our business and freeing time from our Tech team to develop Nabla features aimed at delivering value to our users. Purchasely User Journey Optimizer and the console also enabled to develop and iterate on the Paywall in a few hours, allowing us to play and adjust our end-user sales proposition on the go."
Nicolas Tissier, CEO of Purchasely shares:
"Health, be it physical or mental, is central to everyone's lives and so deserves to be looked after every day. We are delighted to support Nabla to accelerate its international development. This is the latest addition to a growing list of Personal Health Management Apps. After Breathe Now, Clay Health and Next Motion, we are proud to commit alongside Nabla to make health more accessible to everyone."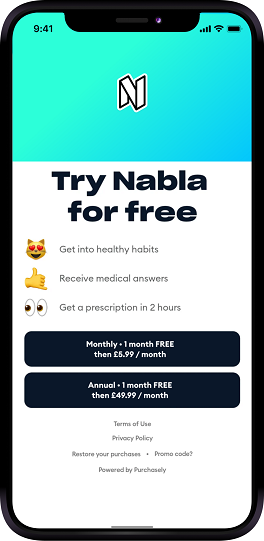 About Nabla
Nabla is Europe's leading virtual clinic purpose-built for women, providing access to best-in-class general practitioners, gynaecologists, midwives, dieticians, mental health experts and more. The core team is composed of over 40 people and brings together deep medical expertise and world-class engineering talent.
Co-founded in 2018 by Delphine Groll, Alexandre Lebrun and Martin Raison, Nabla has successfully raised 17 million euros from investors such as Xavier Niel, Artemis and Firstminute, among others. Its advisors include Dr Megan Mahoney (Chief of Primary Care at Stanford University) and Yann LeCun (Chief AI Scientist of Facebook).