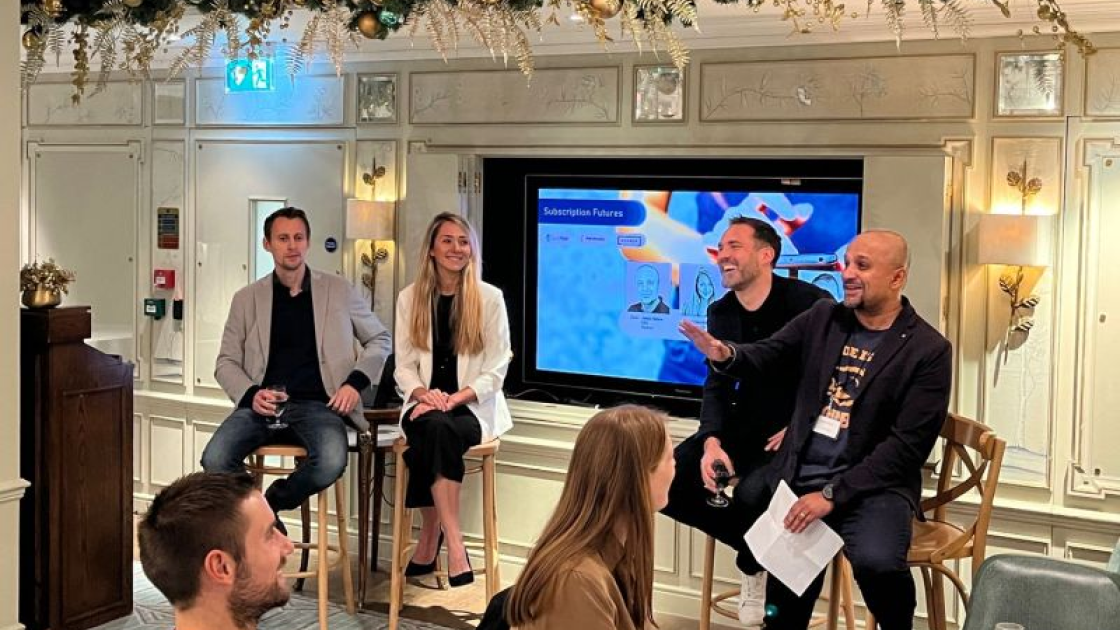 On November 17, 2022, Purchasely, Redbox Mobile, and AppsFlyer hosted Subscription Futures, a panel discussion and networking dinner in London.
Summary
Overview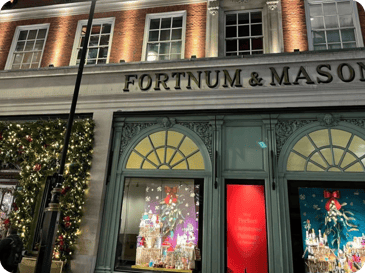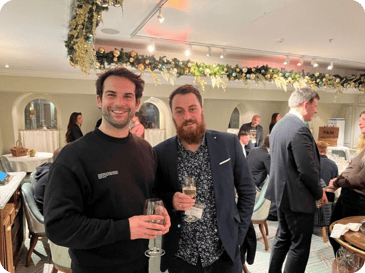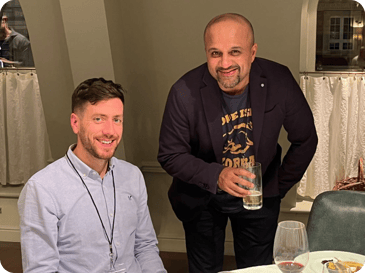 The event gathered 50 bright minds from the subscription app world at one of the city's most iconic landmarks, Fortnum & Mason, to hear 4 panelists discuss lessons learned in 2022 and anticipated challenges and opportunities for 2023.
The enthusiastic crowd represented marketing solution providers and various app categories, including News, Health and Fitness, Dating, Entertainment, and Education.
Panelists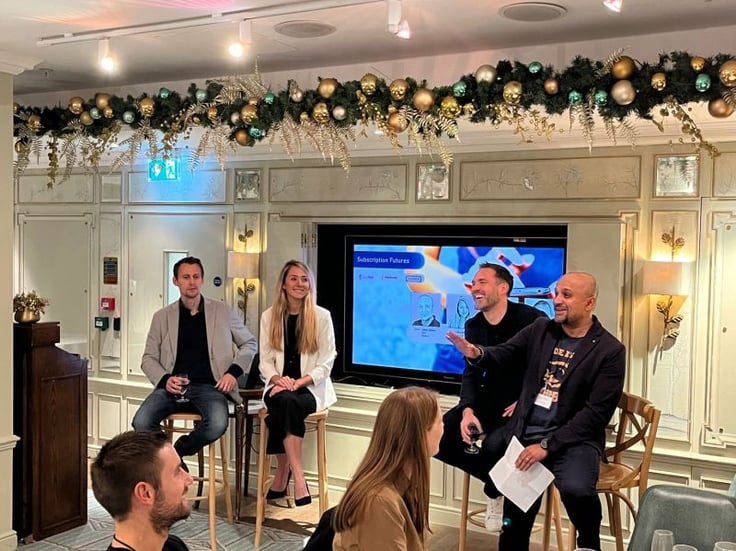 In the picture, from left to right, are:
Key takeaways organized by topics
Topic 1.

Overall feedback on 2022
James Quinn: "In an economic climate where personal budgets are squeezed, subscribers will start to question what else they are getting from your news brand: what additional benefits are you offering that have value?"
Ben King: "​​The smarter marketeers are those who look at the whole funnel, ROAS and lifetime value. Those are the best equipped to be sustainable."

Topic 2. Paywall Optimization
Jessica Alderson: "Since the beginning of the year, we've increased our revenue per download by nine times and at least half of that has come via A/B testing our paywall (with Purchasely)."
Ben King: "As soon as we started to develop the capability of advertising a match like FC Roma versus Lazio, and sending fans to a team-branded page, we saw that we could make a dramatic impact on conversion rates, buying rates and ROAS - all of which has a substantial effect on your overall business."
James Quinn: "We constantly see cohorts of people who are always going to subscribe...and a cohort who look like they're never going to subscribe; they come, and they go. So, to these people we're starting to serve one or two articles for free, to give them a taste of what The Times is about. Once they've enjoyed that experience, we'll try to get them back with careful pricing and content, tailored according to the free article topics they have chosen to read."
Topic 3. Importance of brand-buildling
Ben King: "If you haven't done the high-level brand seeding or educated your consumers about what your brand stands for, they will not think about you in the moment of truth – when they are making a purchasing decision or need to solve a problem."
Jessica Alderson: "It's definitely very important as a dating app – you're looking for your life partner, so perhaps there is nothing more important in the world than that right? I never wanted us to be one of those apps that you see on Instagram, that nobody really understands and looks a bit dodgy!"
Topic 4. H

ow they ensure retention and limit churn
Ben King: "It comes down to whether you can filter your data science down to individual cohorts of one and whether you make completely personalised recommendations to that person, in real time...If you've pissed them off at the moment of departure, they're never coming back, and every customer knows there's an alternative out there."
James Quinn: "A good onboarding process is vital; CRM must drive those people who have signed up on the web to download the app quickly. Once people are in the app, we can start to understand their usage and preferences, and we're also asking them what they're interested in. This means we can tailor messages and content to that specific customer."
Jessica Alderson: "When I think about my personal experiences where it has been really hard to cancel a subscription, it has just made me really angry with the company and leaves me thinking that I never want to sign up again."
Topic 5. Cross-building services
Jessica: "We would love to partner with an app like Paired, or similar – apps that help you to have the best relationship possible...We've built up a lot of trust and goodwill with our customers, so we'd absolutely participate in a method that made it easy for them to bundle So Syncd with a thoughtful, likeminded app l like that."
Topic 6. Opportunities and threats for 2023
Jessica Alderson: "Competing in a crowded market of dating apps that have millions of users is the biggest challenge. The biggest opportunity is to develop the brand and help people through what will be a difficult time – help them to find love and relationships."
Ben King: "In the UK, because of inflation, it will be tough – everyone is thinking about what they spend and they're cutting costs. But for those apps that survive, there is a massive opportunity in the future; those that have invested in customer understanding and brand will come out stronger, with potentially a lot more market share."
James Quinn: "Young people are the readers of the future, so we need different advertising that breaks through to them and shows them why they should think about subscribing."
Phenomenal feedback from attendees
"It was a fantastic event and really enjoyed the Q&A" - Zoë Desmond, Founder & CEO of Frolo

"It was a wonderful event, thanks for organising it!" - Alena Golden, Co-founder & Director, Rap Tech Studios Ltd.
"Excellent subscription event last night in London with insights and learnings from James Quinn (News UK) Jessica Alderson (So Syncd) and Ben King (x-DAZN). Exceptional moderation by James Salins and huge thanks to the sponsors Purchasely and Redbox Mobile and AppsFlyer." - Henrik Karlberg, Founder & CEO of Envoy Technology Ltd.
"Great panel and insights Ben King. I enjoyed learning from a talented room and having great conversations" - Mike Masuku, x-Apple
"It was a fantastic event and really enjoyed the Q&A" - Magda Sinit Kiros, Senior Partnerships Manager, Hearst UK