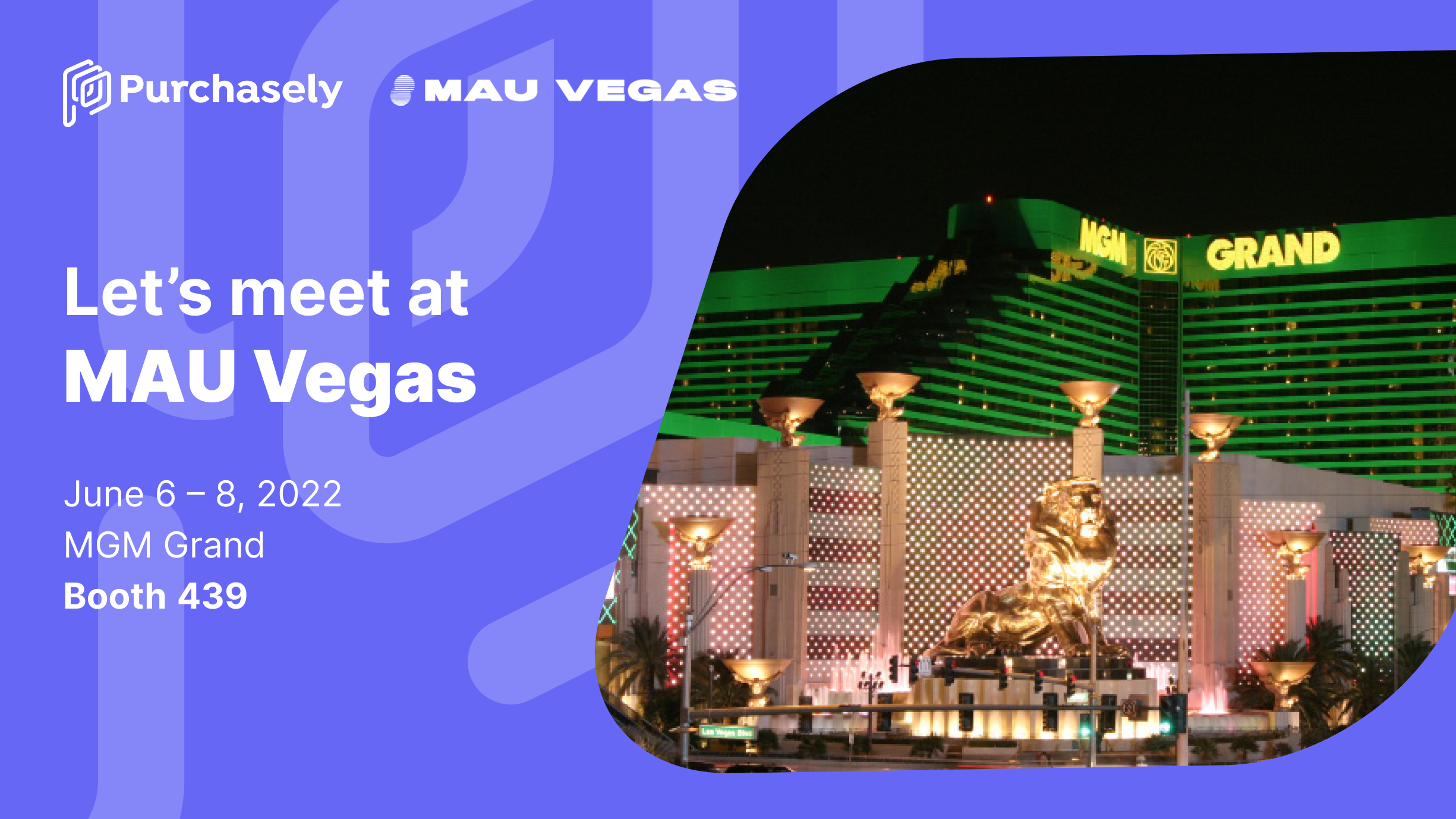 Come see Purchasely at MAU Vegas, the world's leading mobile acquisition and retention summit!
We are getting used to being a regular participant in international industry events!
From hosting our own booth at Publishing Show in London and the first Subscription League in Paris to attending multiple events including App Promotion Summit and App Growth Summit, our last year's calendar was full of exciting opportunities to meet with our friends and fans face-to-face.
Now, we want to keep the ball rolling!
Come meet us at this year's MAU Vegas event - the world's leading mobile acquisition and retention summit.
When? June 6 – 8, 2022

Where? Booth 439 at the MGM Grand Las Vegas
Our Purchasely product experts and sales team will be geared up to walk you through the world's most powerful no-code In-App Paywall Builder and In-App Subscription Growth platform.
Come prepared to be introduced to your maximum business potential that you can achieve.
We'll also sit down(or not) to answer all your questions, deep dive into any topics of your interest, and discuss the best business move you'll ever make. Plus we'll give you a sneak peek into our latest product update.
Here's what we will have in store for you:
User-friendly Paywall Builder: We'll show you how anyone can design, build and manage gratifying and effective native paywalls without coding.

Flexible A/B testing: We'll show you how Purchasely makes it easy to identify the best version of your paywall campaign without having to sacrifice your time and business.

Subscription Analytics: Learn how to incorporate rich data analytics and visualization to make informed decisions and meaningful engagement.

Seamless third-party integrations: discover the widest range of 3rd party integrations and find out how you can track customer behavior and engage at every step of their lifecycle.

Example projects: Glean tips from what some of our clients have done to revamp their growth strategy.
Hot tip: The time and space will be limited for us to share everything so let's be proactive.
We invite you to get in touch with us before you come to Vegas, to set up a time for a talk or exchange questions or necessary information ahead of time.