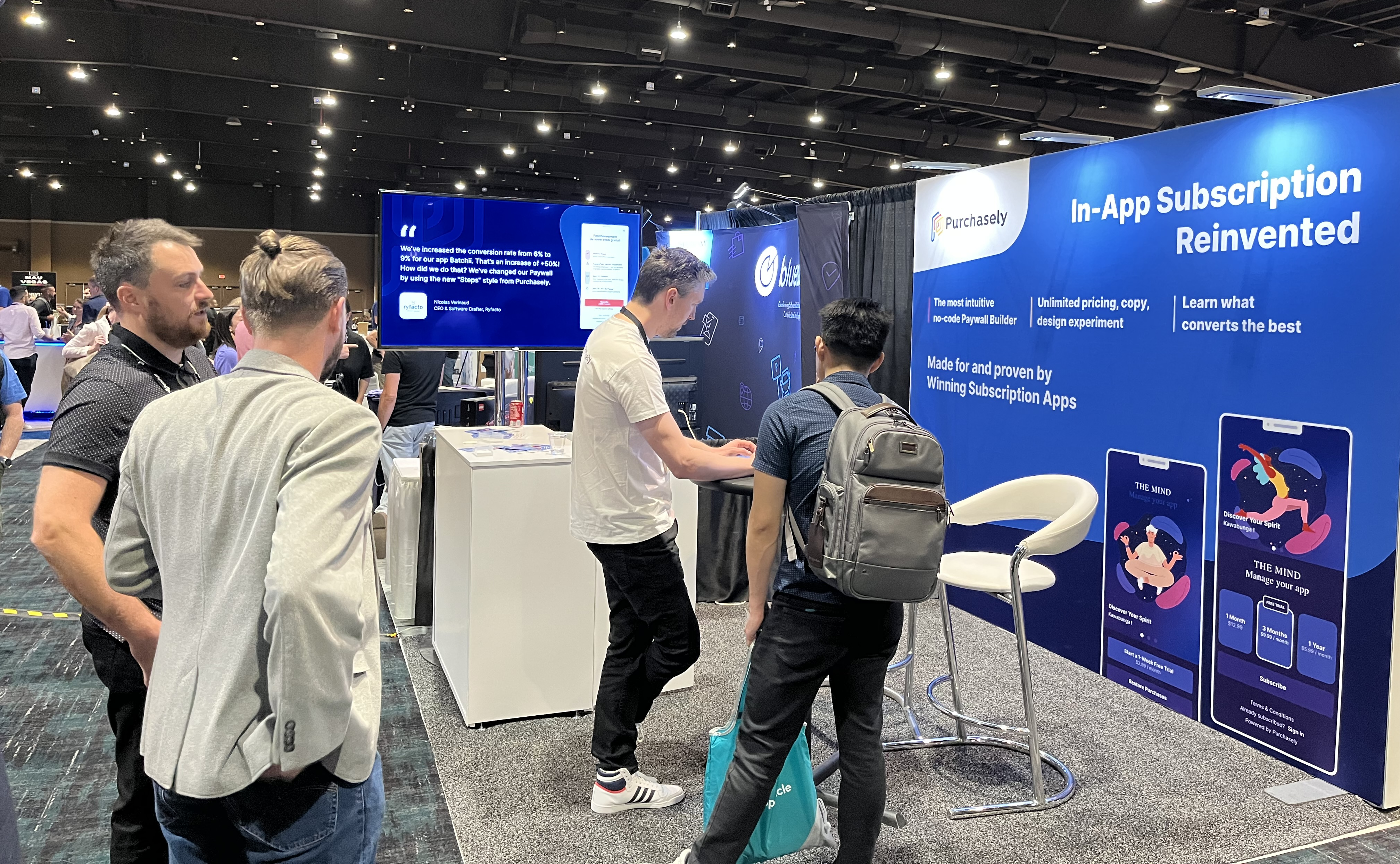 Finally, we've got our breath back after the fruitful MAU Vegas 2022 journey. Our first US-based event was more than expected success. For those who were there and those who weren't lucky to see us amongst the hungry and bright minds, we have a full bag of highlights and trends from the show to unpack.
What happened in Vegas

stays in Vegas

, we are telling everyone!
2022 has been the busiest year for Purchasely.
Particularly, the Q2 has been hands down the busiest time with many new marketing initiatives and industry events, including the latest milestone, MAU Vegas 2022, where we had the honor to sponsor the show and host one of the most exclusive VIP Dinners.
MAU made a bold return to Las Vegas for an in-person event and once again turned the city into the world's most vibrant event destination bringing together around 2500+ attendees, 90 sponsors, and 65 speakers from top mobile brands.
In addition to new products and launches from major brands, the MAU Vegas 2022 also hosted scaling startups and ambitious companies to showcase their technologies.
Over the course of three days, industry leaders, entrepreneurs, marketers, and product experts stood on the stages of MAU Vegas to discuss the latest trends, forecasts, winning strategies, case studies, and lessons learned.
We'd like to make a big shout-out to the organizers(main and side events), exhibitors, speakers, and our team for putting on a great show in the Vegas heat.
Booth #439
What was so special about Booth #439? Purchasely was there!

Our team of 5 In-App Subscription and growth experts enjoyed the exceptional opportunity to connect in one place with friends we hadn't seen for a while including our integration partners(Adjust, Appsflyer, Airship, Amplitude, Braze CleverTap, OneSignal, etc.) and industry peers. Our staff had a blast evangelizing our state-of-the-art product to dozens of new faces who left the booth amazed and curious.
Happy hours and parties
MAU Vegas 2022 killed the afterparty game. The wide variety of happy hours and parties provided the perfect opportunity to have fun, make meaningful connections, and break from back-to-back sessions, meetings, and visits. We would have cloned ourselves to be at all of those places! Here's a glimpse into some of the memorable events we attended!
Opening party
The official opening party hosted by MAU Vegas and sponsored by CleverTap, Skai, Storyly took place in the MGM Grand hotel's Marquee Courtyard. It was a perfectly down-to-earth and welcoming occasion to gear up for the next two days.
We had a pleasant encounter with Jeremy Jones and Sanjay Raghu from MetricWorks, Fabien-Pierre Nicolas from Smartnews and Vincent Eterlet from Fubo TV with whom we exchanged greetings, plans, and expectations for upcoming days in Vegas. We also met the charming team of the Belgian rising star AppTweak (Laurie Galazzo, Olivier Verdin, Simon Thillay).
VIP editor's dinner co-sponsored by Purchasely and Pixis
One of the highlights of MAU Vegas 2022(in our very slightly subjective opinion) was the VIP editor's dinner that took place on the first evening of the show which we co-sponsored with Pixis. Product, marketing, and growth experts from the world's leading companies such as Amazon, Duolingo, and Spotify joined us for the after-show dinner.
We had a rare opportunity to connect with Tobias Boerner, the Co-founder of Fastic, an app dedicated to the intermittent fasting community. We discussed onboarding and their fantastic paywall. Tobias revealed that the app doubled conversion and engagement after iterating the onboarding flow.
We also had a passionate conversation about monetization with Marvin Eschenauer from Bytro and stole some gaming industry insider scoops. It was interesting to hear about how power users, also called "whales", are essential to gaming apps' growth and that they are ready to spend a lot(we mean a lot) on in-app purchases. Did you know that it is not uncommon to see users spending tens of thousands of dollars and even up to $500k?!
3 co-hosts of the after-party, Adjust, AppLovin and Sensor Tower, and AppLovin, definitely made a splash on Tuesday evening. More than 400 guests gathered around the MGM Grand's Splash pool and enjoyed premium cocktails, food, dancing, and cooling off with boozy snow cones.
Main show
While MAU Vegas 2022 was certainly a great opportunity to network and share opportunities with industry peers, it is essentially an educational venue where influencers and mentors discuss top trends, working strategies, and success stories around mobile app monetization and growth.
Here are our favorite takeaway keywords:
Data and agility
Something that was discussed again and again throughout the conference during a wide variety of session topics, was the role of data in making smart, fast, and strategic business decisions.
All decisions we make in life outside of the business context, instinctive or methodical, are based on data. For example, we know what we need to do to respond to sensory inputs such as heat or noise. We also act based on both theoretical and empirical processes.
But making business decisions are not quite the same. While many business moves involve collecting and reviewing some form of data, many others are still based on intuition and ambiguity. The negative results of such a pattern include the skyrocketing cost of over-depending on paid ads to compensate for the lack of data-based insight or simply failing to provide a satisfying customer experience. These are easily witnessed cases in the mobile app world.
A session presented by Jillian Burnett from mParticle and Nick Warner from Route stressed how data and intuition need to live side-by-side to accelerate user growth. A Q&A session hosted by Adjust also spotlighted the importance of going further than merely having the availability of an ever-increasing number of data sources, and having the ability to act quickly and confidently on meaningfully aggregated and extracted insights to optimize strategy and focus on growth.
Work on your Paywalls
During the session "Optimizing subscription revenue like a boss" presented by Andy Carvell from Phiture, a big focus was put on paywalls. Some tactical examples and tips for paywall optimization from Andy include providing transparent information, creating FOMO based on time-limited offers, avoiding complexity by using uncluttered and concise messages, providing social proof by sharing success stories or reviews, localizing and adjusting language for different markets, and personalizing by moving away from generic copy and design assets.

Automation of Creatives
Spotify revealed its strategy to automate paid acquisition. During his presentation, Ryan Kim, Senior Product Manager at Spotify detailed how tech, design and content licensing enable Spotify to use content in its paid ads. The Automated Content Marketing Platform of Spotify is based on 4 different layers: Machine Learning & Data - Selected Content - Ad Template - Ad Platform UI.
Spotify launched A/B/C tests to monitor the impact of artists' visuals and illustrations (artist only, illustration only, and a combination of artist and illustration). One main result is that illustrations have a positive impact on CPAs in low CPA markets (-16% in India, -6% in MENA, -5% in France and Benelux) but a negative impact on CPAs in high CPA markets (+9% in the USA).
WWDC 2022
Since Apple's App Store generates the lion's share of subscription revenue followed by the second Google play, WWDC 2022, Apple's mega-developer conference was a huge deal for those who were present at MAU Vegas. For dozens of MAU Vegas attendees who stopped over in San Francisco and those who couldn't WWDC 2022 recap presented by Alex Bauer from Branch was another gem of the main show.
Feature after feature
On the hardware side, the conference offered a first look at the completely redesigned MacBook Air with a compact webcam and a bigger and brighter 13.6-inch display, and the updated 13-inch MacBook Pro powered by the breakthrough M2 chip.
On the software side, new features are coming to iOS 16, iPadOS 16, macOS Ventura, and watchOS 9; and a new set of App Store Review Guidelines which loosens publication restrictions and requirements. Typically, the update will remove the requirement (rule 4.2.3) that says an app must "include sufficient content in the binary for the app to function at launch." This would now mean that apps could prompt users to download additional resources at launch, and wouldn't be required to be functional before that download is completed.
Stay tuned for our Co-founder and CPO, Jean-François Grang's takeaway from his attendance at WWDC 2022!