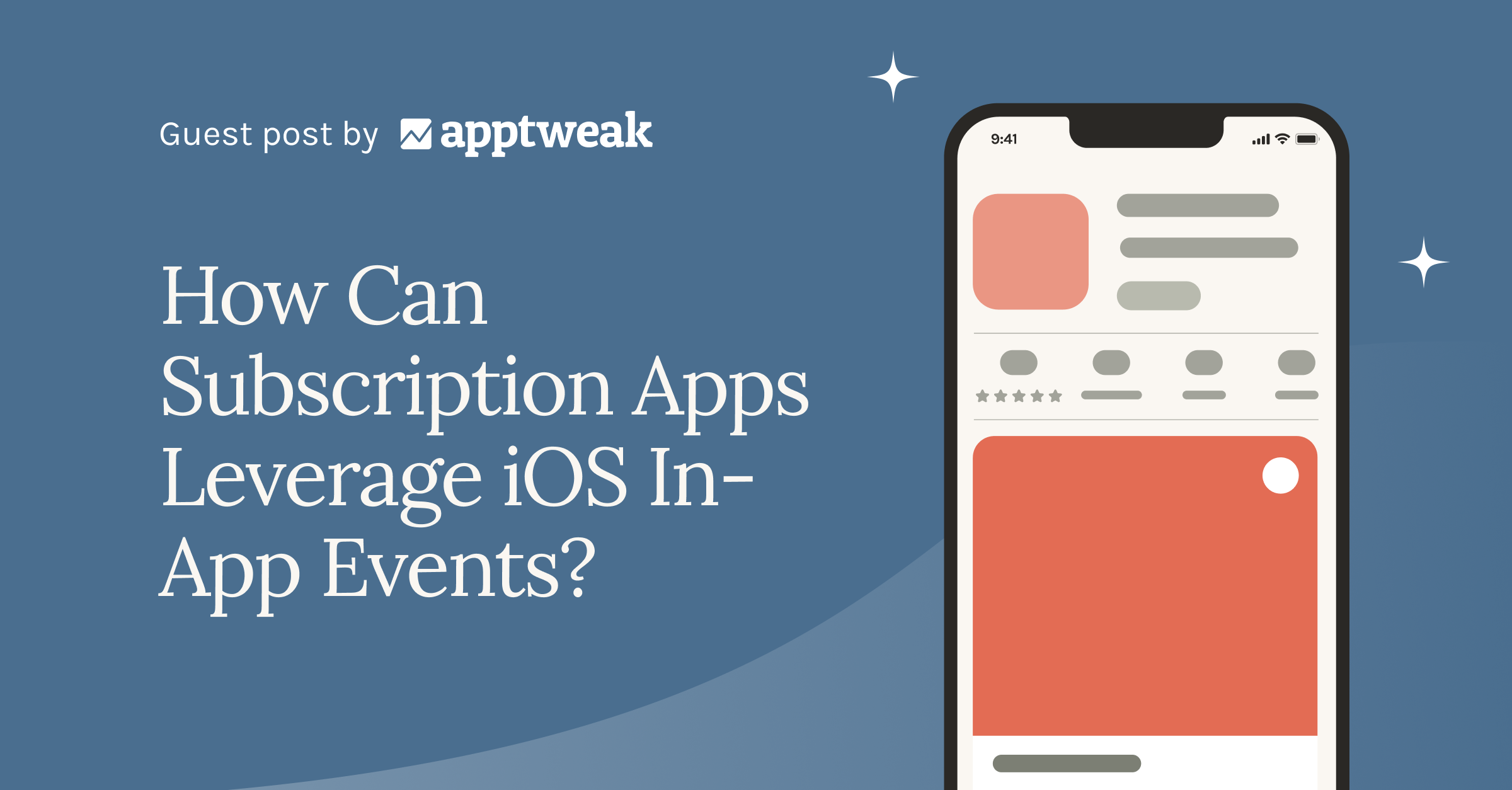 This article is provided by Justin Duckers, App Growth Consultant at AppTweak. He frequently conducts research into how the algorithms of the two app stores work, and helps apps and games boost their visibility and downloads. He is also interested in SEO and has a passion for literature and old movies.
In-app events have been around for a long time within apps in the form of community challenges, games competitions, movie premieres, and more.
App and game developers have leveraged in-app events to generate excitement among their users
, with the ultimate goal of increasing their app's engagement and retention rate.
Since October 2021, Apple decided to support app developers in their efforts by introducing a new feature called "in-app events" that enables the promotion of in-app events on the App Store.
What are in-app events?
In-app events take the form of event cards made up of text and an image or a video that app developers can publish on their App Store app page. In-app events function as teasers for the original content currently live within your app (whether it is a contest or a new feature), with the explicit goal of reaching new users, engaging current users, and/or reconnecting with lapsed users.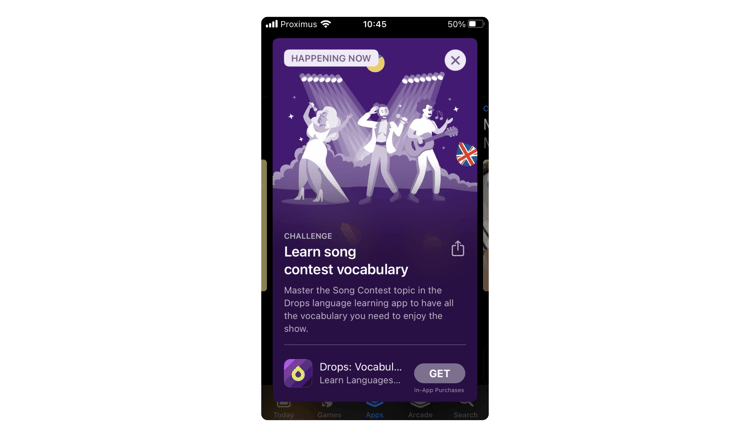 The structure of an in-app event consists of a title, a description of the event, an image or a video, the badge of the event (competition, challenge, premiere, etc.), and a CTA to your app. (Source: AppTweak)
In total, up to 5 in-app events can be published simultaneously. In-app events are always visible on your App Store page and appear in search results for users who have downloaded your app at some point in the past. Additionally, in-app events can be featured in various tabs of the App Store, including the Today tab, Games tab, and Apps tab. To increase your chances of being featured, you can share your in-app event directly with Apple's editorial team.
Depending on where they appear in the App Store, in-app events serve different purposes. When featured on the Today tab, in-app events build notoriety for your app and help you reach new users and re-engage lapsed users. In the search results, in-app events remind active and lapsed users looking for an app similar to yours that your app is still a viable option and has introduced some novelty since the users' last usage.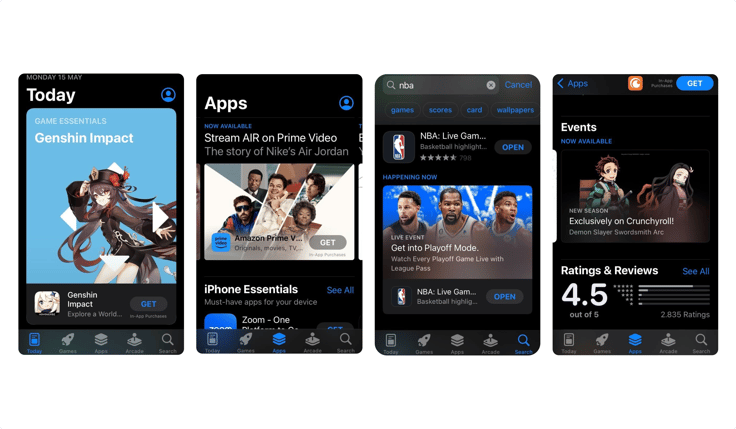 (L-R): Today tab, Apps tab, search results, App Store app page (Source: AppTweak)
In-app events should, therefore, not be underestimated as a tool to keep active users engaged and re-engage lapsed users – two crucial points for subscription apps. Determining the right timing, content, and goals is key in effectively utilizing your In-app events to drive desired user actions and maximize their impact on your app's performance.
How can subscription apps use in-app events to boost engagement?
The first thing you should know is that not just any event can be considered an in-app event in the eyes of Apple. Apple emphasizes that in-app events should promote original and time-limited content. In fact, in-app events can last up to only 31 days and, therefore, should be leveraged alongside your app's new releases and events.
When you publish your in-app event, it is reviewed by Apple's editorial team. If you do not adhere to their guidelines, the most important of which is the originality of the event, there is a possibility that your in-app event may be rejected.
1. Define the right goals for your in-app event
Before anything, knowing why you want to run an in-app event is of the essence. For subscription apps, the retention rate is often one, if not the most important KPI. Optimizing your app's retention rate is achieved through optimizing user engagement.
Subscription apps can target specific audiences when creating in-app events. In addition to the option of targeting all users, you can specifically target new users, active users, or lapsed users with each in-app event, allowing you a more or less high degree of personalization.



Don't miss out on these targeting options, and tailor the event card to the audience you're targeting

. The more it is aligned with your targeted audience's expectations, the more likely the in-app event is to convert store visitors and boost (re)engagement to your app – someone already familiar with your app does not have the same expectations, and isn't convinced by, the same messaging as someone who has never heard of your app and does not know its core functionalities.
Mapstr does not elaborate further than its unique selling proposition, targeting all users, whereas TikTok promotes a specific activity that might be familiar only to active and lapsed users. (Source: AppTweak)
In-app events can also be leveraged to help you monetize your app. While setting up your in-app event, you'll be asked to select the cost – this is required only if an in-app purchase is necessary to participate in the event. In the case of subscription apps, you only need to indicate that an in-app purchase is required when there's an additional cost for the event specifically.

Concretely, the ability to promote in-app purchases within in-app events means the latter can work as ephemeral but free ad spots

.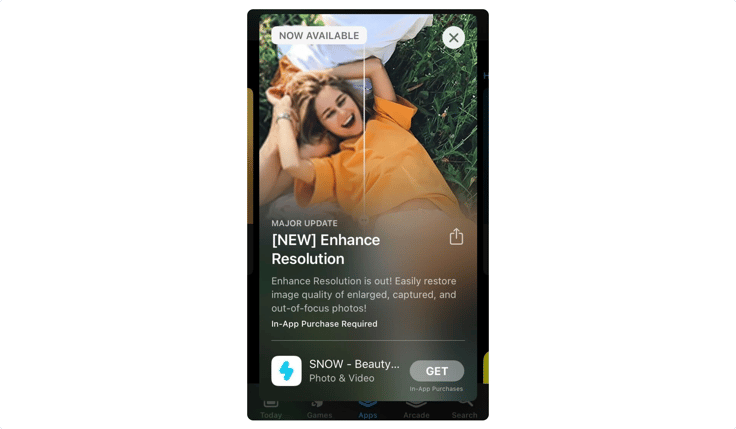 SNOW leverages its new feature as an ad spot, showcasing in the event video how the picture looks before and after enhancing the resolution. (Source: AppTweak)
2. Create the right in-app event content
We already mentioned that promoting original, time-limited content within your in-app events is necessary for them to be published. So what are some ideas for in-app events that you can run if you are not already?
Apple's in-app event badges let you promote a variety of content:
Challenges
Competitions
Live events (concerts, live streams, etc.)
Major updates
New seasons
Premieres
In practice, almost anything can be an in-app event as long as what is promoted is original and new. But this does not mean everything has to be turned into an in-app event. In general, we recommend repurposing the visuals from your marketing campaigns into event cards. Using this method, you can create in-app events at a low cost and in a short amount of time.
We recommend keeping these tips in mind when creating your in-app events:
Make sure the in-app event's image or video reflects the original content you're promoting, and ensure it will be visible no matter where it appears on the App Store.
Keep the copy concise and clearly present the benefits of the new, original content. Avoid using the same title over and over for different in-app events – take some time to think of a catchy line.
Remember to adapt the messaging to the audience you're targeting and follow Apple's guidelines.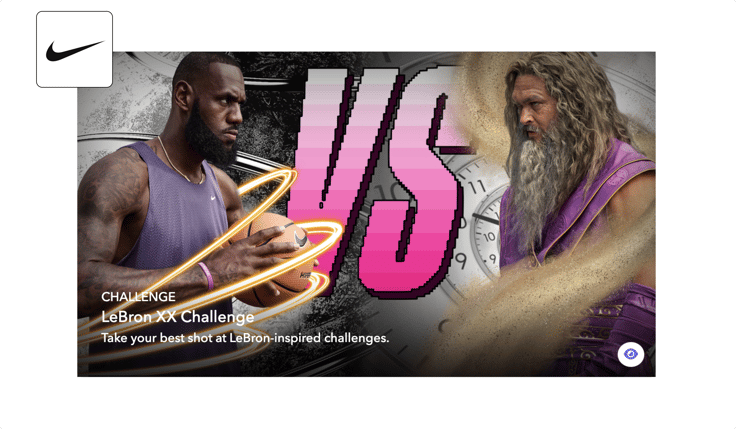 If you're already spending money on marketing campaigns, you might want to repurpose the visuals to quickly create an in-app event and boost your presence on the App Store. (Source: AppTweak)
In-app events can also be leveraged as alternative landing pages. Since you need to provide an event deep link when setting up your in-app event, you can re-use this link in your other marketing campaigns and redirect your traffic to your in-app event rather than the app page.

You can, for instance, send an email to your subscribers in which you introduce the link to redirect to your event card or to the event content within your app. This can be a great way to promote new activities within your app to your active and lapsed users and ensure you keep a high engagement rate from your subscribers.
3. Find the right timing to maximize the efficiency of in-app events
Finding the right timing can help boost the performance of your in-app events.
It's essential to understand App Store visitors' behavior – ​​during weekdays, people tend to search for apps, while on weekends, they are more likely to look for games to unwind from the week.



For instance, if you have an app that is not entertainment-related and want to run a short promotion for an event within your app (such as a new feature), start the in-app event on a Monday. This way, you optimize your chances of reaching the right users at the right time.



Taking advantage of seasonal events can also greatly boost the efficiency of your in-app events. During these seasonal events, users have a different search intent than usual and might be on the lookout for new apps. This is the time for your app to stand out with an in-app event that shows store visitors you have specifically what they are looking for. This has the additional benefit of showing that your app has multiple use cases.



For example, a clothing app may want to run an in-app event for its new "spring-summer collection" and another one for its "autumn-winter collection." Or, a fitness app might want to run an in-app event in the first week of January to promote the fact it can help users follow a diet after the holiday season.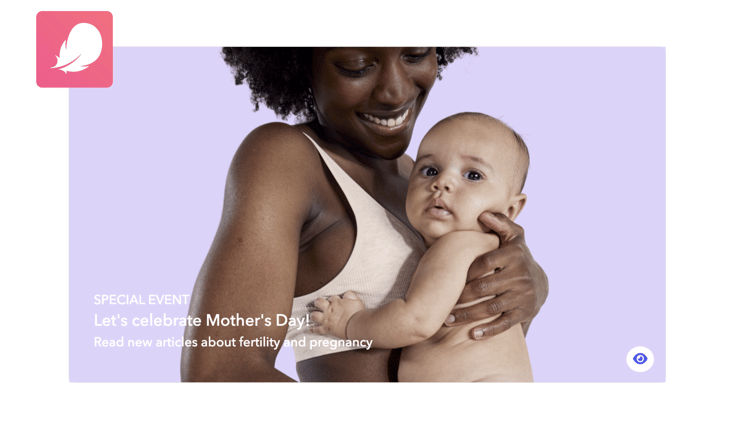 Flo Health published an in-app event for Mother's Day to highlight that the app can help its users fall pregnant and also track their pregnancy. (Source: AppTweak)
Finally, you can also choose to promote your events ahead of time with in-app events. In this case, your event card will appear up to 14 days before the event goes live and, instead of a link that redirects users to the event within your app, there will be an opt-in. Users who decide to opt-in will receive a notification in the App Store on the day the event goes live. This ensures users who see your in-app event prior to the event's release don't forget about it in the meantime. It's also a great way to create hype for your event.


Conclusion
In-app events give developers the opportunity to promote original and time-limited content through event cards on their App Store app pages. By strategically utilizing these in-app events, app developers can now reach new users, engage current users, and reconnect with lapsed users in new, original ways.
To make the most of iOS in-app events, tailor your messaging and content to the interests and expectations of your target audience. Ensure that the in-app event's visuals accurately represent the content you promote and that the messaging is concise and persuasive.
Leverage iOS in-app events with the right goals, content, and timing to boost engagement, increase user retention, and monetize your subscription app.