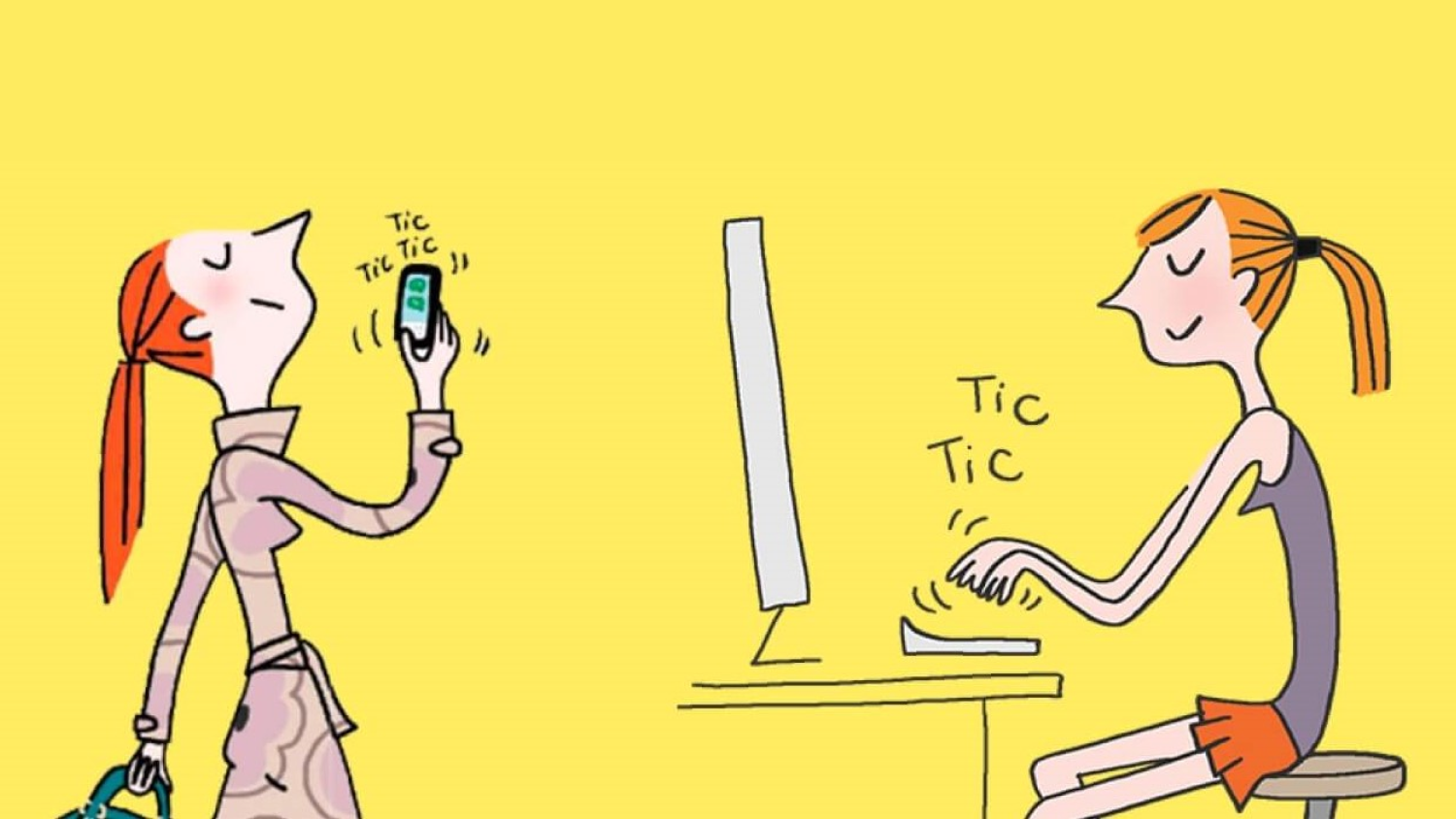 ELLE France selects Purchasely for the launch of subscriptions from within its application
1 July 2021
Company News
Customers
News
CMI France teams have selected the Purchasely solution to support ELLE magazine in the development of its premium strategy within its mobile application

.

ELLE magazine, published by CMI France, has never been so dynamic after celebrating its 75 th anniversary last year. With a digital audience reaching a lofty 10 million, twice as many as 3 years ago.

ELLE had decided to bring to market a new digital value proposition. Readers have access to the entire contents of their magazine, including exclusive additional content, by subscribing to the digital edition.

This premium content development strategy is a first in the French women's magazine world. ELLE wishes to maintain its lead over the competition by building upon mobile use which has tripled in the last 3 years.

Looking for innovation and simplicity, CMI's technical and marketing teams selected Purchasely as the solution to propel digital subscriptions within the ELLE mobile application.

Increased marketing agility and significant time savings are already the big take away.

Jérôme Petit, CTO for CMI France: « The Purchasely platform is the ideal partner to quickly move forward on the integration of In-App Purchases and the deployment of efficient screens that recruit subscribers successfully. Integration with our systems has been incredibly easy, allowing us to launch with just a few days of work instead of many weeks. We are delighted with our collaboration with Purchasely ».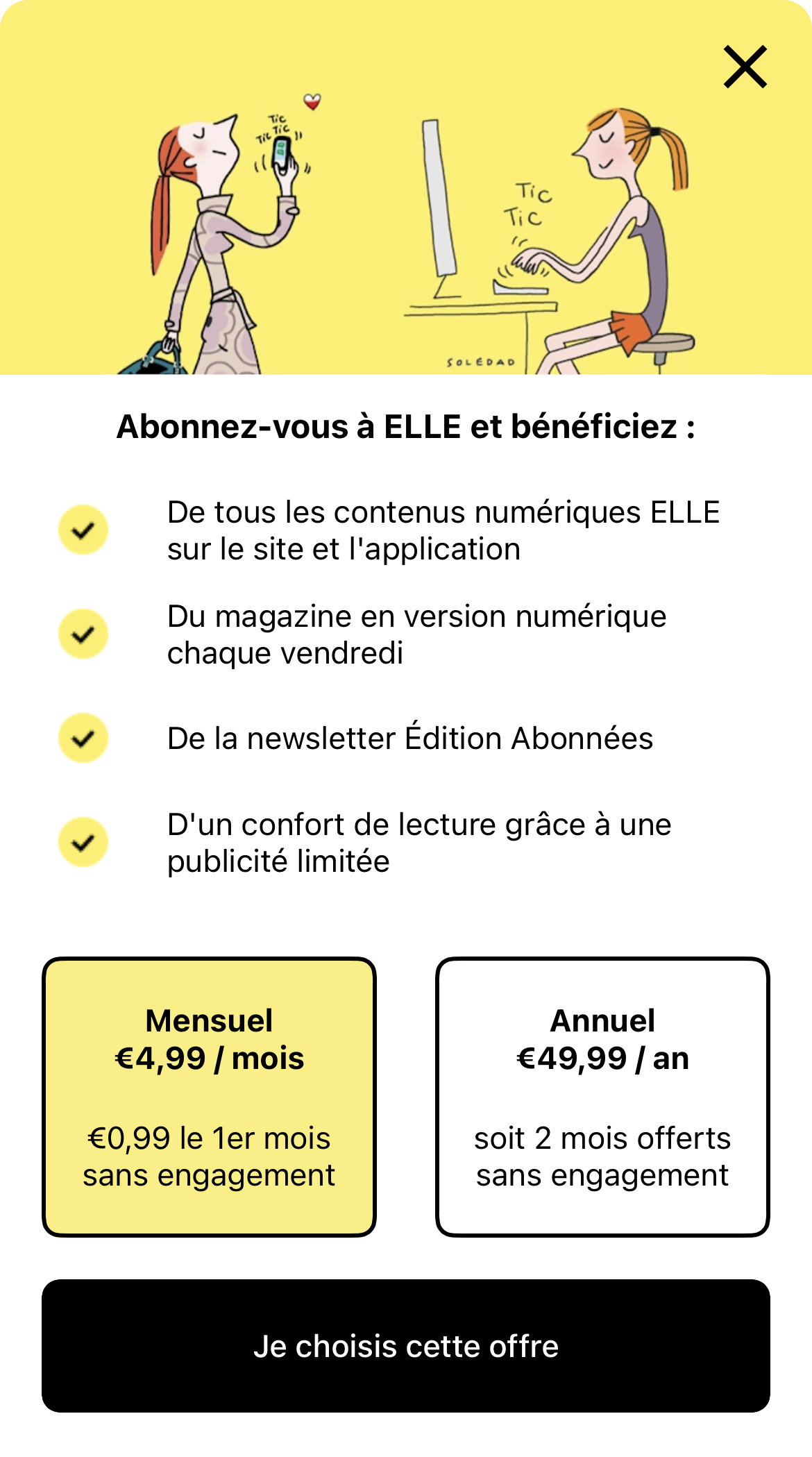 On the one hand, a monthly offer for 4.99 € (after an introductory month at 0.99 €) and an annual 49.99 € share a single presentation screen whose design fundamentals are based on best industry practices. The « Plan Picker » format is available as a template offered by Purchasely and was adapted to the style, color and typeface of the ELLE brand by CMI.
On the other hand, readers already subscribed to the magazine can activate their account directly from this screen and access the digital edition included in their subscription. This is possible thanks to Purchasely which is capable of simultaneously manage new In-App Subscribers and those recruited from outside the application. To date, two thirds of readers who subscribed in the application have subscribed to the newsletter and can access ELLE content on every platform available.
In the future, CMI's teams will be able to use the personalization capabilities of Purchasely to display subscription enrollment screens adapted to each readers loyalty and current level of engagement.
---
Save developers' valuable time and expertise with a two-step integration and just four lines of code and let them focus on product development instead of marketing support or installing updates.
---
About ELLE France:
Since its creation, ELLE has been a key brand, committed and always on the move, accompanying women every week for 75 years with the magazine, through live events and online with its digital ecosystem. An inspiring brand that offers opinions on society, fashion and beauty, allowing 12.8 million print / digital readers to flourish and react to current affairs.
About PURCHASELY:
Purchasely is the only In-App Subscription SaaS platform from build to interface, compliant with mobile, TV and app store guidelines. Purchasely gives Marketers full control and ease to increase and retain cross-channel subscribers — in days instead of weeks.