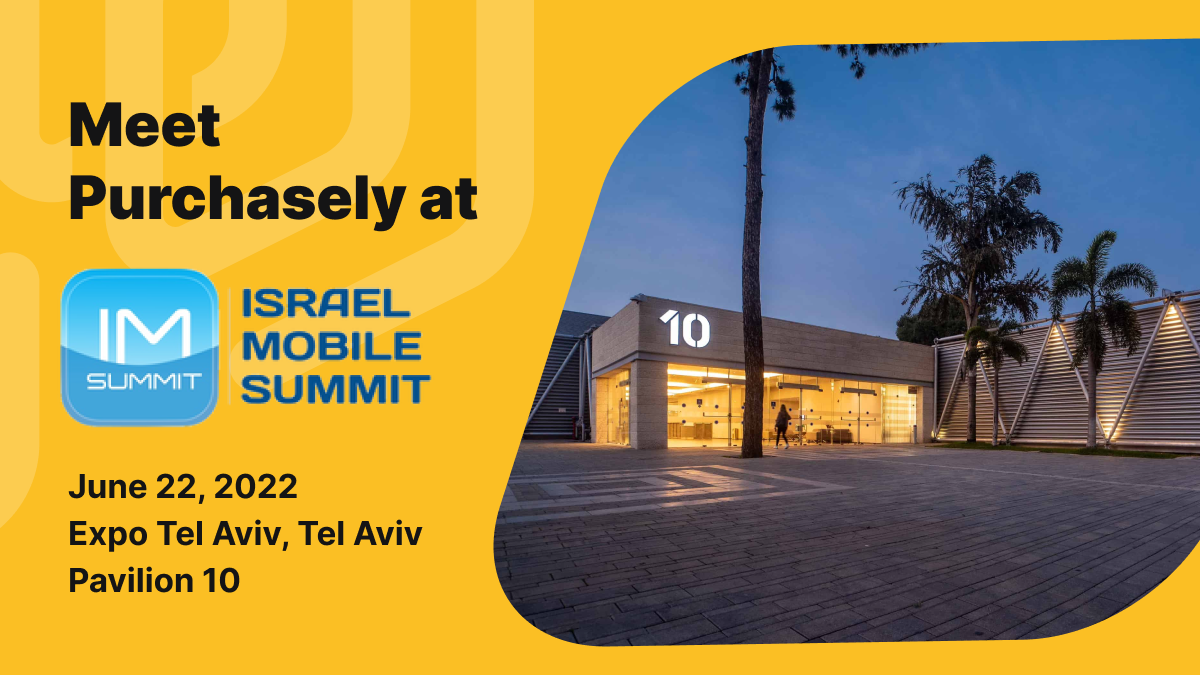 Meet Purchasely at Israel Mobile Summit - Tel Aviv, June 22, 2022
16 June 2022
Company News
Next stop Tel Aviv! Book a meeting with Purchasely staff at Israel Mobile Summit, the premier annual mobile event in Israel.
Last week, we brought home unforgettable memories and exciting opportunities from MAU Vegas 2022. Our first US-based event was more than expected success. Partners, industry peers, and many new faces visited our booth and gave us some incredible feedback on the Purchasely platform! THANK YOU!
Now, we are focused, inspired, and reaching further. For those who couldn't make it to Vegas, we're coming to Tel Aviv for Israel Mobile Summit.
Where: Pavilion 10, Expo Tel Aviv, 101 Sderot Rokach, Tel Aviv, Israel

(more info)
When: 8:15 am to 5:00 pm, Wednesday, June 22, 2022
Israel Mobile Summit will feature quality content about the mobile/games/adtech space and multiple networking and exploration opportunities, including pre-scheduled 1x1 meetings with Purchasely staff on-site!
In attendance will be Laurent Libano, Purchasely's VP Revenue, and Hassan Abu-Dalo, Purchasely's Sales Manager.
Will you be around? Fill up the form below to book an onsite meeting.
Let's talk about
User-friendly purchasely paywall builder: We'll show you how anyone can design, build and manage gratifying and effective paywalls without coding.


Flexible A/B testing: We'll show you how Purchasely makes it easy to identify the best version of your paywall campaign without sacrificing your time and business.


Subscription Analytics: Learn how to incorporate rich data analytics and visualization to make informed decisions and meaningful engagement.


Seamless third-party integrations: discover the wide range of 3rd party integrations and discover how you can track customer behavior and engage at every step of their lifecycle.


Example projects: Glean tips from what some of our clients have done to revamp their growth strategy.