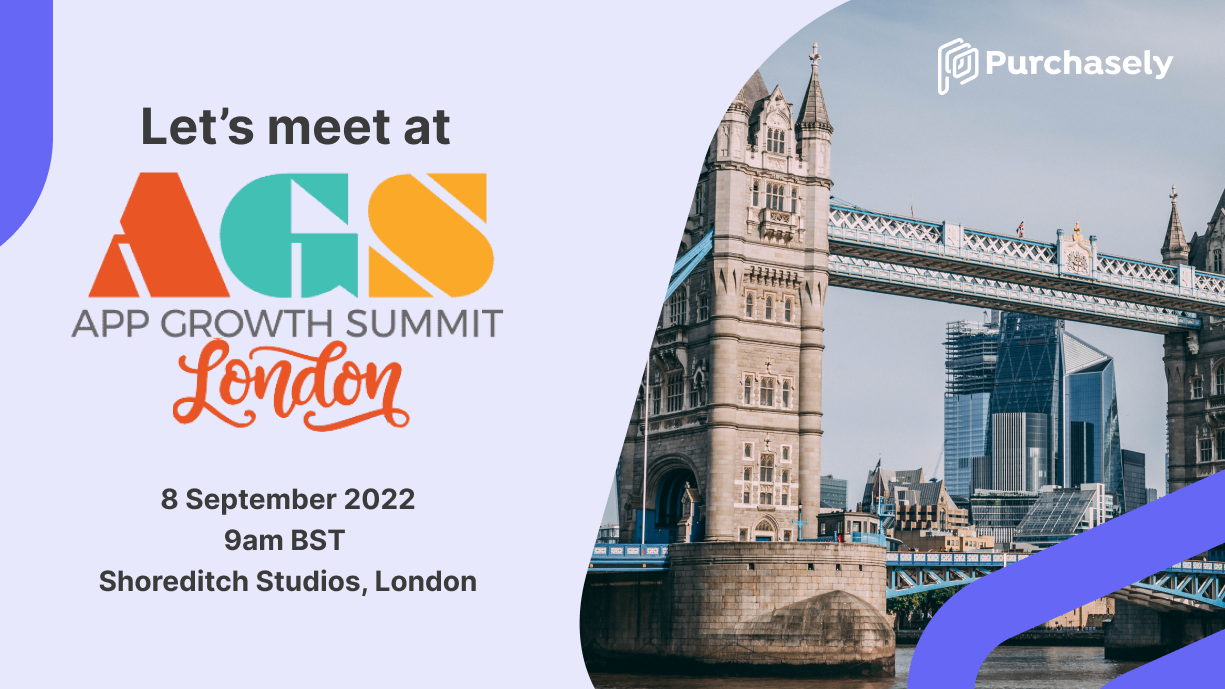 Meet Purchasely at App Growth Summit London
29 August 2022
Company News
App Growth Summit, an invite-only, limited-vendor mobile app conference series, is coming back to London. Purchasely is excited to join the high-quality networking and learning event.
App Growth Summit London 2022, a full day dedicated to the growth of apps, brands, and solution providers, is fast approaching. You know what that means - we will be there!
App Growth Summit Agenda
The App Growth Summit London will invite 30 expert speakers and organize 10 custom-curated sessions covering the following topics and more.
data trends and strategies for success

how to overcome communication struggles between marketing and product teams

user acquisition optimization

maximizing user engagement

the impact of custom product pages on ASA
Drop by and say hi!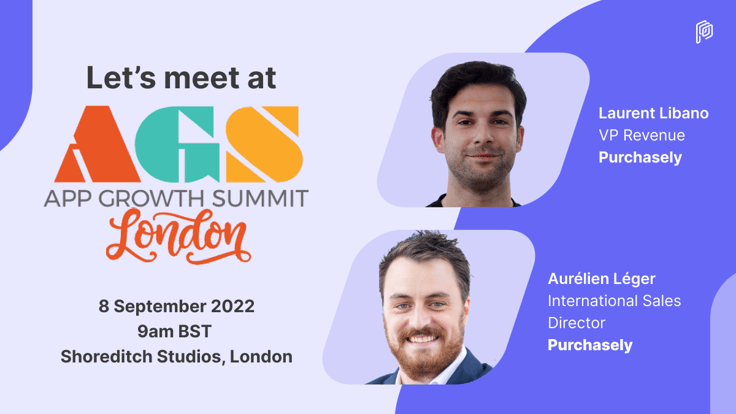 If you're going to be in London, let's take the opportunity to arrange a one-on-one meeting with us! For our long-time followers and curious folks, Purchasely's VP Revenue, Laurent Libano and International Sales Director, Aurélien Léger will be there to walk you through
Simply the easiest and the most powerful Paywall Builder: We'll show you how anyone can design, build and manage gratifying and effective paywalls without coding.

Flexible A/B testing: We'll show you how Purchasely makes it easy to identify the best version of your paywall campaign without having to sacrifice your time and business.

Subscription Analytics: Learn how to incorporate rich data analytics and visualization to make informed decisions and meaningful engagement.

Seamless third-party integrations: discover the widest range of 3rd party integrations and find out how you can track customer behavior and engage at every step of their lifecycle.

Example projects: Glean tips from what some of our clients have done to revamp their growth strategy.
We'll also sit down(or not) to answer all your questions, deep dive into any topics of your interest, and discuss the best business move you'll ever make. Plus, we'll give you a sneak peek into our latest product update.

Hot tip: The time and space will be limited for us to share everything, so let's be proactive.
We invite you to get in touch with us before you come to Berlin, to set up a time for a talk or exchange questions or necessary information ahead of time.