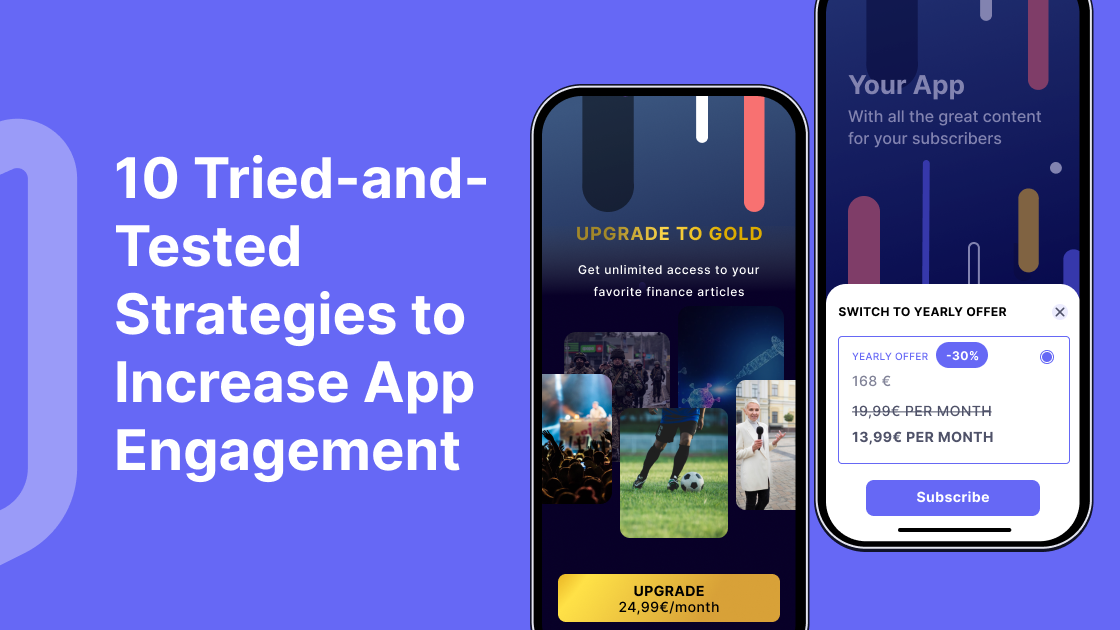 Engagement is one of the most important metrics to pay attention to in the world of mobile apps. By keeping users engaged, they'll be more likely to pay for In-App Subscriptions, recommend your app to others, or download other apps from the same developer. So if you're not already paying attention to app engagement, now is the time to start.
Did you know that 25% of users abandon an app after just one use? Or that 56% uninstall an app altogether within 7 days of the initial install?
Although the key reason users uninstall apps is that they simply aren't using them, lack of user engagement and churn are two of the biggest challenges that app marketers currently face.
With more than 2.87 million apps available for download on the Google Play Store, and 4.75 million available via the Apple Store, competition for user acquisition and retention is fierce among app developers across every sector.
So, what are the key metrics to measure app engagement? And what can marketers do to engage new users and encourage improved retention rates? Find out below in our guide to increasing app engagement using 10 proven strategies.

Content
Engagement – The ultimate metric for a successful app strategy
Before we get stuck into the individual strategies that are proven to increase in-app engagement, let's first look at what in-app engagement actually means.
In a nutshell, app-engagement metrics are the gold standard. The quality of your app is reflected by specific engagement metrics such as how many sessions users conduct in a given period, session duration, number of opens in a day, etc.
These metrics are important for several reasons:
You'll get a clear idea if users are enjoying your app or not.
Engaged users are more likely to be monetized, so tracking these metrics can help predict ROI.
The data can help inform the direction of future product development.
With increasing competition and rising advertising costs, user loyalty in today's mobile app market is the biggest challenge marketers can face.
Don't panic, that's exactly why we've written this article! As you'll see, there are lots of proven strategies and techniques to help you navigate the tricky world of app engagement. Before we dive into those, let's break down the various individual engagement metrics so you know exactly what you should be measuring.

What are the most used app engagement metrics?
As we've said, app engagement is the holy grail of metrics. But behind all the technical terms, you'll see that what it really means is far more simple and human: creating valuable, long-term relationships with app users. That's it.
So what are the various metrics used to measure app engagement? Let's take a look.
Average session length (ASL)
This refers to the average amount of time a user spends on your app. It's an excellent indicator of app engagement and usefulness. Generally, the more time spent in app - i.e. the higher your average session length - the more engaged they are.
Active users
There are two key metrics used to measure active users:
Daily Active Users (DAU) - the number of unique users that use an app within a 24-hour window. Typically used by game developers where daily engagement is expected.
Monthly Active Users (MAU) - the number of unique users that use an app within a month period. Typically used by B2B or B2C apps where users are expected to engage a few times a month (e.g. banking or shopping apps).
The criteria used to define an "active user" depends entirely on your industry and what the goals are for your users - are you looking for them to complete specific actions, or stay logged into the app for a minimum period of time?
Stickiness ratio
This is one of the most important mobile app metrics. It tells you how many of your active monthly users engage with your app over a 24-hour window.
For example, let's say you had 4,000 MAU and 1,000 DAU last month. Your stickiness ratio would be 25%. Which would mean that, out of the people who used your app last month, one in four of them used it on any given day.
Here's how it's calculated:
# of DAU / # of MAU = DAU/MAU Ratio
With this formula, you can predict potential revenue over time. It also gives you data on the value of your app for users by seeing how often they return to use it.
Note: Don't confuse stickiness ratio with retention rate – stickiness is about the frequency of active users returning to your app; retention measures users who revisit your app after installing (and usually within a given time-frame - see below).
Retention rate
Retention is the number of users that come back to use the app (at least once), within a given timeframe, after the initial download has taken place. Marketers tend to focus more on retention rate than acquisition rate due to the reduced costs associated with keeping existing users over finding new ones. Retention should be measured frequently because marketers need to know that out of those who downloaded the app, how many users have stayed and how many have churned or uninstalled it altogether.
Churn rate
This is opposite to the retention rate and measures the number of users that cancel, unsubscribe, or uninstall an app. A high subscription churn rate is bad news and often points to something not working as it should or providing a low-quality user experience. Churn rates are made even worse by the fact that there are a whole host of reasons why a user may uninstall an app, and it can be difficult to pinpoint exactly why.
Exit rate
This is where marketers measure which page or screen resulted in a user not engaging with an app. Not to be confused with bounce rate, which looks at how many users abandon an app without engaging with the content, exit rate shows exactly where they left the app. This provides marketers with greater insight into which pages are performing well and which aren't.

10 proven ways to increase app engagement
Now that you know which metrics to focus on, it's time to look at how marketers can execute some tried-and-tested strategies to improve mobile app engagement.
Seamless mobile app onboarding process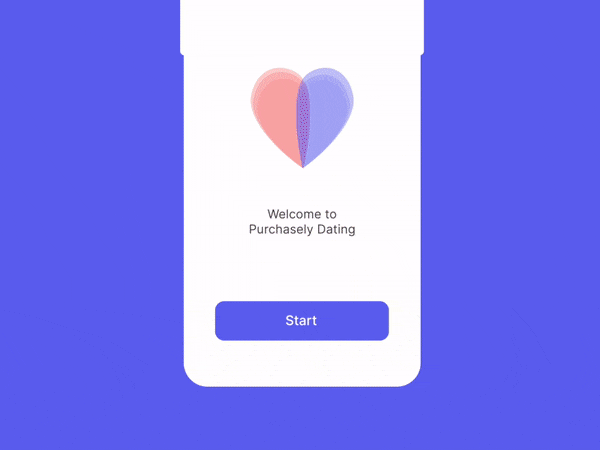 Implement an onboarding experience without coding with Purchasely
First impressions count. Users shouldn't have to jump through a million hoops to get to the point where they can actually start using an app. A smooth and simple app onboarding process can have a significant impact in terms of improving both engagement and retention rates.
Marketers can achieve this by:
Earning trust first. Most of the time, it's better not to force users to create a profile before they've been able to try the app, and to be clear about displaying the value proposition of the app upfront.
Shorter = better. Reduce the number of steps required to sign up. The less input required upfront, and the more trust you build up in the early stages of their user experience, the more likely they are to keep coming back. However, there are exceptions to this rule e.g. language apps where longer setup processes are still capable of engaging users and not increasing churn rates.
Provide support. Self-service help centres, how-to videos and interactive demos - as well as live support agents, if resource allows it! - help to reduce friction and encourage higher engagement within the app.
Easy and transparent unsubscribe options
There are several reasons why a user may unsubscribe, including too frequent or unsolicited communications, lack of high-quality content, and lack of trust. You may not want a user to unsubscribe, but making the process clear, simple and easy for them is an absolute must in today's mobile market. It's bad practice to keep your unsubscribe button concealed or difficult to find or, worse yet, to requiring them to get in touch with support in order to unsubscribe.
Placing an easily accessible unsubscribe button within the app or at the bottom of all email communications ensures users have an easy way out should they want to utilize it.
Clarity and transparency lay the foundations for a trusted and safe environment, reducing uncertainties and risks for the users. Please read our article Blinkist paywall transformation revolutionizes app user engagement to understand the efficiency of transparency to improve user's commitment and retention.
Frictionless payment system
Making In-App Purchases should be pain-free. Unnecessary steps, slow checkouts, and not providing pre-filled form fields can seriously damage an app's chance of gaining loyal users. A frictionless payment experience should include both a fast and easy checkout process, and be integrated within an overall positive user experience.
One way to achieve this is to include mobile wallets as an accepted payment method. Instead of forcing app users through a painful registration process that involves filling in all of their contact information and card details, they can simply connect their existing mobile wallet to the app and they're ready to go.
Personalized in-app messages
Personalized messaging can increase engagement and conversions as they're more closely aligned with a user's preferences. Recent research shows that brands using personalized in-app messaging experience user retention rates of between 61% and 74% within 28 days of receiving the message. Personalized messaging should be included wherever possible such as welcome pages, landing pages, and push notifications, to provide a truly personalized in-app experience to users.
However, personalization shouldn't stop at the app - an overall personalization strategy that covers all distribution channels and communications platforms is key to increasing engagement rates. A 2021 study by McKinsey found that 71% of consumers expect companies to deliver personalized interactions, and when that doesn't happen, 76% get frustrated. The value associated with getting personalization right is increasing exponentially, and getting it wrong can have dire effects on app engagement and retention rates.
Relevant push notifications
In line with personalization strategies, relevant push notifications can also increase engagement rates. While 42% of users opt to keep push notifications active on their devices, it's important to remember not to push just for the sake of it. Each notification should be relevant, add genuine value to the user, and guide them along their user journey.
Tooltips and hotspot notifications are great ways to introduce new users to in-app features and increase engagement:
Tooltips are short hints or descriptions that are displayed when a cursor hovers over them (for desktop apps)

Hotspots are similar in that they display tips, but often via strobing circles. Unlike tooltips, however, users must click a hotspot to reveal its content.
Creating a personalization strategy that leverages relevant and valuable push notifications – including tooltips and hotspots – can increase app engagement by more than 80%.
Email/SMS campaigns
Don't forget, it's not all about the in-app experience when it comes to improving engagement rates and providing an enhanced user experience. The 2022 Global Messaging Engagement Report found that email is still the most popular communications channel across the world, followed closely by SMS. App marketers can use email and/or SMS to gently nudge disengaged users back toward the platform.
Email campaigns can also be leveraged as part of the app onboarding process, to notify users of app updates, sign-up discounts, and more. Executed well, it's an excellent way to stay top of mind for new users in a channel they likely use every day. Just make sure to use relevant incentives for users to give their email address or create an account.
Deep linking
Deep links are a type of link that sends users directly to an app, or to a specific in-app page, instead of to a landing page or app store. End users are looking for a frictionless app experience with the expectation far higher than its ever been before. That's why not providing deep links can be a source of great frustration for app users. By ensuring clicks lead to relevant in-app locations, and not just generic pages such as the home screen, marketers can enhance usability and boost engagement rates.
In-app customer support
If something were to go wrong in-app, or a user has a query, offering instant support can go a long way in counteracting an issue and help turn a negative experience into a positive one.
Nowadays, 90% of customers expect immediate responses from customer support. Yes, it's a high bar, but its what we as users and customers have come to expect! And in-app customer support is one way to provide this.
However, marketers should consider in-app messaging as opposed to a live chat. In-app messaging uses what's called asynchronous communication. This is where customers don't have to stay connected while waiting for a response. Instead, they're notified of new messages, and the conversation history is kept. A bit like on WhatsApp.
Integrating in-app messaging can result in increased engagement. Take Uber, for example. It uses in-app messaging to allow customers/riders to send messages directly to their driver once they book a ride, and vice versa – it preserves privacy for both sides and limits potential confusion.
Prioritize user feedback
Two-way communication is key to ensuring user satisfaction and higher engagement rates. Rather than focusing on acquiring new users, focus on the feedback current users provide. User feedback helps identify and solve common customer problems, as well as improve overall product functionality. In turn, by acting on user feedback and implementing into product development to providing a better user experience, this will then increase engagement and retention.
The easiest way to collect feedback is to request reviews within the app. On both iOS and Android, developers can program a request for a user to rate the app and leave a review. The key is to find the perfect time to ask.
Continuous improvement of in-app product quality
The above strategies are all great ways to improve engagement rates, but if you've got a low-quality app or certain aspects don't function as promised, these strategies are unlikely to help. Constant monitoring and testing of app speed, functionality, user journeys, etc. should all be taken into account to ensure the continuous improvement of any app. If users have a smooth and seamless experience that provides value, marketers can expect to see engagement rates skyrocket.
App engagement: the key takeaways
With increasing competition and rising advertising costs, app engagement has become the holy grail of metrics.
App engagement is reflected by specific engagement metrics, such as average session length, active users (DAU and MAU), stickiness ratio, retention and churn.
There are lots of proven strategies and techniques to help you navigate the tricky world of app engagement, including:

Having a seamless onboarding process
Personalization
Providing in-app messaging and support
Relevant push notifications
Deep linking

User experience is key. Developers and marketers must focus on providing a high-value and frictionless experience to keep users engaged.
Ebook

- Tips to Optimize Your App Paywall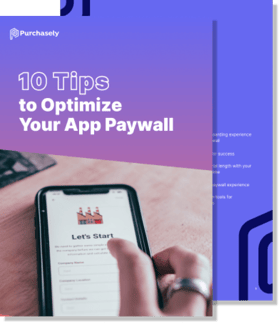 Discover invaluable tips for optimizing your app's paywall, including
gaining user insight through paywall screens

designing an effective paywall,

employing open and transparent messaging

strategically timing and onboarding

implementing personalization

devising successful free trial strategies