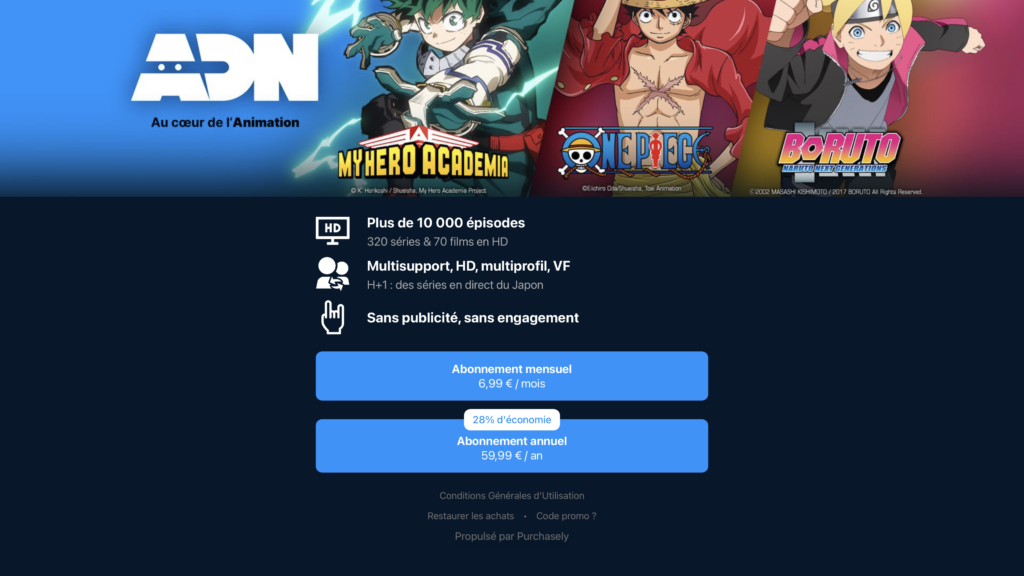 🤝Purchasely is proud to announce its partnership withAnime Digital Network, the leading anime SVOD platform🤝
Anime Digital Network is the best streaming service for anime in European French speaking territories with more than 10,000 shows and movies. It is well-known for its capacity to stream anime only 1 hour after their broadcast in Japan!🎌
On April 9, after 3 weeks of efficient cooperation between tech, product and marketing teams of both companies, In-App subscriptions were live in Anime Digital Network apps!
Now, a beautiful and efficient paywall with assets from the legendary My Hero Academia series is available on iOS & Android smartphones & tablets.
The results are impressive :
🚀 Within a 30-day period, apps help ADN to increase its subscriber base by+10%.🚀
📺 Thanks to its cross-platform subscription flow builder, Purchasely is deploying for the 1st time a no-code paywall on Apple TV📺
🌍See below this worldwide premiere!🌍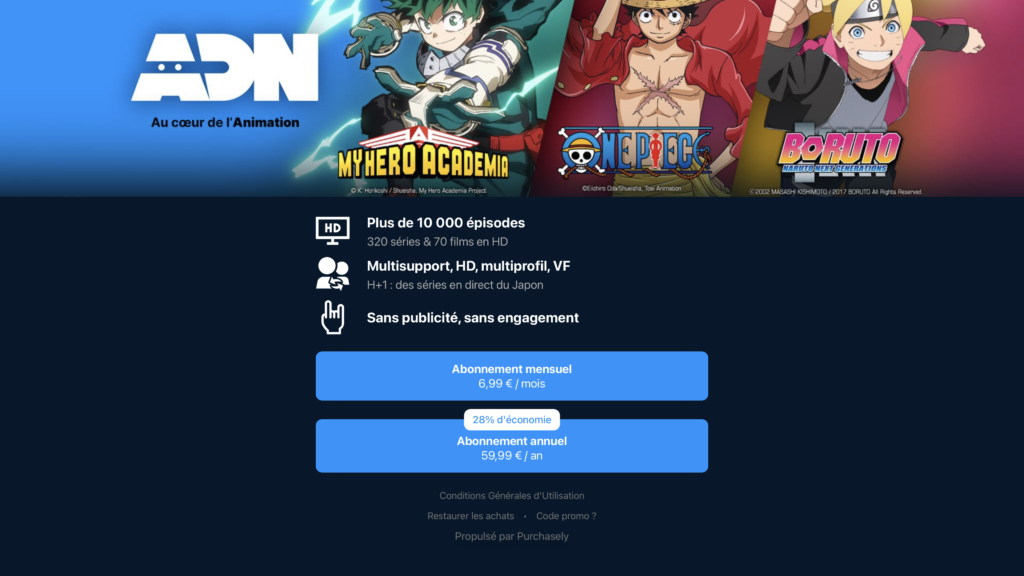 ---
Enjoy total freedom of the App User purchase experience with our SDK rendering engine that allows you to set up visually appealing, branded Paywalls in just a few steps.
---
Anime Digital Network is the best streaming service for anime in European French speaking territories. ADN was launched in 2013 thanks to the merger of Kazé and Kana Home Video catalogs. Through its apps and web site, ADN broadcasts content from leading media producers directly to viewers translated professionally in French. The service is available for free or through a premium offering that allows users to watch ad-free with access to simulcasts series available immediately after Japanese broadcast.
Anime Digital Network is a joint venture between Crunchyroll and Citel, a subsidiary of Média-Participations.
Purchasely is a new In-App subscription platform that enables apps to deploy In-App purchases and to manage & personalize subscription flows. The solution is the only one to be compliant with mobile environments (iOS, Android, Huawei) and TV ecosystem (tvOS, Android TV, Amazon devices).
Do you have questions about how Purchasely works or the pricing plans available?
Please request a DEMO with one of our specialist or start for FREE!